Simply setting up an e-commerce store and waiting for customer orders is not enough to ensure success.
To maximize sales and profits, every ecommerce store has 2 essential requirements:
E-commerce marketing services are designed to help reach their target customers.
Turn potential buyers into customers, and keep them coming back.
Have any questions?
Get started with a free quotation
Are you an established business wishing to break into the ecommerce world? Or a newcomer to the online market? No matter where you stand, the aim is always to boost sales and maximize your profits!
Our ecommerce solutions will help you drive targeted traffic, grow your sales, and watch your profits soar.
Turn Visitors into Loyal Recurring Customers
---
WebChanakya is a hub for all the ecommerce marketing services needed to build a successful online business. From website development to promoting a brand to generating revenue, we are the right mix of complete ecommerce solutions to help your ecommerce brand succeed.
Roadmap to Ecommerce Marketing Success
Identify target audience and markets
We conduct detailed market research to determine the exact needs of target audience.
Based on the insights we receive from this research; we create tailored marketing strategies to target the ideal audience for maximum ROI.
We use a variety of tools, such as email campaigns, PPC advertising and content marketing, to reach the desired audience. At WebChanakya, our marketing services help businesses effectively reach their target audience and drive more sales.
Understand the needs of your customers.
Identify the right markets to target.
Gain insights into customer demographics.
Discover new customer segments.
Optimized messaging and positioning.
More effective customer acquisition strategy.
Perform Competitor Research
Our process begins by obtaining a thorough understanding of the industry, buyer personas and their buying journey, as well as the competitive landscape.
Through comprehensive research, we gain valuable insights into our clients' key competitors.
We analyze their marketing strategies, and promotional strategies in order to craft an effective and competitive ecommerce marketing campaign.
Awareness of existing strategies used by top competitors.
Identification of weaknesses in competitors' strategy.
Assessing advertisers, and influencers used by competitors.
Tracking competitor prices and promotions.
Identifying trends in competitor marketing activities.
Develop a Positioning Strategy
We at WebChanakya develop creative brand strategies, tailor-made to the specific needs of our clients.
We bridge the gap between the consumer and the product through the use of creative and qualitative approach that includes the development of messaging and visuals that can successfully resonate with the target audience.
Our team of experts are dedicated to creating efficient, innovative and profitable marketing strategies.
Creation of a clear value proposition.
Definition of a distinctive positioning for the ecommerce business.
Creating a detailed action plan to achieve desired positioning.
Enhanced brand and product awareness.
Creating a competitive strategy to outmaneuver competitors.
Define customer acquisition process
Next in the process is deploying the most effective marketing tools to reach the target audience, enhancing online visibility and SEO, creating engaging content, and converting the leads into customers.
Through responsive web designs, social media ads, SEO, email campaigns, and PPC marketing, our team is well equipped to reach the desired customer segment and successfully convert them.
All this is done keeping in mind the campaign objectives and ensuring maximum ROI for our clients.
Creating campaigns to attract and engage customers.
Develop a customer journey.
Define customer conversion points.
Move customers through the acquisition funnel.
Increased conversion rates.
Increased customer lifetime value.
Greater efficiency in marketing strategies.
Tracking & Reporting
Our goal is to always drive maximum sales results for our clients. That's why our tracking and reporting tools provide ecommerce clients with clear visibility into their performance, such as CPA, ROI, sales and customer acquisition costs.
We also provide real-time insight into the customer journey, empowering our clients with timely information to optimize campaigns.
Plus, we provide detailed reports and analytics, so businesses can measure the impact of their campaigns and identify the best ways to drive maximum results.
 Accurate and reliable data about customer activity.
Improved customer targeting.
measure and compare campaign effectiveness.
Improved ad optimization.
More informed decision-making.
Adjusted campaigns based on performance analysis.
Ability to prioritize strategies.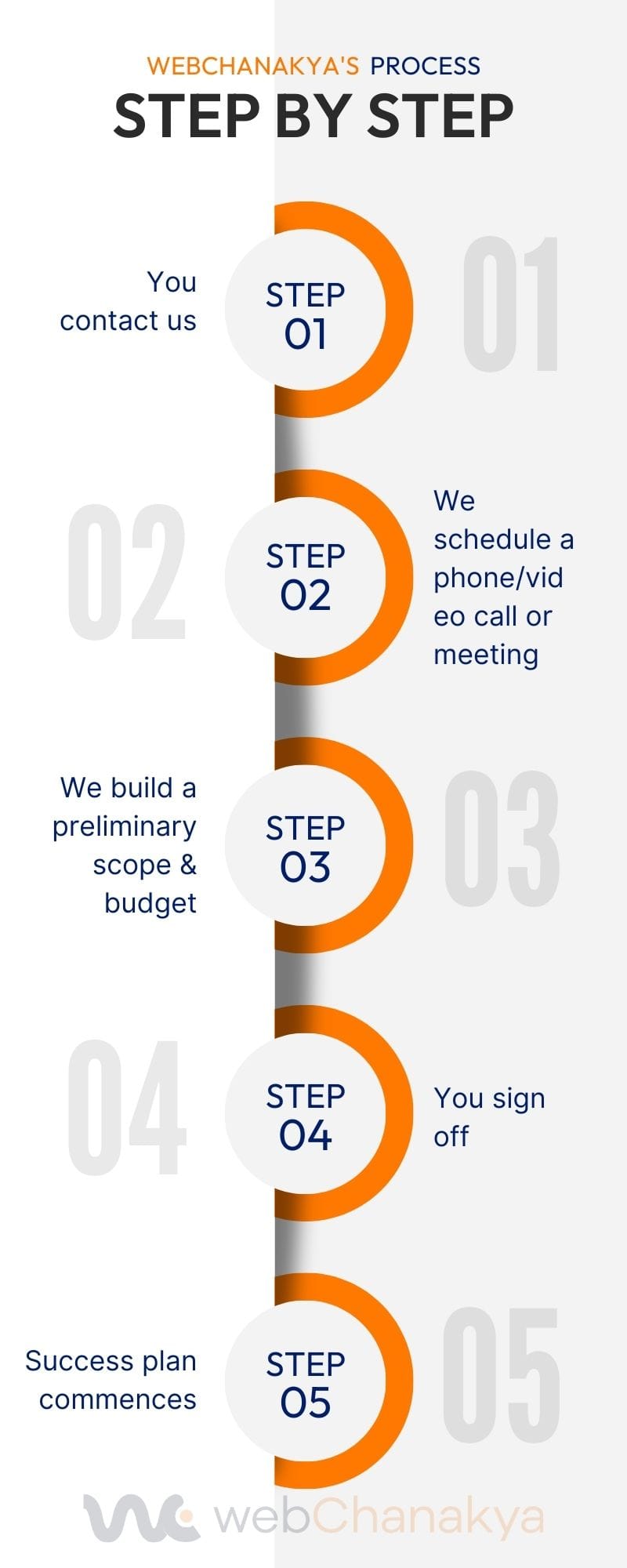 E-commerce Marketing Align with Your Business Goals
WebChanakya is highly specialized with a team of experienced professionals to help your ecommerce brand succeed.
Brand Discovery
Before starting any marketing campaign, we need to know what you want to achieve. This includes knowing your brand, industry, customer profile, and business objectives.
Strategic Plan
We'll help you understand your current situation so that we can recommend a strategy for achieving your goals.
Report Analysis
We make sure to capturing important e-commerce data, including order volume, checkout drop-offs and revenue to analyze how everything's performing.
Ecommerce campaign
We perform activities like keyword research, competitor analysis, audience building and more for a successful campaign.
Ongoing Ecommerce Optimization
This isn't set-it and forget-it. We are constantly improving your campaigns, making them better, faster, and stronger.
Create a Winning eCommerce Campaign with WebChanakya ecommerce marketing services
Ecommerce marketing is an effective way to reach new customers and increase sales. When done correctly, it will help you grow your customer base and increase revenue. There are many different ways to market your products online.
With our eCommerce marketing services, we can help you find the most successful strategies to win the market.
Your product or service needs to stand out among competitors and be easy to find. A good eCommerce marketing campaign includes email marketing, social media, and other digital channels.
Ecommerce Search Engine Optimization
Our eCommerce SEO experts will help you rank higher on Google. Your customers will find you faster through our eCommerce SEO strategies. We provide complete solutions for all aspects of eCommerce SEO.
We make sure your site is well-optimized for search engines.
Use keyword research for content planning to find out which words people are searching for online.
Write unique and informative content that provides value to visitors.
Working on both Off-page and On-page activities to drive organic traffic.
Ecommerce Content Marketing
Content marketing is about educating people with great content. Ecommerce Content marketing is a great way to boost your online presence and drive relevant traffic.
We help customers find your brand with easier product content planning.
Create useful content that helps people solve problems or learn something new about your brand.
It includes images and videos in your content to increase conversions.
To create a good content plan, we work on keywords to drive traffic to your site.
Ecommerce PPC Management
Ecommerce paid ads are an effective way to drive sales and quick results. Team WebChanakya work closely with you to create an effective strategy that maximizes your return on investment.
An optimized landing page is essential to increase the likelihood of converting visitors into paying customers.
Remarketing helps to keep your brand top of mind with existing customers.
We manage all aspects of your PPC account including ad copy, landing pages, keywords, bidding strategies, etc.
We offer 24/7 support via phone or email.
Ecommerce Web Design
Our ecommerce website team helps to create a salable online store by simplifying navigation and eliminating unnecessary elements to make purchase easy.
We work with the right balance between the SEO content and visuals that provide a better user experience for your eCommerce store.
Your customers will appreciate a clean, simple layout that makes it easier for them to navigate your products.
We make sure your ecommerce website is optimized for mobile devices as well.
Our website designs reflect who you are and what you offer that increase sales.
Ecommerce Social Media Marketing
Social media marketing is an effective way to promote your brand online on channels like Facebook, Instagram are great places to attract customers.
WebChanakya help you build brand relationships with people through social channels.
Your brand image should be consistent across all channels with WebChanakya.
Use the same style of voice and tone to communicate across different platforms.
Create an engaging content strategy that will attract followers and converts.
Influencer Marketing
Brands want to reach audiences where they spend most of their time online. People prefer to follow those who are influential over brands.
WebChanakya works with top influencers for promoting products online with samples or other perks in exchange.
Influencer marketing is a great way to increase brand awareness and drive sales.
We make sure your targeted influencer's followers align with your brand promotion.
We work strategically with influencers to share your brand values with customers.
Google Shopping Ads
If you want to increase sales online, you should use Google Shopping Ads.
WebChanakya works on Google's algorithm to better target what people are searching for and make it easier to find the right keywords for your ads.
We work with you on how to bid properly for your Google shopping ads.
WebChanakya analyzes the different metrics in Google Ads to drive sales.
Adjusting bid strategy and reviewing campaigns regularly to optimize ad copies.
Amazon Marketing services
Web Chanakya helps you create an effective Amazon business plan by providing valuable insights into the best ways to market products on Amazon.
We work on product optimization, running brand campaigns, and category pages optimization.
We are here to build better eCommerce marketing strategies and gain customer trust for your ecommerce.
Create an Amazon marketing Ad strategy to maximize sales.
Optimize your Amazon product pages and implement targeted eCommerce content plan.
Why is an
eCommerce marketing agency

so important for your online business?

eCommerce is still in work to boost traffic and build brand awareness to your site. In order to maximize customer satisfaction, you must leverage the online platforms.

Our eCommerce marketing team is committed to creating a customer-centric marketing strategy to ensure your business success.

Through WebChanakya ecommerce marketing services, you get:
Execute your marketing operations
eCommerce online marketing lets you create organized systems to market your business with centralized operations.
You can utilize data tracking tools to analyze the leads' conversion across different online platforms and optimize it accordingly.

Strengthen your online Business
Strengthen your online business by positioning your brands on interest buying to create recurring customers.
Ecommerce marketing includes social media marketing, SEO services, Google Ads, CRO, content marketing, etc. to drive you massive amount of sales.
Reduce Abandoned Carts and Drive Sales
Most shopping carts are abandoned due to the CTA and checkout process of the brands.
We at WebChanakya work on effective optimizing CTAs for ecommerce store to influence your online shoppers to complete purchases.
Increase Your online customer base across the globe
Expand your business to a wider range of audience and generate leads through online channels.
Ecommerce marketing allows you to connect with millions of potential buyers across the globe.

Boost your online business efficiency
In order to scale your business, WebChanakya is your a trusted ecommerce marketing agency.
We works with ecommerce professionals to implement data-driven successful marketing strategies to build your brand.

Eliminate Wasteful Spending
eCommerce marketing is a costly affair in achieving your business objectives.
WebChanakya help you get detailed insights, monitor budget and optimize campaigns for effective and result-oriented spending.
CONNECT IN 24 SECONDS
---
Ready to Explore Our Digital Marketing Services?
DISCUSS YOUR PROJECT
---
Let us guide you for your requirement.