Placing yourself at the right time and place when your customers are looking for a service or product is the most influential form of marketing.
To Achieve that, you need to:
Get the Top Spot in Search Results and Outrank Your Competitors.
Get your ads seen by the right people at the right time.
Have any questions?
Get started with a free quotation
It's time to let your customers know you're ready to provide the product or service they need! PPC marketing puts you right in front of them, at the perfect time and place, to make the biggest impact.
WebChanakya offers effective managed PPC services that drive sales and boost online presence for businesses.
Choose the right PPC Agency for advertising your Brand
---
PPC Advertising is one of the most important marketing strategies for brands today. In fact, advertisers spent more than 1 billion dollars on advertising alone in 2022. But what does it take to make sure your campaign is successful?
WebChanakya the best digital marketing agency in Ahmedabad, is here to help you in optimizing your paid ads with proven results.
Audience Research & Goal Setting
The first step is to identify the target market. This includes researching and analyzing current and potential markets, understanding customer needs and wants, and assessing the competitive landscape.
Next, we determine the optimization and conversion goals of the campaign. We decide what metrics need to be tracked, set up relevant optimization goals, and establish realistic performance targets.
This helps align the KPIs with the business goals and objectives.
Clear understanding of the target audience.
Insight into the customers' buying habits.
Clarity on preferred channels.
Ability to craft ads as per the audience tastes.
Optimal ad spending by setting realistic goals.
Increased efficiency of campaigns.
Keyword & Competitor Research
We delve deep into relevant keywords, industry trends, and competitors.
We analyze the competition's search rankings, bids, and advertising strategies in order to identify opportunities and threats. We also research their ad copy, keyword usage and website content to gain insights on how they are effectively using the same service.
Post competitor analysis and keyword research, we then develop a strategy to use those keywords and insights in our Google Ads campaigns.
Identification of relevant keywords.
Insight into competitor campaigns.
Identify areas of competitor weakness.
Increased visibility for target keyword terms.
Effective targeting of the right audience.
Develop an actionable strategy with the right strategy.
Campaign Architecture Setup
The crucial step in creating a successful Google Ads campaign is to properly structure the campaign. This includes establishing objectives and identifying the target audience, determining budget parameters, and selecting the appropriate keywords and ad placements.
We then analyze and choose the ideal platforms, such as YouTube, Google Display Network, Shopping Ads and search results, that can best reach the target audience.
The next step is to create a robust ad copy and persuasive call-to-action that drives customer engagement.
Well-structured google ads setup.
Optimized ad groups and keywords.
Reduced wasted spend.
Enhanced budget allocation.
Ad hoc targeting.
Improved organic CTR performance.
Increased ad relevance.
Alignment of campaigns & ad sets to business objectives.
Launch Ad Campaigns
We create engaging custom ads that capture new attention, drive conversions, reach target audiences through precise campaigns, track results and report back for maximum success.
Our team of experts will fine-tune accounts, monitor keywords and optimize campaigns for maximum ROI.
We understand the power of Google Ads and have the expertise to develop winning campaigns that generate a positive return on investment.
Reach more customers with tailored messages.
Bring in potential leads.
Maximize budget goodwill.
Drive conversations and engagement.
Increased traffic to the website.
Better brand awareness.
Enhanced website visibility.
Retargeting Ads
Retargeting campaigns help increase customer engagement, conversions and loyalty for businesses.
Our strategists review extensive customer data to develop retargeting campaigns tailored to individual customer interests.
We deliver flexible, measurable campaigns using intelligent bid strategies and powerful programmatic algorithms to stimulate conversions and optimize them for desired outcomes.
Increased website visits and conversions.
Identify and deliver relevant ads to previously engaged customers.
Boost customer retention and loyalty.
Deeper audience insights into buying trends.
Ability to personalize ad messaging.
Monitor & Optimize
Our process consists of tracking relevant metrics, troubleshooting any performance obstacles, improving bids and ad copy, adjusting budgets and schedules and countless other techniques to meet your goals.
We can help increase the relevance of ads, refine landing pages, improve targeting, and recommend adjustments to bidding strategies.
We'll also track and monitor the results of each modification in order to ensure that you're achieving the highest possible ROI.
Optimize ad spends and improve return on investment.
Leverage data-driven insights for creating better campaigns.
Adjust bids and budgets to improve ROI.
Utilize testing to increase website traffic, leads, and conversions.
Spot negative trends, such as rogue campaigns or keywords.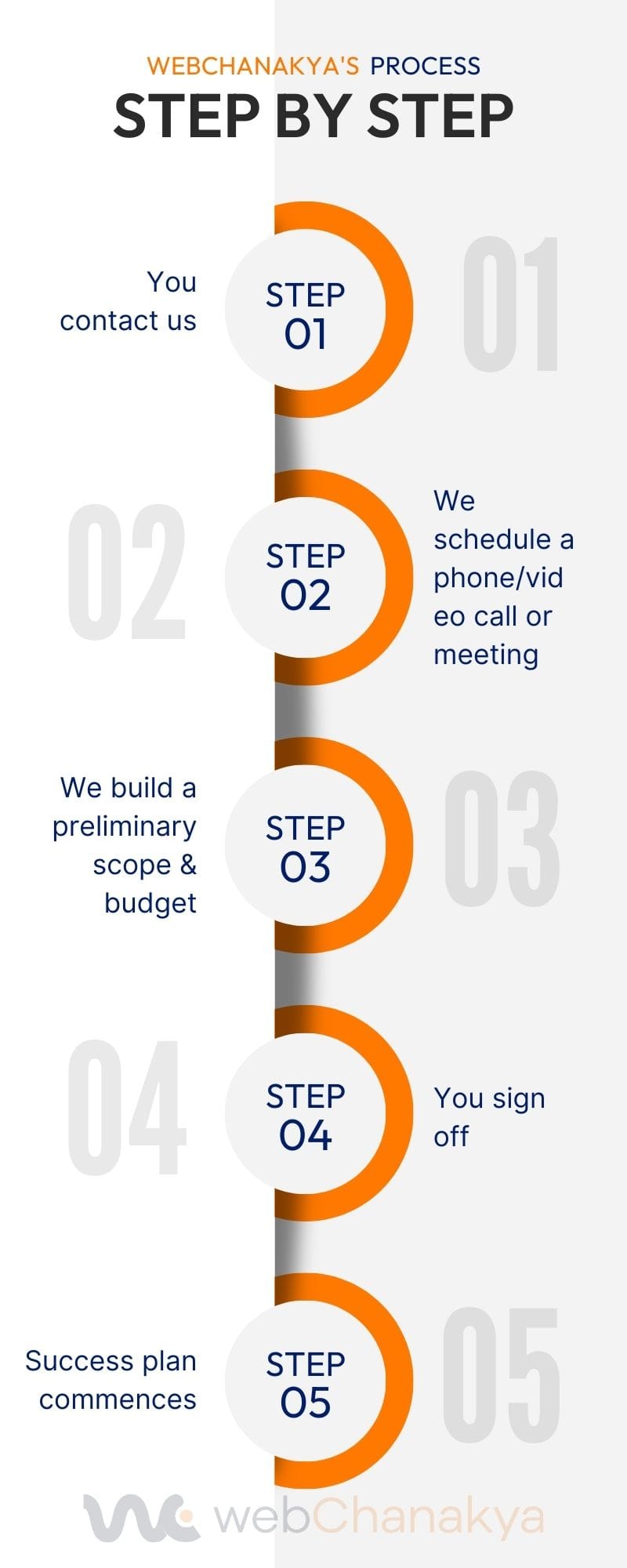 How PPC is beneficial for your Online Business
Pay per click advertising is one of the most popular ways that offer quick and effective results. Let's look at reasons How PPC is an effective tool for generating leads.
Immediate and consistent Results
Paid Advertising offer immediate and consistent results so you don't have to sit for weeks or months to get results.
Budget control advertising
PPC is a great choice for online businesses looking to test out different keywords without breaking the bank.
Generate quality traffic very quickly
PPC benefits you targeting relevant searches that increases the clicks on your ads.
Save Time with effective results
Hiring a PPC management firm is a great way to improve your conversion rates that saves your time and offer effective results.
PPC improves SEO performance
PPC ads can grow a business's brand recognition, making an SEO conversion more likely nearer.
Why WebChanakya PPC management agency is Better Than the Rest
Pay per click advertising (PPC) is one of the most effective ways to advertise online. However, it requires careful planning, monitoring and execution. If you want to succeed with PPC, you need to find a partner who knows what they are doing.
WebChanakya is a reputable PPC management company offering premium digital marketing service. We provide a detailed proposal before beginning work. We monitor all campaigns carefully to ensure quality results. We also offer a comprehensive package that includes everything needed to run successful paid search marketing campaigns.
Dedicated PPC Specialists
If you want to make sure your campaign is successful WebChanakya is a Digital Marketing Agency dedicated to helping clients reach their goals.
Our team of experts will handle everything from keyword research to ads copy writing to landing page creation.
You don't have to worry about managing your account; let us do it for you while you focus on growing your brand.
Boost your sales, quality traffic and ROI
The most important thing about paid advertising is that it helps you generate more qualified traffic.
This means that people searching for what you sell are actually coming to your site.
WebChanakya help you attract more visitors to your site, and convert them into leads or sales?
Turn Clicks Into Measurable Results
Postclick optimization is equally critical as pre-click optimization. Paying attention to the site analytics, will help to know how much traffic it takes to generate revenue.
But what about conversions? What percentage of those visits actually lead to purchases? How do you measure that?
WebChanakya works to design and optimize landing pages to convert visitors into customers.
Generate High quality Leads
Paid ads are the best ways to generate leads. But it doesn't always work well because people are skeptical about what companies want to sell to them.
So how do you convince someone to buy something without selling to them?
WebChanakya works on the most effective ways of paid ads to generate qualified leads.
Comprehensive PPC Audit
We do comprehensive audits to optimize PPC campaigns and find out what works well and what not to make changes accordingly and improve the campaign performance.
Our PPC team of experts work closely together to develop an overall PPC strategy for your digital marketing success.
Detailed Reporting
Advertising detailed reporting allows you to view all of your ad campaigns from one place.
This includes ad performance, impressions, clicks, conversions, and other metrics. The best part about detailed reporting is that it allows you to track specific metrics and get maximum ROI.
PPC services:

ROI Driven Sales with WebChanakya

Whether it comes to increasing traffic, generating leads, or driving sales. WebChanakya team of PPC experts will manage and optimize your advertising campaigns. We work on search engine marketing, content marketing, and advertising budgets for relevant keywords to ensure you see the best ROI possible.

PPC Search Ads
Paid search ads are an effective way to promote your company or products. It works best to attract high quality leads and potential customers through Google Ads to people who are already searching for your industry or product offerings online.

PPC Display Ads
Display ads are effective at attracting attention from most people who surf online. Display ads maximize images and text to attract online users' attention and persuade them to click through to websites and take action.
Google Shopping Ads
Google Shopping Ads are an effective method for promoting massive products online. Every time someone clicks on an ad, there's a greater likelihood to convert. It works best for eCommerce to target customers who have clear buying intent.

Remarketing Ads
Remarketing is an effective way to increase massive amounts of your sales without spending much money. We use Creative PPC ad copies to create significant results for our clients' remarketing campaigns.

YouTube Ads
YouTube ads are an effective way to target consumers while they're watching video online. YouTube's ads allow you to promote your business in an interesting and memorable way to generate sales.

Amazon Ads
Amazon Ads is one of the popularly growing PPC services in online ecommerce marketing.  WebChanakya team help you organize your Amazon PPC campaign and skyrocket your profits.
CONNECT IN 24 SECONDS
---
Ready to Explore Our Digital Marketing Services?
DISCUSS YOUR PROJECT
---
Let us guide you for your requirement.