If your Social Media campaign is missing the mark and inspiring little to no response from your target audience, it's time to take a step back and reassess your strategy.
To solve this problem, you need a social media campaign with
Engaging content more than just a clever slogan and hashtag.
Active fan base who are willing to take action.
Most Importantly: An experienced Social Media Marketing agency to help you achieve your desired outcomes from Social Media.
Have any questions?
Get started with a free quotation
Tackling social media marketing can be intimidating if you don't know the ins and outs. But with the right strategies in place, you can make a big impact!
Allow WebChanakya to guide you to the summit of Social Media Marketing success! 
Harness the power of online presence with a
Social Media Marketing

Company
---
From young millennials to experienced seniors, it seems like everyone is on social media these days; Facebook, Twitter, Instagram and more! It's clear that building community, connecting with people, and creating captivating content are all part of the journey, but don't forget the ultimate goal - conversions!
Roadmap to
Social Media Marketing

Success
Define Goal and KPIs
We begin by taking an in-depth approach to social media marketing by defining clear goals and KPIs. This will allow you to develop highly targeted content that increases your results.
Our team of social media experts will choose relevant metrics and performance indicators to measure your success, like impressions, engagement rate and website traffic.
Time frames will be set for each goal and key performance indicator, so we can measure the success of our campaigns.
Clear understanding of SM goals.
Consistent tracking of KPIs.
More data-driven decision-making.
Accurate plan of action development.
Greater flexibility to adjust strategy.
Identify specific, achievable and measurable outcomes.
Develop/Refine Social Brand
We create a unique brand identity that defines your product or service, build a brand story and other core messaging that reflects your mission and values. The team ensures your messaging is consistent across all platforms and channels.
We then examine the brand's presence on social media, including visuals, messaging, customer service, and audience targeting, and recommend improvements.
Following the analysis, we establish a core theme for the brand, communicated via tone of voice, color palette, messaging, and calls-to-action, to create easier customer identification and better recall and loyalty.
Awareness of our competitors' strategies.
Identification of potential new opportunities.
Clarity on our positioning and messaging.
Identification of our target market.
Selection of the right social media platforms.
Development of an effective, measurable plan.
Content Planning & Production
At WebChanakya, we create compelling social campaigns that amplifies your brand presence online.
Our team has extensive experience helping businesses develop content that engages their target audience, increases interactions and drives sales.
Post content planning, we develop high-quality visuals, narratives, and videos produced by our experienced producers in order to ensure your content resonates with your target audience.
Engaging your Audience
Making People fall for your Brand (Increase brand awareness)
Clear branding across channels.
Improved content relevance.
Enhanced brand messaging.
Increased user engagement.
Better targeted content.
Updated with all social media calendar days.
Create and Publish Content
We create and distribute high-quality content across social media platforms to engage with target audiences, build relationships and ultimately grow businesses.
Our team of expert digital marketers and content writers ensure that the messaging is on-brand, the content is well-crafted & the graphic/videos are captivating.
By monitoring and analyzing the customer engagement levels, we continually optimize our strategies for maximum success.
Increased visibility on social platforms.
 Increased engagement with followers.
Improved brand awareness.
Enhanced reputation and credibility.
Increased customer loyalty.
Increased website traffic.
Improved lead generation.
Leverage Influencer and Community
We leverage key influencers and our online community to engage prospects, build relationships, start conversations, and increase sales.
We'll research influencers in your niche, collaborate on content and campaigns to optimize circles of influence; and enhance community outreach, creating a loyal fan base and growing your business.
Our creative approach to social media marketing ensures that your campaigns are truly impactful.
Diversification of marketing messages.
Access to larger audiences.
Expansion of brand reach.
Increased trust in the brand.
Build a community faster.
Builds relationships between brands and communities.
Opportunity to collaborate with niche industry leaders.
Monitor, Analyze and Optimize
From organic campaigns to boosting posts, our team of professionals constantly analyze data and provides detailed reports to give you an extensive view of your campaign's performance.
By monitoring, we track engagement levels to ensure timely adjustments are made to keep up with trends.
Our unique approach is to make social media a core part of your digital presence, allowing you to maximize visibility, grow your influence, and increase your sales.
Identify what's working the most with your audience.
Greater alignment of marketing strategies with business objectives.
Optimize brand messaging according to the responses.
Real-time analytics and insights.
Improved customer feedback.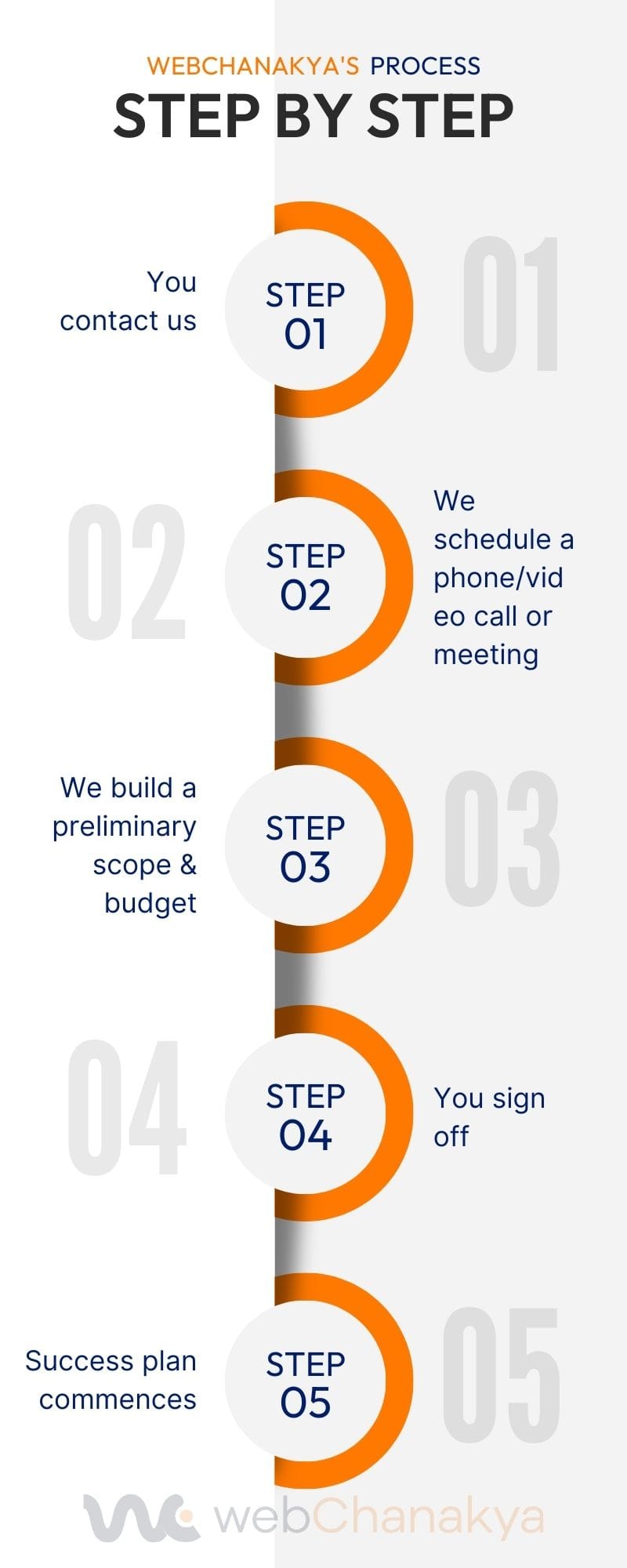 We develop
campaigns

that drive results

We are a Digital Marketing Agency providing you the best Social Media Management Services in India. We provide complete digital Marketing Solutions to help businesses grow online.
Increase Brand recall Value
Increase your Brand recall value by making your customers' realistic connection with your product or service.
Gain Exposure to Millions of Potential clients
Social media is now used by millions of people for everything from sharing photos and staying connected.
Improve Brand Loyalty
With social media marketing, you improve the brand loyalty that makes you feel a great choice to make a purchase.
Reputation Management 
A well-managed social reputation will help your business grow by attracting customers who are looking for you.
Enhance Customer Service
Our team focuses on providing excellent service to satisfy your requirements in every interaction with the company.
Meet your Social Media Marketing Goals with Web
Chanakya
We are a full-service digital agency based in Ahmedabad. We specialize in building brands online through strategic planning, creative design, development, and implementation. We believe in providing great customer service and making sure each client positions their brand exactly how they want.
Our team consists of highly skilled professionals that work together to provide the best experience possible for our clients. We focus on creating high quality content that engages audiences while growing brand awareness.
Maximize Brand Awareness 
Through the use of social media, companies have the ability to connect with potential customers, as well as increase recognition for their brand.
It takes a lot of effort and patience to build up a loyal following.
We work on some of the most effective ways to use social media to market your business.
We very well know the best social networks that fit your requirements to maximize brand awareness.
Result Oriented Strategies
Brands should always keep an eye out on what people are saying about them online.
This helps brands understand what consumers like and dislike about their products.
WebChanakya plans a result-oriented social media strategy, while thinking about where people come from and how your brand interacts with them.
We work on an effective strategy consistently throughout all channels to build trust and authority among potential customers.
Customized Marketing Solutions
The world is changing rapidly, and it's important to adapt quickly that's why we offer custom social media marketing solutions.
We take into account what makes each client unique and tailor a solution that fits their needs perfectly.
Our team will work closely to develop a customized strategy that suits your business objectives.
We'll analyze your current stats and provide recommendations on how to best implement a plan that meets your goals.
Our ROI-Driven Approach
Our Social Media Marketers are highly skilled professionals with expertise in social channels, content strategy, Brand Building etc.
Our approach is based on three pillars:
Content - We create content that people love to share.
Engagement - Engage the audience to make sure that the content is resonating with customers.
Conversion - We transform engagement into conversion with high paying customers. 
Top
Social Media Marketing Platforms

to Build online Presence

Surpass Your Competition by Reaching New Customers Social platforms are everywhere nowadays.

You probably use some of them every day without even realizing it.

From Facebook to Instagram, Twitter to LinkedIn, Snapchat to Pinterest – the list goes on and on.

But how do you know which ones are best for your brand? Let's take a look at some of the most popular social media platforms today.

Facebook Marketing
With our Facebook marketing service, we help you showcase engaging content, clean up regular posts, and direct traffic to your website. It includes everything you need to promote your brand effectively.

YouTube Marketing
Boost your YouTube marketing efforts by capturing your audience's attention and compelling them to take action with WebChanakya YouTube Marketing strategy.
Instagram Marketing
Instagram Marketing is an effective way to build awareness about your business. It is also used to promote products and services. Refine your Instagram marketing strategy and growing analytics with WebChanakya.

Twitter Marketing
Twitter marketing reaches your brand out there with millions of people. WebChanakya helps you identify your ideal customer base and develop targeted Twitter campaigns that humanize your brand and drive sales.

LinkedIn Marketing
WebChanakya helps you grow your LinkedIn Community by crafting valuable content for your followers, connecting with business persons, and implementing LinkedIn best practices with your Brand.

Pinterest Marketing
Our services for marketing on Pinterest can assist in converting more website visitors into paying customers. But how do you get started? WebChanakya works on using Pinterest's marketing strategy with strong CTA to Drive Results.
CONNECT IN 24 SECONDS
---
Ready to Explore Our Digital Marketing Services?
DISCUSS YOUR PROJECT
---
Let us guide you for your requirement.