Get Found, Rank Higher and Convert Your Online Store Visitors to Loyal Customers.
With millions of search queries performed every day, it's important for your ecommerce store to be seen among all the competition. WebChanakya's Ecommerce SEO Services will make sure that your ecommerce store is easily found by potential shoppers. Having your website ranked higher on Google will help your store get more organic visibility and drive maximum sales.
With our team of Search Engine Marketing Experts, you get the best of both worlds: comprehensive SEO strategies and high conversion rates that drive sales. Our SEO strategies are inclined towards getting a higher rank in google, driving maximum store traffic and increasing your store revenue.
What do our
Ecommerce SEO

services include?

 
Keyword Research & Analysis [What will your customer search]
On-Page SEO [Make google comfortable to get you a higher ranking]
Technical SEO [Let Team WebChanakya handle this]
Product & Category Page Optimization [Taking visitors close to conversion as possible]
Product SEO Copywriting [Writing copy is 90% selling, 10% writing]
Navigation Optimization [When you optimize navigation, you optimize for sales]
SEO Audit [Before Everything Else]
Off-page SEO Optimization [Earning authority from Google]
Conversion Rate Optimization [Increasing your revenue per visitor]
Content & Blogging [To generate quality backlinks]
Ecommerce
SEO Services

That Attract Visitors & Increases Sales
Keyword Research & Analysis
Our team of ecommerce SEO Experts perform extensive research to identify the right keywords (including long-tail keywords) for your online storefront. These keywords are then analyzed using various advanced tools to determine their competitiveness, volume, and difficulty level. Additionally, competitor research is done to check what keywords other websites are ranking for and how they're performing in organic search. This helps us build a strong foundation for your ecommerce SEO. 
On-Page SEO
For winning valuable organic traffic, it is important to optimize a website's on-page. On-page SEO includes improving the website navigation structure, meta tags for pages, descriptions, images, videos, source code, etc., to rank better. WebChanakya's ecommerce SEO strategy is designed such that each product page contains relevant images, header tags, text, and internal links. We make sure that your storefront ranks higher and increases conversions & sales.
Technical SEO
At this stage, we start looking into all the technical SEO aspects of your online storefront that prevents search engines from crawling, navigating, indexing and improving rankings. This includes things like broken images, missing alt tags, 404 errors, redirect loops, and duplicate content. Our team will conduct an in-depth audit to find out technical issues such as page site speed, web crawling, web indexing, and page rendering which can have an impact on your search rankings.
Product & Category Page Optimization
A product page is an ecommerce site's asset. It is important for a product & category pages to rank higher when a potential buyer is searching online. Our team ensures that your products behave with clear titles, SEO-optimized product descriptions, and images that help optimize to rank higher. This ensures that all of your products are correctly categorized and that they are displayed at the right place for easy navigation for visitors.
Product SEO Copywriting
One of the most important factors in determining if people will click on buy now is the copy that is written for them. Our goal is not only to make them to buy your products but also to get higher ranking in SERP to drive traffic. Our copywriting process includes a SEO optimized copy that allows the consumer to understand the benefits of buying your product. It includes all the relevant keywords to rank higher.
Navigation Optimization
We understand how a good navigation strategy helps define the customer journey, helping customers navigate through the site efficiently and effectively. Our team focuses on optimizing navigation to increase conversions by helping visitors find exactly what they want, faster. We make sure that the navigation menu is well organized and has a clear hierarchy. 
Off-page SEO
Off-page SEO refers to activities outside of your website such as link building, social media marketing, press releases, etc. Our off-page SEO services include creating backlinks, submitting articles to blogs and directories, digital PR, guest blogging, and other forms of outreach. Our team works on getting your brand featured on popular websites to get higher rankings. 
SEO Audit
Search Engine Optimization audits are a great way to identify ranking factors for growth and improvements in your overall SEO strategy. Our ecommerce audit will provide you with a comprehensive report of your current SEO standing. The report highlights opportunities for growth and ways to improve quality traffic and your search rankings. Based on this report, SEO strategies are developed in areas of SEO that needs improvement. 
Conversion Rate Optimization
We are experts in converting traffic into sales. Our CRO services focus on identifying the gaps that exist in turning your visitors into customers. Our team of Conversion Experts will optimize your site based on our proprietary CRO process. This includes everything from A/B testing to mobile load speed, retargeting, and much more. By optimizing every aspect of your online presence, we increase your conversions and revenue.
Content & Blogging
We understand that a content marketing strategy serves 2 purposes: one, to help google find relevant information about your products and services, and two, to let people know you are knowledgeable and trustworthy - both of which increase conversions. At WebChanakya, we help you build out your content strategy, identify gaps, develop a roadmap, and create quality content for online visibility & future growth.
Our Ecommerce
SEO

Process Drives Results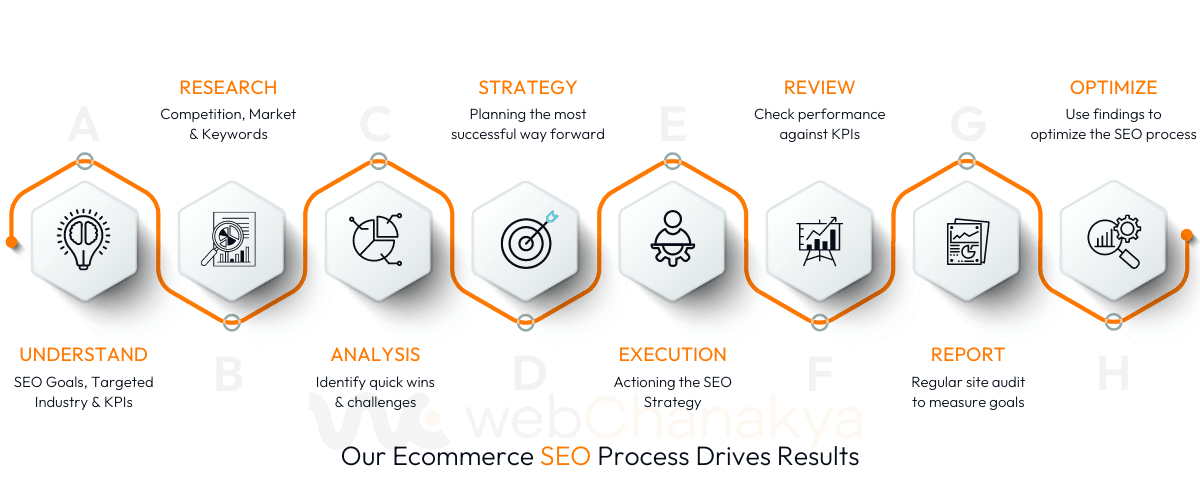 Why Choose Web
Chanakya

for Ecommerce SEO Services?

At WebChanakya, we specialize in SEO for storefronts. Our experts have a clear understanding of how search engines work. They know how to take a website from being a shadow on the internet to becoming one of the most prominent and useful resources in the market.

As an experienced and professional Ecommerce SEO agency for ecommerce websites, we have a team of dedicated professionals who are ready to handle all aspects of the SEO process. We offer you the opportunity to get more traffic to your site, improve your ROI and give you the competitive advantage you need to stay ahead of your competitors.

Our SEO & digital marketing service is designed to meet your specific needs, so that you can optimize your return on investment. We use the latest trends in SEO, combined with our years of experience in the industry, to get you the results you need.

We're always working hard to provide better solutions to our customers, and we'd love to meet you soon. 

 
Here are 6 reasons why you should hire us as your
Ecommerce SEO Agency

in India.
Proven Methodology 
Our team consists of highly skilled professionals who have great experience in providing quality SEO and SEM services. They utilize proven methods of SEO so that your website gets high rankings.
Customer Centric 
We are customer centric. Our focus is not only to get highest rankings but to increase your conversion rate. Our focus is on the kind of search terms used by people to make a search and optimize for the long-tail keywords. 


Quality Assurance 
Our team of SEO experts follows strict guidelines according to google algorithms while working on an online storefront. Quality assurance is very important for us. We check each step of our process before developing a strategy. This helps us to ensure maximum ROI for your ecommerce business. 


Experienced Leadership Team
WebChanakya a digital marketing agency that has over 10 years of experience in providing Digital Marketing services and solutions and has helped more than 1000 clients over the last decade. Our leadership team has gained expertise over time and therefore we have the knowledge to provide the best services to our clients.


Custom SEO Campaigns
Our custom SEO packages and plans are affordable and can be customized according to your business goals. Our SEO experts understand your requirement and make sure that you get the best results. We are a customer-oriented company that focuses on providing the best solution according to a business requirement.


We don't just sell our services; we work hard to earn your trust so we can show you exactly how to get the best results from your online marketing campaigns. Let WebChanakya be your one-stop shop for digital marketing services.
---
🚀 Growth Is Easy With web
Chanakya
Human-Centric marketing approach

Pool of experienced digital marketers

Dedicated account manager for all projects

Scalable Marketing Framework
Don't know where to begin?
Frequently Asked Questions
---
FAQs on Ecommerce SEO Services
It is the process of optimizing your website so that it ranks well organically. It involves using various methods such as backlinks, keywords, meta tags, title tags etc. to improve SEO rankings.
2
Why should I use Ecommerce SEO?
The main purpose is to drive more visitors to your store and increase its overall performance. The more visitors you receive, the more chances of selling products.
3
How does Ecommerce SEO differ from other types of SEO?
The main difference between Ecommerce SEO and traditional SEO/local SEO is that it focuses on improving the visibility of your products rather than your website. The primary aim of Ecommerce SEO is to rank highly in SERPs for relevant keywords, focusing mainly on product.
4
Do you provide white label ecommerce seo service?
Yes, we offer white label ecommerce SEO services. Get in touch with us to find out how we can help you.
5
Is Keyword Research Strategy different for E-commerce Sites?
Yes. We target the keywords relevant to products of the website so that search engine crawlers understand it's an ecommerce website. 
Ecommerce Keyword Research basically divides the queries into four basic types of search intent:
Informational
Commercial Investigation
Transactional
Navigational
6
Can Search Engine Optimization improve my sales?
Yes! As mentioned earlier, websites ranking higher in search results leads to increased traffic which ultimately translates into an increase in online visibility & increase in sales.
7
Which types of Ecommerce SEO do you offer?
We offer two types of SEO services: Organic SEO and
PPC/Google Ads
. Both these options help you rank better in search results. But, they serve different purposes. Organic SEO - This choice allows you to rank well organically without paying anything. You just need to optimize your site with the right content and link-building strategies. PPC/Google Ads - If you want to pay for getting ranked higher, then this is what you must. In this case, you will need to invest money in paid advertising campaigns.
8
Do you guarantee any specific results?
No. Every client's situation is unique and requires a custom approach.
9
Are you able to provide monthly reports?
Yes. We offer SEO reports that help check the progress of the website and decide the current ranking status. With the help of these reports (from Google Analytics, Google Search Console and other tools), we will find out how well the strategy is doing and also how your competition is doing. Knowing how well you are doing compared to other businesses and your competitors will help us make adjustments to our strategies. 
10
Why do stores need SEO?
Ecommerce stores need to ensure that their websites are optimized for search engines such as Google in order to earn a spot in the top search engine rankings. 
Product related searches are becoming more competitive and ecommerce stores need to differentiate their products with unique descriptions and attractive visuals in order to stay ahead of the competition. By optimizing their websites for search engine algorithms, ecommerce stores can enhance their online presence and gain an advantage over other market competitors and helps build trusted resource (Authority) in your product category.
11
How much does ecommerce SEO services cost?
The cost is dependent upon a variety of factors such as what keywords you are targeting, how competitive your niche is, etc. The E commerce SEO Services Cost is also dependent on the type of service that you desire. We offer a variety of SEO services, from basic competitor research and audit to complete strategy.
12
What ecommerce stores can you provide services to?
SEO services cater to the online business industry as well as any other business who sells goods or services on the internet. The website and its content needs to be optimized so that the search engine algorithms can find them and rank them highly in searches.
13
How long does it take to rank on google?
Ecommerce SEO takes anywhere from three to six months to start showing results. There are many factors involved in how quickly your site ranks, including the type of product you sell, your competitors, and your target keywords. Google uses a complex formula to determine which sites to display in the search results. There are many factors that go into this algorithm, including the quality of the site itself, the authority of the domain name, the number of backlinks pointing to the site, the age of the site, the amount of time the site has been around, etc.
14
Do you provide Shopify SEO Services?
Yes, we provide Shopify SEO services!
With the right knowledge and expertise, we help you leverage Shopify's full potential to increase organic traffic, improve website rankings and drive long-term growth. Our Shopify SEO services cover everything, from optimizing title and meta tags to optimizing site structure and content.
We optimize your Shopify store for both technical and on-page SEO. Our technical service involve ensuring your website is discoverable and crawlable by search engine bots, by improving its architecture and assessing speed performance. We deploy on-page tactics to boost organic traffic. This includes optimizing keyword density, adding internal and external links and writing compelling meta titles and descriptions.
Our SEO services cover everything you need to reach the top of search rankings. As an ecommerce marketing agency, we focus on bringing your store to the forefront of search engine results. With the right optimization, you can gain the competitive advantage against the competition and drive profitable revenues in no time.