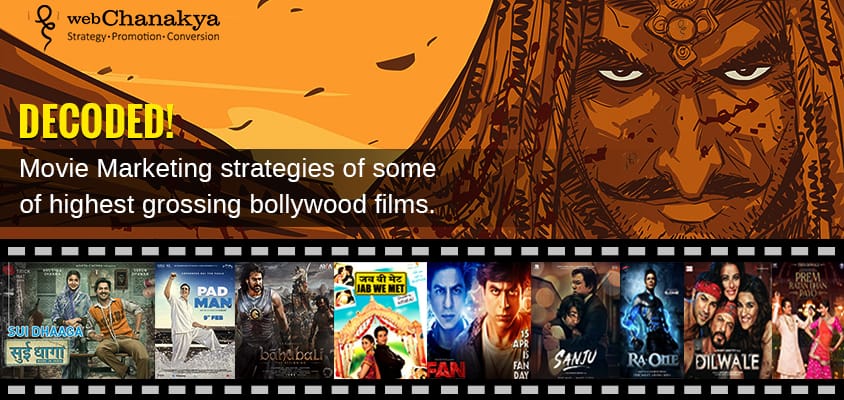 DECODED! Best Movie Marketing strategies of some of the highest grossing Bollywood films Campaigns
February 2, 2019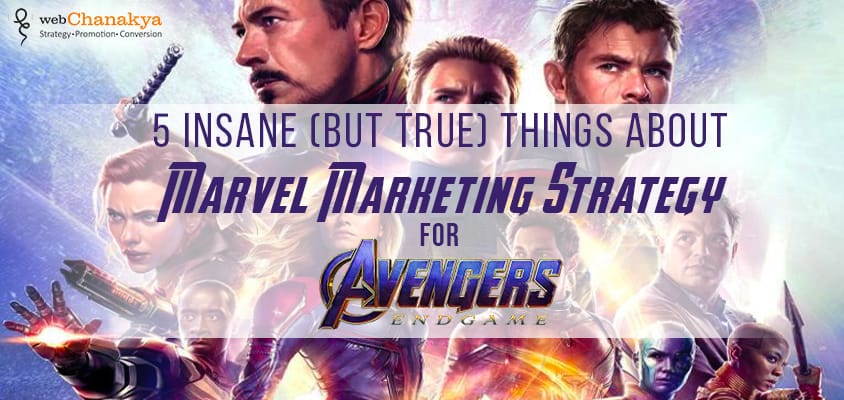 5 Insane (But True) Facts About Marvel Marketing Strategy for the Avengers: Endgame
May 27, 2019
The Indian Premier League is one of the most viewed, loved and followed sports event in India since more than a decade now and has a viewership of millions across the globe exceeding the viewership of America's most famous annual championship game of the National Football League "The Super Bowl". The IPL franchise has stunned the world and is the most successful franchise model out there.
We have handpicked 5 Online Marketing Strategies of IPL and its sponsor brands which has made IPL the most sought-after event in the world and a huge game-changer for the sponsoring brands.
The Franchise Model
Over more than 80 brands have bid heavily to be a part of the 16th edition of the IPL which has now become a marketing fiesta. According to Duff & Phelps' yearly IPL study, the IPL ecosystem's value is expected to increase from US$6.2 billion in 2020 to US$11 billion in 2022, mainly due to the broadcasting rights fee's 75% compounded growth rate.
Jio Cinema became the official streaming partner of IPL for 2023.
IPL Sponsors 2023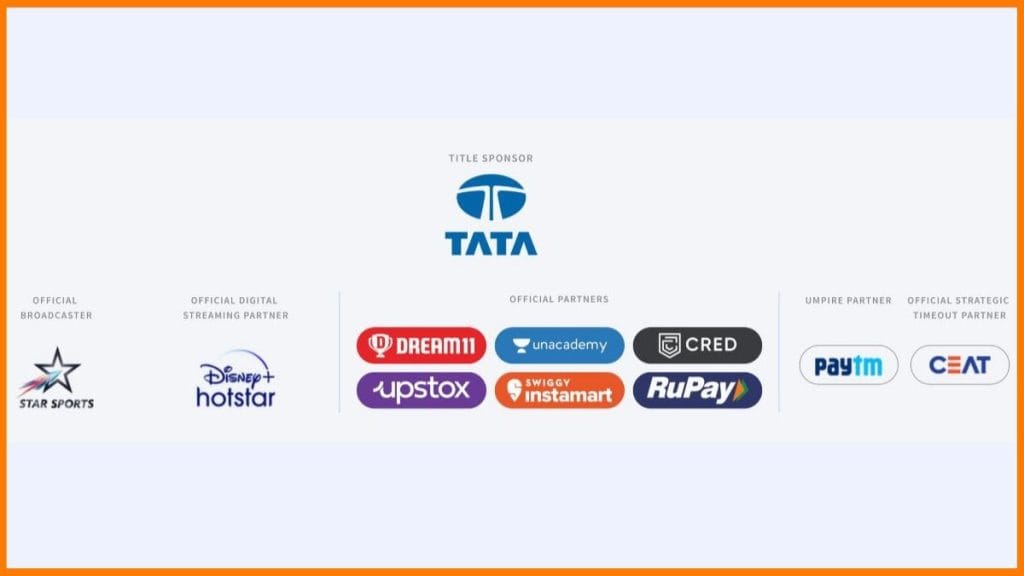 Here is the IPL sponsor list with the following details of title sponsor, official partners, Official digital streaming partners, official broadcasters, strategic time out partners, umpire partners.
| | |
| --- | --- |
|  IPL Series Sponsorship | Brand |
| Title Sponsor | TATA |
| Official Partners | Saudi Tourism Authority |
| Official Partners | RuPay |
| Official Partners | TATA Safari |
| Official Partners | Dream11 |
| Official Partners | Upstox |
| Official Partners | CEAT |
| Official Broadcasters | Star Sports |
| Official Digital Streaming Partners | Disney+Hotstar |
| Umpire Partners | PayTM |
| Official Strategic Timeout Partner | CEAT |
IPL Updated Star Sports Sponsors 2023
| | |
| --- | --- |
| Sponsors | Brands |
| Co-Presenting Sponsor | Dream 11 |
| Co-Presenting Sponsor | TATA |
| Co-Presenting Sponsor | Airtel |
| Associate Sponsors | Cadbury |
| Associate Sponsors | Coke |
| Associate Sponsors | Mountain Dew |
| Associate Sponsors | Asian Paints |
| Associate Sponsors | TATA Neu |
| Associate Sponsors | LIC |
| Associate Sponsors | Kamla Pasand |
IPL Updated Jio Cinema Sponsors 2023
Disney+Hotstar has onboarded a total of 13 sponsors for the 15th addition of the TATA IPL 2022. The detailed list is as follows:
| | |
| --- | --- |
| Sponsors | Brands |
| Co-presenting | Dream 11 |
| Co-powered by | Jio Mart |
| Co-powered by | Tiago EV |
| Associate Sponsor | Oreo |
| Associate Sponsor | Coca-Cola |
| Associate Sponsor | Puma |
| Associate Sponsor | AJIO |
| Associate Sponsor | Appy Fizz |
Updated Viacom18– Media Rights 2023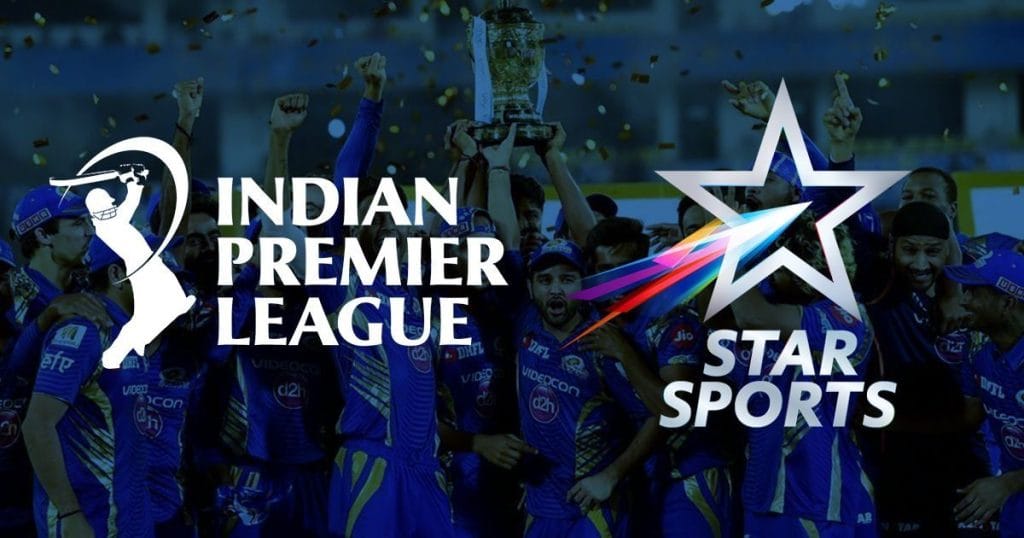 Viacom18 being the highest bidder of broadcast digital rights with a bid of 23,758 crores (Approximately 2.9 billion USD). Star Sports retains TV for 23,575 crores, that has put them in an advantageous situation for 4 years (2023-2027). 
In 2023, plenty of companies like Dream 11, Rupay, CRED, etc. become a part of IPL Sponsors, getting different benefits to increase sales, reputation, brand value due to massive viewership of 400+ Million.
TATA – The Name Game for IPL 2023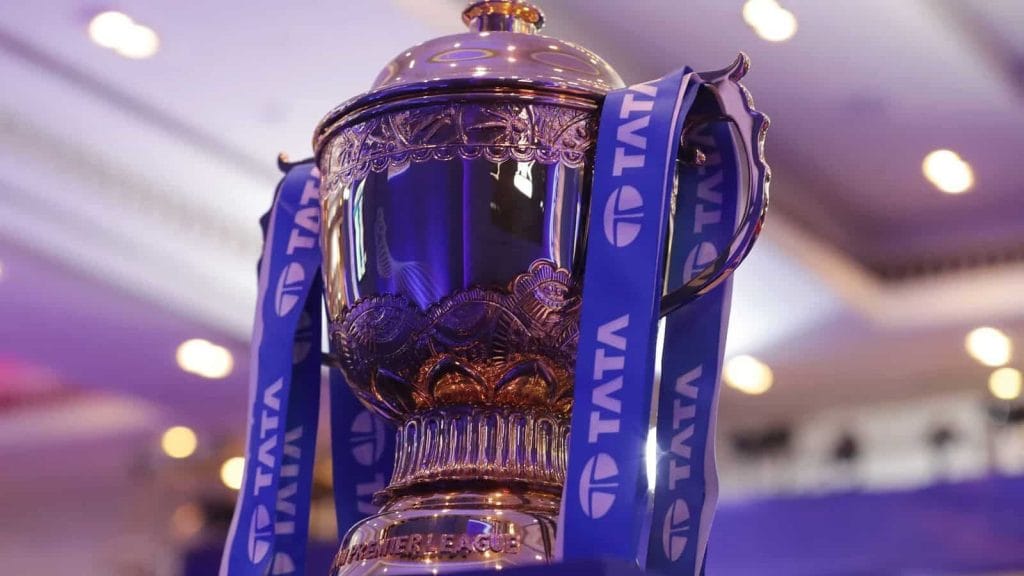 And as a result, the tata has increased the brand visibility, promoting Tata Neu making it the most visible and engaged of IPL 2022.
At the Early success, Tata neu hits 2.1 million app download just with in a week. Day by Day as the TATA IPL 2020 draws closer to playoffs, it became more interesting and viewers as the part of marketing.
The Above results shows that how big brands successfully utilize digital marketing to maximize with best ROI during the IPL Season 2022. But There is always give and take, for any partnership that wish to Grow.
The TATA has replaced the Chinese company vivo and became the IPL Title sponsor for the year 2022 and 2023.
CEAT – Strategic Timeout Partner 2023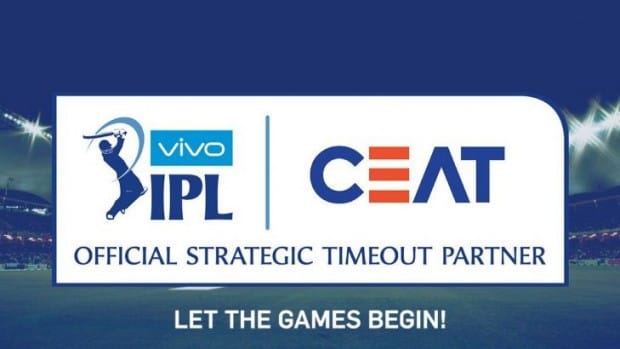 CEAT became a strategic timeout partner by paying a whopping 31 crores in a contract signed for 3 year, it has become a household name due to its unique CEAT strategic timeout strategy and is being one of the most recalled names in India as reported by YouGov
To engage audience, CEAT started various trivia contests on twitter roping in Rohit Sharma for the same.
With IPL viewership surpassing that the marketers are taking huge amount of bid in IPL, TATA has replaced the Chinese Mobile company VIVO from Title sponsor for the next two-year 2022- 2023 with an amount of 670 Crores according to Statista.
Take up the #CEATBatFlipChallenge and stand a chance to meet the one and only – @ImRo45. Come on, get going! Don't forget to nominate your gully cricket boys! Upload the video, tag the #CEAT handle and use the hashtag #CEATBatFlipChallenge. #ContestAlert pic.twitter.com/AJCfYQ1hdX

— CEAT TYRES (@CEATtyres) April 24, 2019
Tata Tiago EV– #Loveatfirstdrive 2023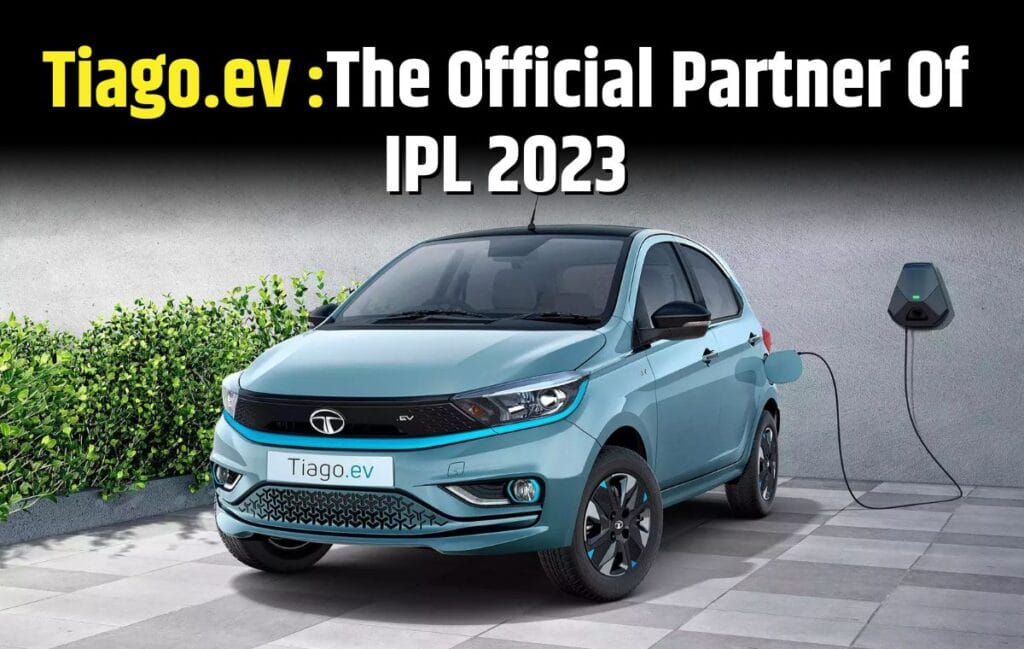 The company announced that the Tata Tiago EV Edition will be auctioned at The IPL 2023.
Continuing its partnership with the Board of Control for Cricket in India (BCCI) for the sixth consecutive year the Company will use this prestigious platform to raise awareness of EVs while showcasing and driving engagement for its recently launched premium electric hatchback, the Tiago.ev .
Overview for IPL 2023
The official sponsors of IPL 2023 include companies like CRED, Rupay, Dream11, Upstox, Jio Cinema, and Paytm. This sponsorship is a major marketing strategy.
IPL 2023 will take place from March 31st to May 28th, 2023. The BCCI decided to add two additional teams ahead of the Indian Premier League 2022, So IPL 2023 will feature ten teams. In total, 70 league matches will be played across 12 venues. The total length of time is 52 days.
List of Sponsor on Television 2021
Coke
Asian Paints
Mahindra
Dream 11
Swiggy Instmart
Jio Cinema
Pepsi
7UP
Rupay
PayTM
Herbalife
Kamala Pasand
List of sponsors for Jio Cinema
Castrol
Dream 11
Rapido
Amazon
Haier
TVS
START SPORTS, DREAM 11, PAYTM AND SWIGGY, CEAT AND Tata Motors being one of the most recalled brands of the IPL 2023.
Viacom18– Media Rights 2023
Viacom18 being the highest bidder of broadcast digital rights with a bid of 23,758 crores has put them in an advantageous situation for 4 years (2023-2027).  
Rs 3,000 crore earned by Star India group from the T20 tournament in 2018, Rs 1,800 crore being from television and digital advertising.
According to Star Sports, the IPL 2019 had a 21% increase in viewership compared to the previous year. This resulted in higher priced advertisements and more companies joining.
In 2019, 80 companies became sponsors to enjoy benefits such as increased sales, reputation, and brand value thanks to a massive viewership of over 400 million.
Tata Motors – 2023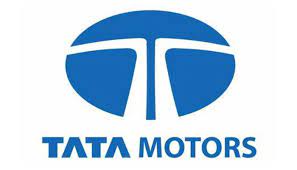 With an amazing brand positioning, Tata Motors has promoted its newest product Tata Tiago.ev as a lead brand of the IPL 16th edition.
This year's matches will also feature the exciting Tiago.ev Electric Striker Award, in which the player with the highest strike rate of the match will receive the coveted trophy as well as a cash prize of INR 1,000,000. In addition, the Tiago.ev Electric Striker of the Season will receive a brand new Tata Tiago.ev.
Tata Motors – #Loveatfirstdrive 2021
With an amazing brand positioning, Tata Motors has promoted its newest product Tata Harrier as a lead brand of the Vivo IPL 12th edition.
Harrier has also relaunched it's famous Fan Catch contest, where fans get a reward of Rs 1 lakh for taking a single-handed catch of a six, this campaigns also creates excitement element in the crowd and as a reward one lucky fan who wins the most popular Harrier Fan Catch of the season will get the Tata Harrier doing this, through this indirectly the promotion which they get to do, will create a higher impact then a normal advertisement also the winner will also generate sales through word-of-mouth and sharing his experience with people he interacts with.
Along with this, they made a T.V commercial series with hashtag #loveatfirstddrive
It also made a 360-degree campaign led by television
The engagement activities of awarding the premiere Suv and the storytelling playlist of the hashtag #loveatfirstddrive drove its revenues and its sales inquire, they announced that the Harrier SUV has crossed the 10,000 units booking a milestone in the country.
Dream 11 – 'Ye Game Hai Mahaan'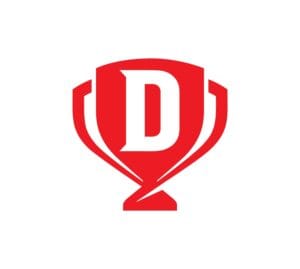 With over 60 million users, Dream 11's fantasy league has become a sensation among cricket fans. Based in Mumbai, the company is now India's largest sports gaming platform. And its journey to the top is very impressive. When asked about which brands people recall the most as advertisers/sponsors in IPL, Dream 11 emerged on the top.
Dream11 has created a campaign with the tagline 'Ye Game Hai Mahan', and have launched six films, and they also put the spotlight on the fans and make them feel special, which in turn is beneficial for them to pull the crowd.
Summarizing our observation:
A great Franchise model creating a win-win situation for all.
A solid viewership and fan base being a Hive of attracting bees (the sponsors and investors) has led IPL to get a bid of 16347 crores for it's media rights.
The name says it all, the IPL coined as THE Vivo IPL for 4 years from (2018-22) increases the brand awareness so much that the company becomes a household name and is recognized by everyone.
The Strategic Timeout is a well strategy by IPL, to commercially run ads and to generate revenue it is a perfect model and in every match, within theses 2.5 minutes they generate 34.5 crore rupees considering 10 lakh rupees as a rate of ad for 10 seconds.
There is some catch, in the catch! The Iconic Fan catch contest by Tata says it all, that how launching contest like this and awarding it's premium car, can create a buzz in the town and increase it's sales.
 An Impressive product with an Impressive brand Ambassador can do wonders, Dream11 a fantasy cricket league game which is one of it's kind has captured 50 million customers until now and its user base is increasing day by day and has attracted lot of investors too.