TikTok Advertising: The Quickstart Guide to Get Started with amazing Tiktok Ads (2022)
October 24, 2019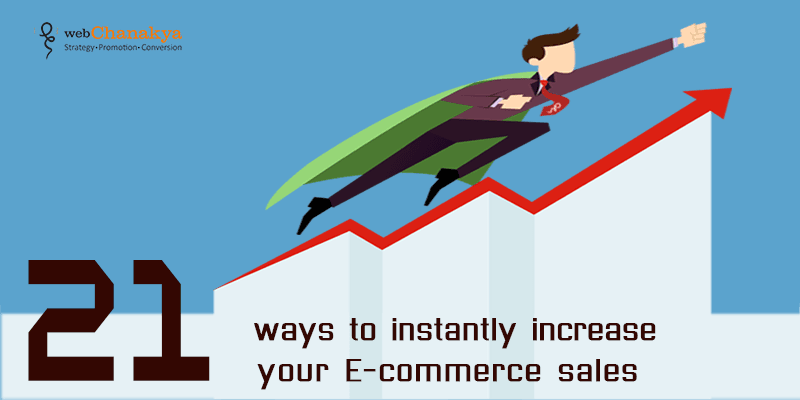 21 ways to instantly increase your E-commerce sales
August 13, 2022
Employees across the country have found themselves at a new office: Their Homes.
Self-Quarantine has become an absolute necessity of saving humans from the scare of the Corona Virus pandemic until the situation is brought under control and government are appealing to maintain social distancing.

During these times, work from home has become a fruitful proposition for all businesses.

Work from Home is also becoming an emerging trend for Corporate, given the benefits of decreased expenses, increased productivity, the flexibility of work, and achieving a better work-life balance.

While it may seem amusing at the beginning about working at the ease of their own, not having to commute, family, exercise or more sleep time, it may start affecting productivity and work if they easily get tempted by procrastination & distractions.

Turning home into the workplace may be tricky, as they both happen at the same place.

Here are a few hacks that can be implemented to effectively maximize your team's productivity.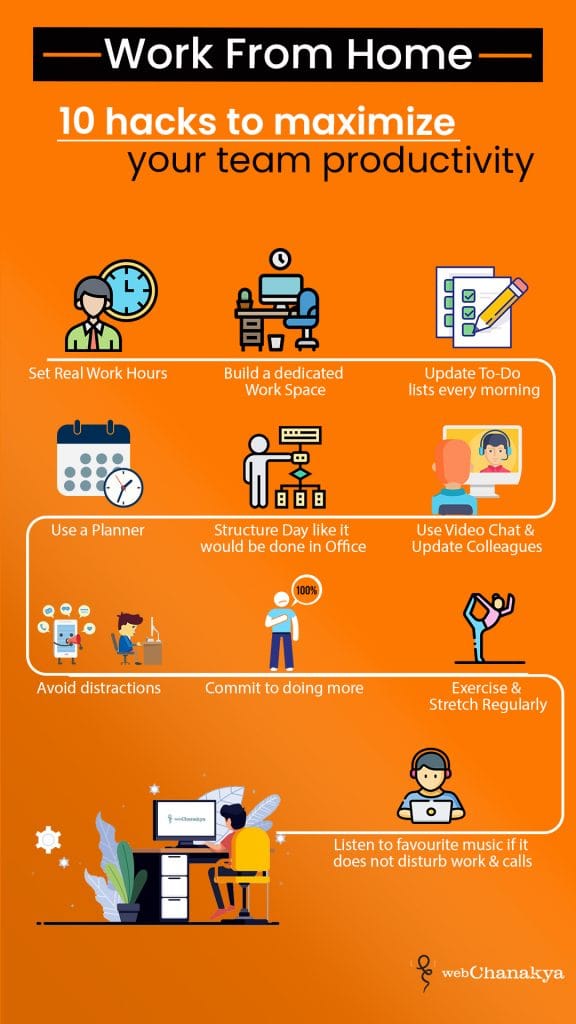 Setting Real Work Hours
While work from home has become an everyday commitment, it would be much easier if specific hours are allocated for tasks that require maximum focus. This would give out better results for the important tasks while other time can be used for non-productive yet significant tasks.
Building a Dedicated Workspace
A dedicated workplace should not only give an office environment but also would induce discipline in the work to be performed which benefits on the whole. Ensure it is a quiet space so that tasks can be focused on.
Updating To-Do List Every Morning
A hierarchy of actions to be performed in the day is necessary for a transparent workflow throughout the day. Doing so will reduce or eliminate ambiguity for effective productivity in the performed work. The quality of work attained through this step will be a great time saver and clarity will be maintained at all stages.
Using a Planner
Scheduling of tasks to be performed during the day reduces the risk of overwork and promises a rectification free work. It helps to prioritize the functions to be performed during the day and compel it to finish as per the plan. A planner helps to set goals and helps the employee to plan it out accordingly for a smooth finish.
Structuring the Day as in the Office
A day in the office usually starts at a specific time. Working from home should be no different. Same level of commitment and integrity should be maintained. While the team is used to a style of working in the organization, same should be implemented in this scenario as well. Working from home gives great liberty but equal responsibility shall be maintained as well.
Using Video Chat and Updating Colleagues
The progress of the work performed by the employee can be monitored at regular intervals. This will avoid miscommunications, which could jeopardize the work being performed by fellow employees. The most popular business communication app is Skype, which is used by organizations worldwide. By using this organization ensures transparency in all the departments and assesses employee performance.
Avoiding Distractions
Working from home apart from having advantages can have some disadvantages too. The most common disadvantage is distractions. They vary in nature and extent but can take a toll on the quality of the work being performed by working from home professionals. The simplest way is to isolate yourself and prioritize the task to be performed during the stipulated period.
Committing to Doing More
Once the daily target has been completed, it gives the freedom to choose and challenge the limit of work performed. There is no harm on going the extra mile and commit to doing more than required which in turn will always be fruitful. Endless hours of work will be forgotten when the ultimate desire will be fulfilled. Do what is necessary but don't hesitate to go beyond.
Taking Break, Exercising & Stretching Regularly
All work and no play make Jack a dull boy. This saying is 100% apt even in the corporate world. The body is not a machine and needs rejuvenation to avoid tear. Taking care of work is important but taking care of the body is equally important. Taking time out for hitting the gym or performing spiritual exercise helps to relax the body and soul. A 20-minute exercise induces the lost vigor and replenishes the body with a plethora of energy.
Listening to favourite Music
Music is a proven remedy that can-do wonders for the human brain. Listening to favourite music releases stress-free hormones which is exceptional. Music offers a soothing effect to the brain which improves its concentration. This helps to focus more effectively than before. Hence, if it is not interfering with work this should be given a try.
Skyrocket your team's productivity by simply streamlining the above points into their everyday practice.

Today's work culture is very dynamic and a new approach like this should be encouraged for the betterment of the organization as it catalyses the organizational culture aligning with result driven policies.