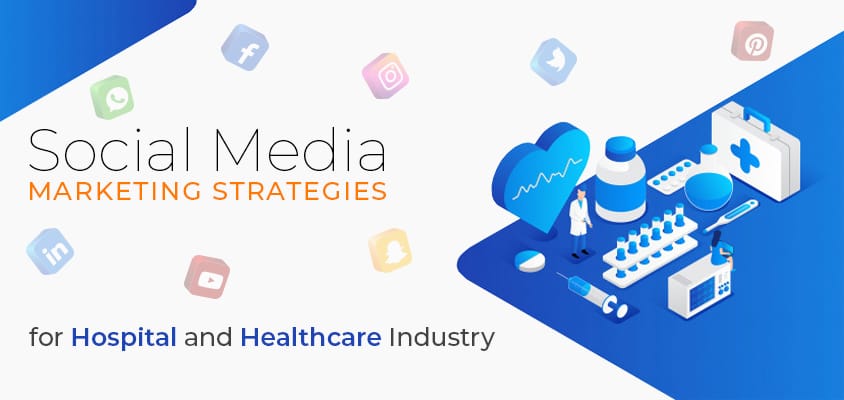 Social Media Marketing Strategies for Hospital and Healthcare Industry
September 23, 2019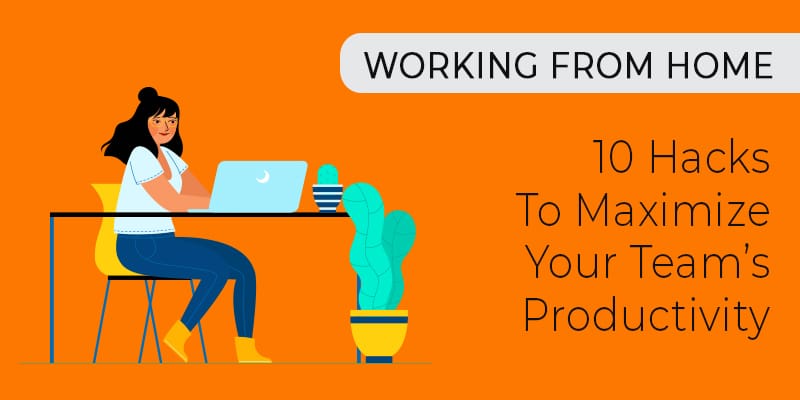 Working from Home: 10 Hacks to Maximize your Team's Productivity
March 24, 2020
Is your target audience Generation Z (4-24 years old)?.
If yes, you'll possibly make a fortune on TikTok.
Tiktok is one of the fastest-growing social media platforms in the world.

If you haven't started to utilize this platform as a Marketing and Advertising Tool, you are probably missing Big.
Don't worry if you are not familiar with TikTok and have never used it before.

This ultimate guide will give a more extensive and comprehensive introduction to this rapidly evolving platform and cover all insights and strategies for business owners, marketing professionals, students and anyone else looking to excel here.

Sit back and enjoy reading this profound guide on rapidly growing social network amongst the youth.
2019 had been a bumpy ride for TikTok in India.
It got banned from Play Store and Apple Store in April. It's back with a BANG!!!

Do you think the ban on TikTok was justified?


TikTok tops the non-game app charts in the world. TikTok ads provides marketers to reach engaged audience around the world.
TikTok Ads Platform is similar to that of Facebook Ads Manager.
Where you set up your campaign, define your target audience, set-up bidding and show ads to your potential customers.
Let us see step by step on how to create your first campaign.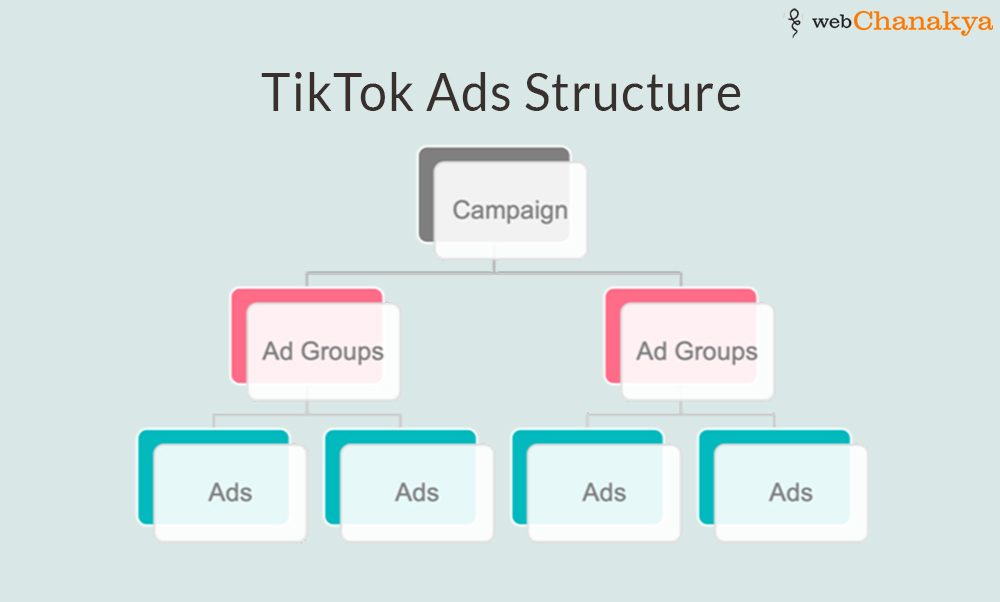 Advertising Campaign structure is composed of three levels:
Campaign
Ad Groups
Ads
These three parts help your ads run the way you want and reach the right people.
Campaign
It is the foundation of your ad. You start by creating a campaign.
You set the advertising objective at the campaign level.
Three Advertising Objectives are available to choose from: App Installs, Traffic and Conversions.
Then you set the Budget of the campaign and start creating Ad Groups
Ad Groups
In the Ad Group level, you can set your target audience, ad placements, bids for each ad group.
There can be multiple ad groups within a single campaign and multiple ads within a single ad group.
It is very important to plan your campaign structure beforehand.
You can set up different ad groups targeting different audience and allocate more budget to the winning ad group.
Ads
At this level you upload the copy and the creative.
This level is visible to the end users.
Creatives can be in the form of images or videos.
Ad Group can contain multiple ads which help you to optimize different ads based on creatives and copy.
An organised Ads structure will help your campaign be more profitable.
Advertising Objective is what you want your target audience to do when they click your ads.
When creating a new campaign it is the first step that you take.
Advertising Objective should match with your business goals. So, as your business grows your objectives will change.
You should prefer using the following Objectives when you want to increase Awareness of your brand by making people engage more with your content.
Traffic
: Increase the number of visitors to your site or get more people use your app.
App Installs
: Increase your business app downloads by sending people to the app store.
When you want people to take any kind of action on your website such as adding products to cart or filling out a form use the conversion objective.
Conversion
: It is the most used objective where you optimize your ads for more leads and purchases. It works best when you setup the pixel.
You can easily create a TikTok Ads account in 4 steps.
Visit here
and fill out the basic details.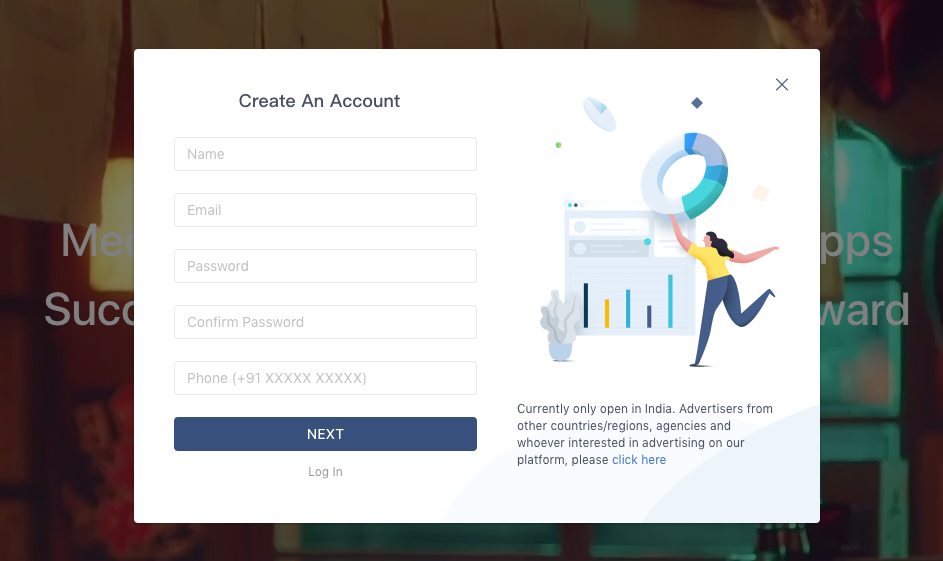 When your account is created, fill out your basic information, Business Information and Tax Information.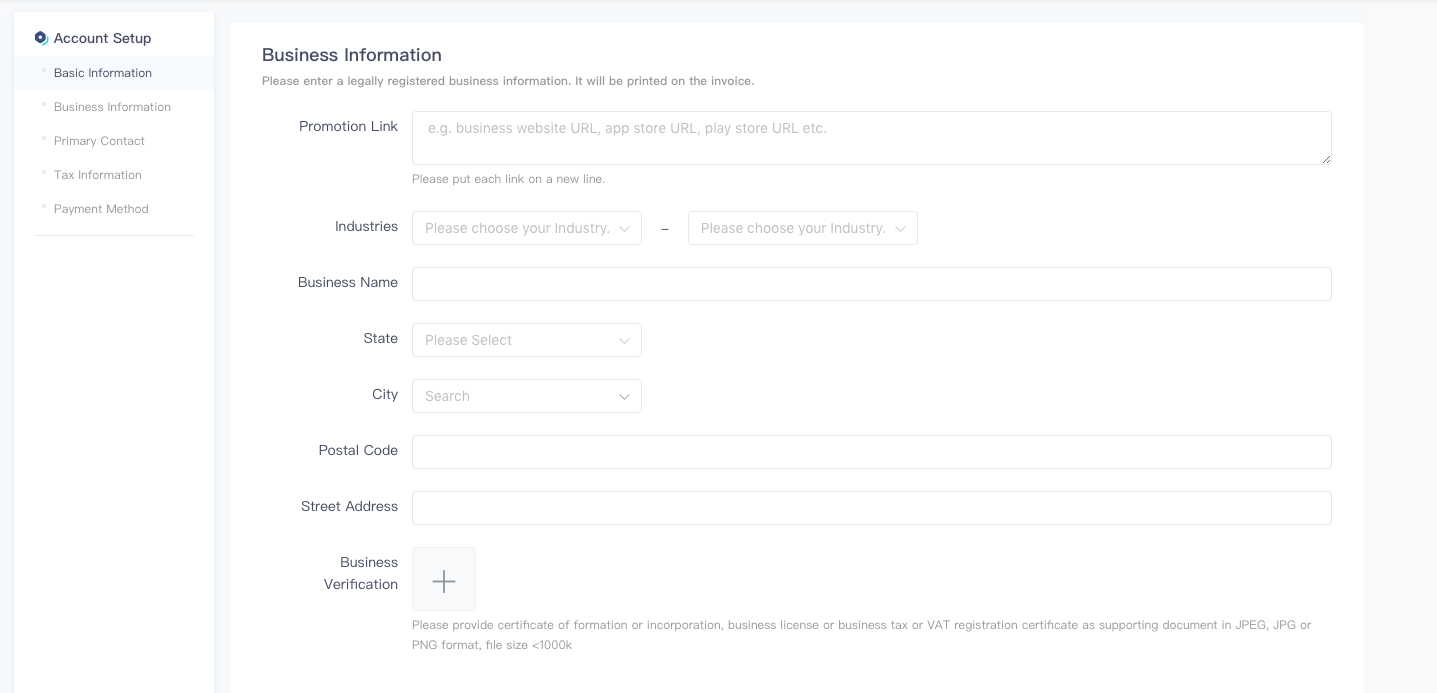 Complete the Payment Setup
When your account is successfully verified you can add money to your account.
As you login to the Ads platform, click on Campaign located in the menu bar.
And then click on create button

Select the right objective for your campaign
You get to choose from three options: Traffic, App Installs and Conversions.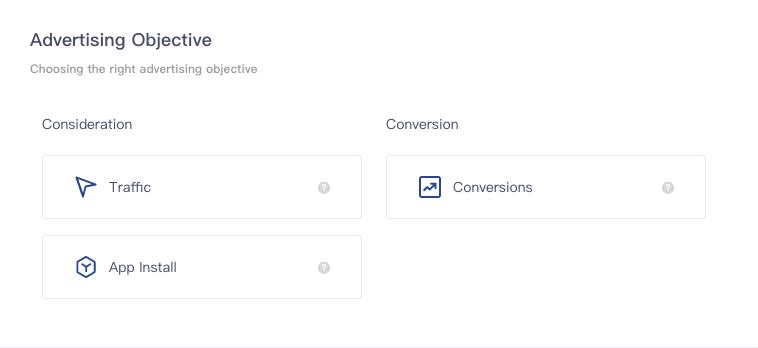 Keep in mind that choosing an objective is a crucial step - it should match with your business goal.
Click here
to read about Ad Objectives in detail.
Setting up Campaign Budget
You have to enter your campaign name first.
Than you need to enter your daily budget or total budget.
Your daily spend or total spend will not exceed this amount.

Click on next to create an Ad Group
Placements
You need to decide where you want your ads to appear. Here you are available with two options:
1) Automatic Placements: TikTok automatically optimize your ad delivery across all placements. It is recommended specially for your first few campaigns.
2) Select Placements: You can choose particularly where you want your ads to show up - TikTok or News Feed App Series(TopBuzz/BuzzVideo/NewsRepublic).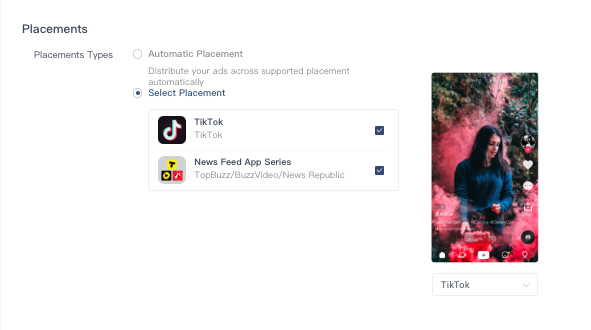 Ad Details
Market Link: Enter the link of the app or the website that you want to advertise.
Category: Here you have to enter your product category. TikTok may use this category to reach out to your audience, so classify your categories accurately.
Keywords: Enter keywords that match and describes your app or your website. You can enter up to 20 keywords.
These keywords help algorithm to identify products precisely.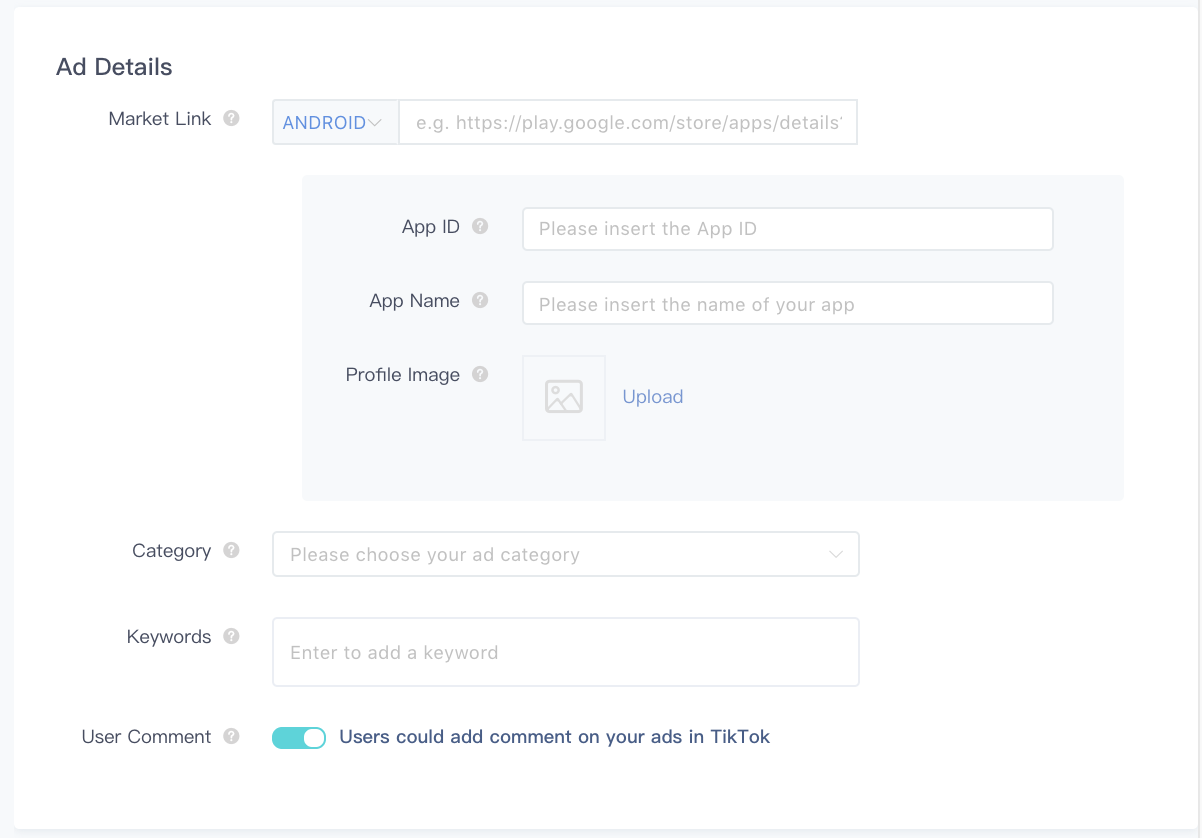 Dynamic Creative
It helps advertisers to automatically deliver high performance ads to their audience. It accepts basic elements required for the ad (image, video, title, description) and automatically generate different ad combinations.
It helps advertisers to identify which combination of ad component works the best.

Targeting
Here you need to fill in the details of your target audience.
Carefully research about interests and behaviors of your target audience.
Audience: You can set up Lookalike or Custom audience.
Using
lookalike audience
you can reach new people based on your existing customers.
TikTok automatically create a larger audience similar to your custom audience.
Custom Audience
is highly targeted form of audience. In custom audience you upload IDs of users that you want to target exclusively.
Fill out the basic details of your target audience.
Interest: Mention interests of your potential customers.
Ads will be shown to the people based on their interest.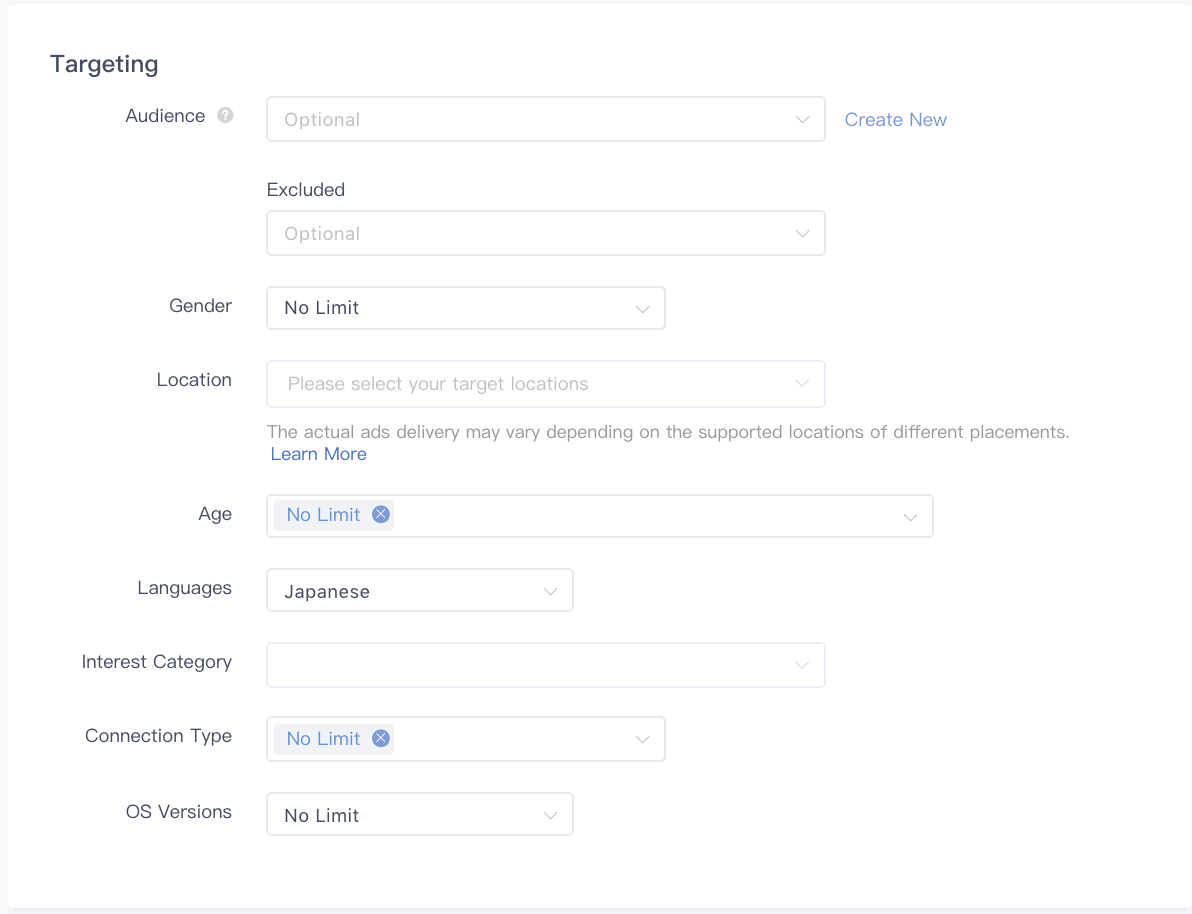 Budget & Schedule
Minimum Daily or Total budget s $50.
Pacing: Standard and Accelerated are two ad delivery categories based on which your budget would be spent.
Standard(Recommended): It is default delivery method in which your budget would be spread evenly throughout the day.
Accelerated: It shows your ad more frequently from the start of the day.
Schedule & Dayparting: Choose the timeframe when you want your ads to run.
You can set the start and end time within the date range you choose or opt to run Ad continuously.
Bidding & Optimization
Under Optimization Section, you need to select optimization goal based on your campaign goals.
There are three types of optimization goals: Conversion, Click and Impression.
Conversion: Ads are shown who are most likely to convert and achieve your conversion goals.
Click: Ads are shown to people who are most likely to click on them.
Impression: Ads are shown to maximum amount of people.
Bidding: Bid represents what you are willing to pay to achieve your desired result.
There are number of bid strategies to choose from.
You can set how much you are willing to pay per thousand impressions, per click or per conversion(CPM, CPC, oCPC) depending on your optimization goal.
Third Party Tracking Settings: Impression tracking URL will track your impressions and conversions.
Click tracking URL will track your clicks and conversions. Video view tracking URL will track your video plays and conversions.
Once Ad Group is created, click next.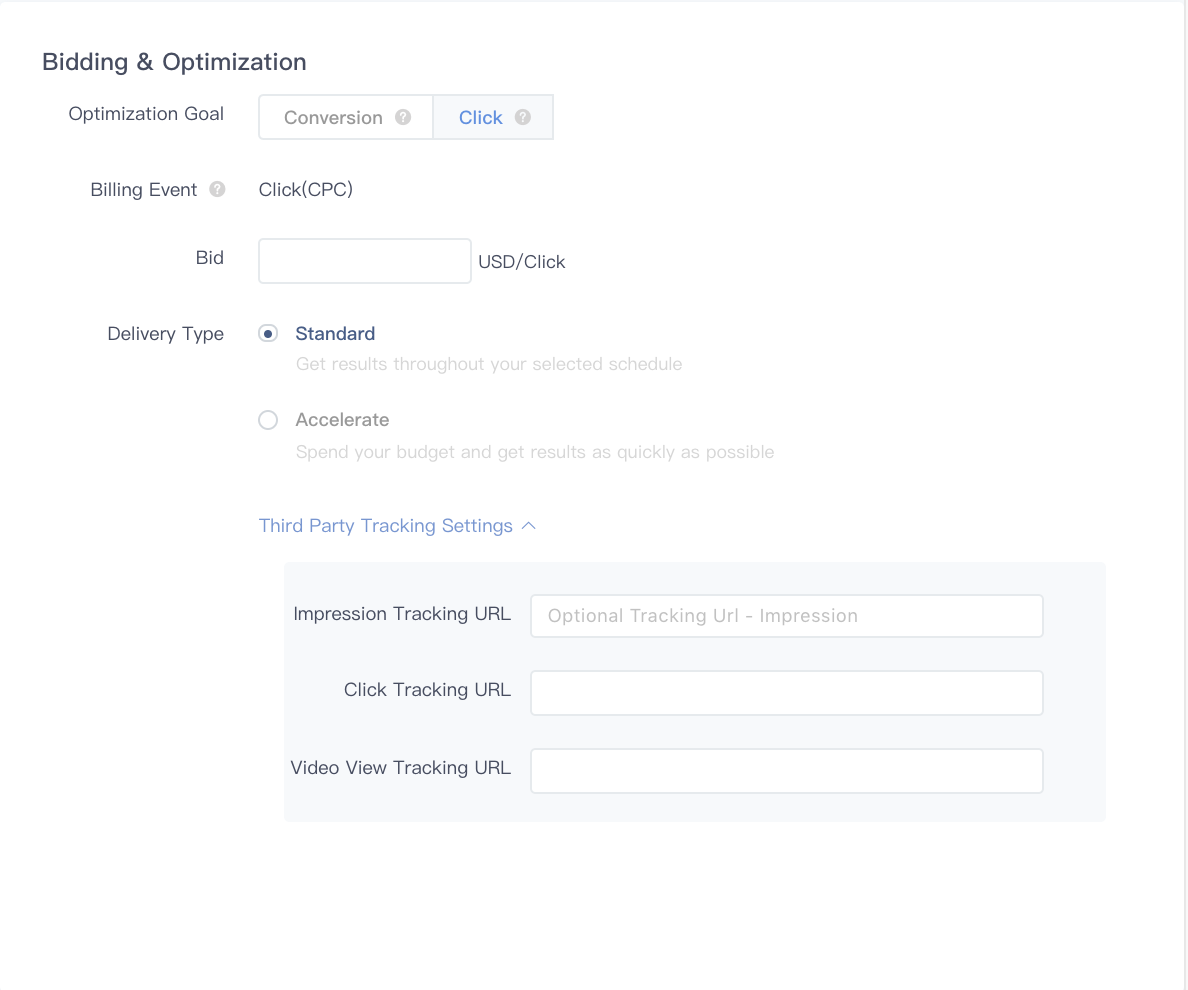 At this level you upload your creatives and copy.
TikTok Ads support two formats: Image and Video.
Currently TikTok only support video ads, News Feed App Series support both image and video ads.
Note: You can create video ads based on images by using available templates.
Upload a cover for your video.
Preview your Creative: here you can see how the ad will look to your targeted audience consisting of creatives, ad text, CTA and display name.
Add an Ad name and fill in the Ad text.
Next, you need to select appropriate Call-To-Action.
Select CTA based on what you want your user to take action, there are 7 types of CTA that are current available to choose from "Download Now", "Learn More", "Shop Now", "Sign Up", "Contact Us", "Apply Now", "Book Now". Once done, click on "Submit" button.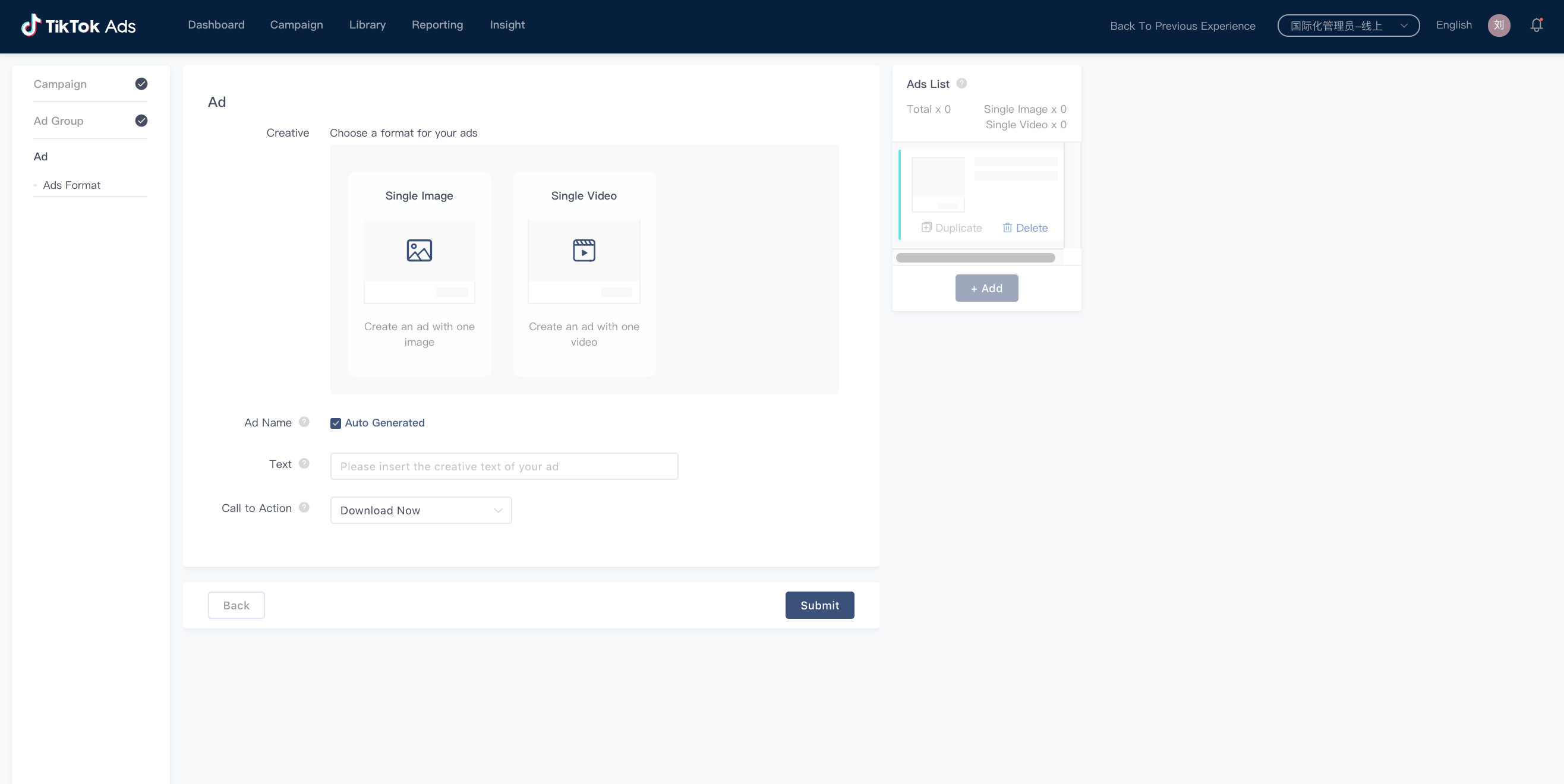 Congratulations your ad is up and running.
It is a code that you need to place it on your website.
It collects data and helps your track conversions from ads.
Using this data you can optimize your ads.
Create Pixel:
Hover over library and click on Conversions. You will be shown with two options App Events and Website Pixel.
When you click on Pixel, you need to name it first.
Then copy the code and paste it in the header section() of your landing page.
You can also use Google tag Manager to set up Pixel.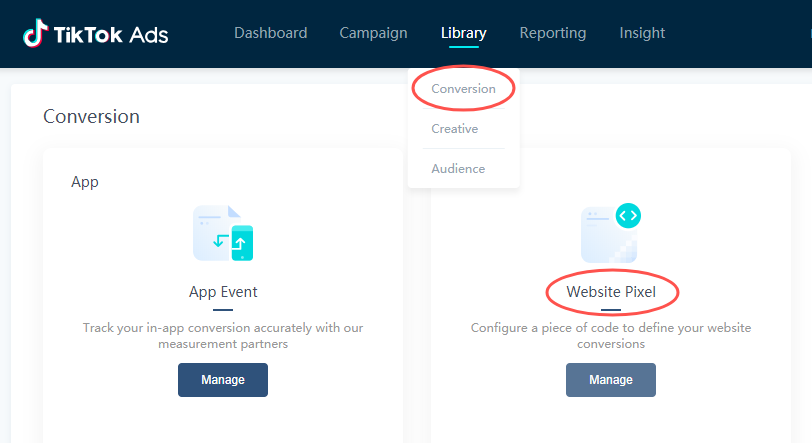 Create Custom Conversion Event:
Custom conversion allows you to track specific actions taken by the users on your site.
Tracking conversions allows you to see any link clicks, submitting lead forms, product purchases, registration or any kind of action taken on your website.
Tracking these conversions helps you to take data-driven decisions.
Custom Conversion Event falls into two categories:
Event on Inline Action
: Inline action means when the user click on any element on the page(button, link, image etc).
Event on Page Load
: It is used to track visitors viewing any page. If you want to track number of product buyers than you track the Thank-You page that loads after the user completes the transaction.
Pixel Helper
It is the tool used to verify whether the code was installed successfully or not.
It also displays conversion rules, if the conversion is triggered.
Hashtags play a very important role on TikTok if you want to reach a wider audience.
Like twitter, here as well there are top trending hashtags. Hashtag challenges drive people the most.
This makes the TikTok most engaging and entertaining, as people all around the world take the challenge up and make videos on it using their style.
Many themes are available to you where you can assimilate your brand into the trend.
Some of the themes which you can take as an inspiration for your hashtag:
1) Transitions
2) Stop Motion videos
3) Lip Syncing
4) Duets
5) Dance videos
6) Memes


Brands can create hashtag challenge ads.
Your challenge will be shown on a unique banner in the Discover section. The banner will lead to your challenge page featuring instructions of the challenge.

Brand Guess ran a hashtag challenge #inmydenim targeting millennials. In which users have to share their videos wearing Guess jeans.

This hashtag went viral and generated 38.8 million views.
They also went for influencer marketing and collaborated with few prominent content creators on TikTok.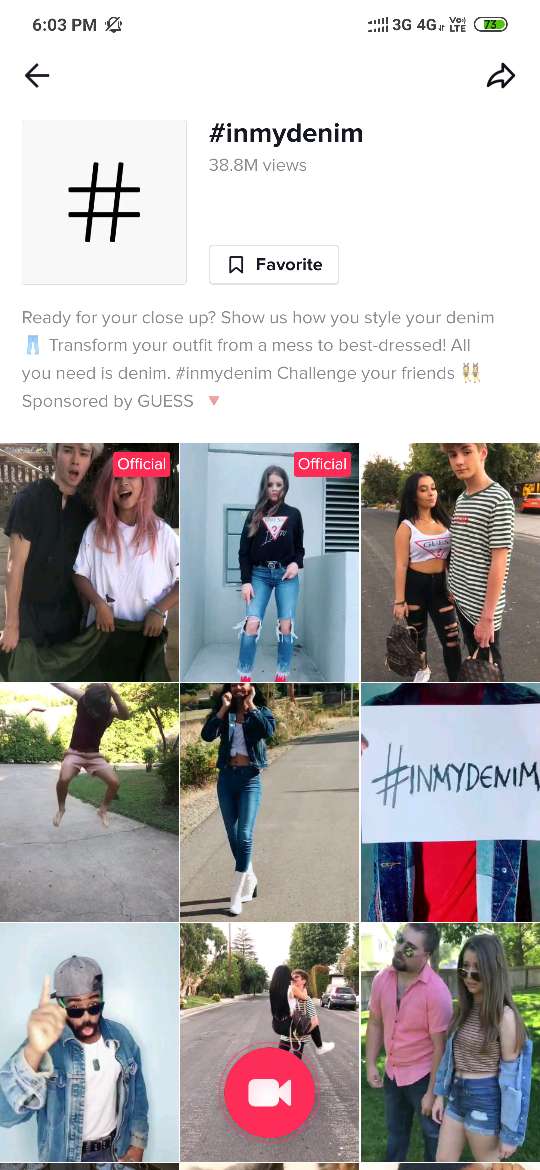 TikTok influencers have a lot of following so collaborating with them would help your brand a lot.
Rather than concentrating directly on your target audience, Influencer marketing focuses on people that appeal to and influence the behavior of your target customers.
If you want to succeed in Influencer marketing on TikTok, you need to appeal to the TikTok demographic.
For brands, it is far easier than to collaborate with established broadcasters - influencers - than to build a sizeable audience to hear their message.
The problematic task is to discover and outreach influencers that match your needs.
As TikTik is one of the most prominent and influential platforms out there, many essential tools are available to manage your brand on TikTok trouble-free.
Some of the latest tools that would assist you in finding influencers are listed below.
1) Fanbytes
2) Upfluence
3) Neoreach
4) Letsinfluence
The most crucial thing to remember is - Choose the right influencers for your brand.
Find relevant influencers that appeal to the same niche as your primary target audience.
User-generated content is the next big thing in the online marketing place. It helps to tap to newer audience and strengthens your Brand engagement.
The basic idea behind user-generated content - content is shared for the users and by the users.
TikTok and Instagram are leading platforms for user-generated content.
Brands are leveraging this to increase their recall value and engage with the audience way beyond their reach.
One of the most successful campaigns in terms of user-generated content is that of "Swiggy Star hunt".
The campaign encourages Swiggy Delivery Partners to showcase their talent on TikTok.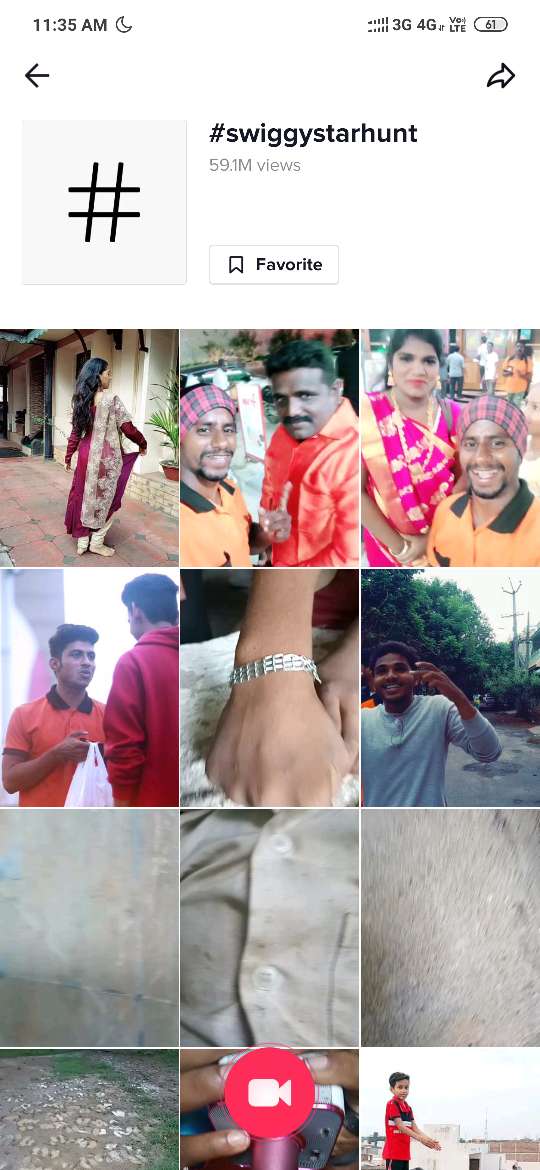 This campaign received a lot of appreciation all around and generated around 59.1 million views.

A lot of brands are now aware of the popularity of TikTok, but they can't wrap their heads around how to showcase their brand and which type of content to produce.
Below are listed the top 3 brands that made it big on TikTok.
Chipotle
It's a mexican restaurant chain. It has over 124k followers on the app.
The company recently launched a challenge to dance for free guacamole from now until National Avocado Day using the hashtag #GuacDance.
Check their videos out for inspiration.

To celebrate #oneyearofTikTok they posted below video which shows tortilla chips with Adele song, "Someone Like You" overlaying the clip.


They use humor to creatively show off their menu items.


NBA

They have over whooping 5.6 million followers on the app with over 82 million total likes on their videos.
On the platform, they showcase a lighter side of the game where players are having fun.
They also showcase clips of amazing shots and tricks of basketball games.

NBA also uses musical features to lighten up their branding.


The Washington Post

They were one of the first to start Branding on TikTok.
Currently, they have over 184 followers on the platform.
On other social media platforms, they post serious content, but on TikTok they are quite opposite.

They post funny behind the scenes videos and small skits about the newsroom.
The Washington Post is tailoring its content for the youngsters on the platform.


Showing off the lighter side of your industry works best on TikTok.
Out of 700 million users of the app globally, around 200 million are Indians.
TikTok has seen a phenomenal rise in the Indian market recently.
It has a strong base in the local market which allows marketers to reach out to small cities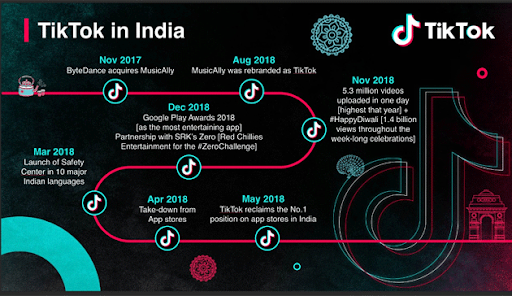 Pepsi's #swagstep challenge from 'Har Ghoont Mein Swag' encourages users to share their versions of the hoostep.
The video campaign had Tiger Shroff and Disha Patani as lead. The challenge got viral and garnered over 15 billion views till date.

Puma's #SochThem challenge also got a lot of attention.
It gained 1.5 million videos accumulating over 1.7 billion views!


Source to all images: https://ads.tiktok.com/help/
What Next?


Building communities and recall value are much easier on this social media platform.
But will it lead to profitability is still debatable.

TikTok Ads is currently in the beta phase. Full-service ads are not available yet.
Taking advantage of early advertising may help you grow rapidly on the app at a cheaper price.

Leverage this app by enjoyably showcasing Brand-driven Visual Storytelling.
Invest your time and money on TikTok only if your target audience is Generation Z and if you feel the content you upload would be profitable to you in any manner.