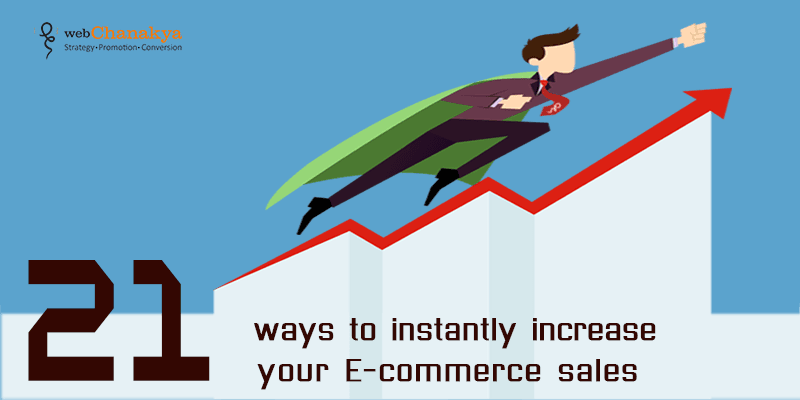 21 ways to instantly increase your E-commerce sales
August 13, 2022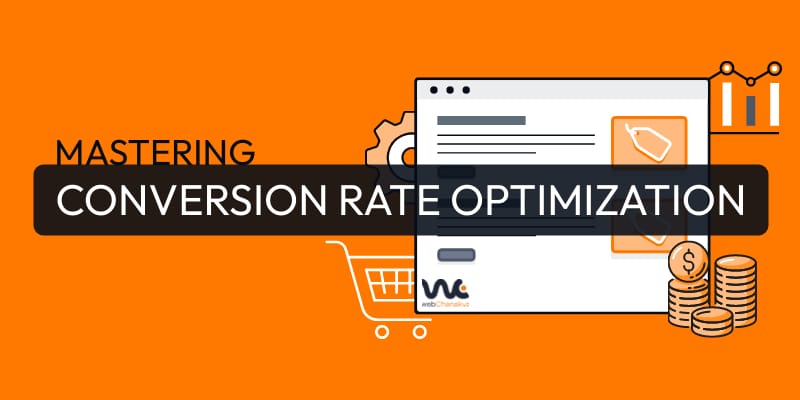 Mastering Ecommerce Conversion Rate Optimization
September 3, 2022
To attract and convert customers, it is crucial for E-Commerce Businesses to have the right content on site. Customers visiting online store need to feel confident in brand and the quality of products. You only have one shot to make an impression on a visitor that lands on your website. Do things right and see your sales soar.
For Ecommerce content, there's more to the story than just product pages and SEO. Content marketing is critical to ecommerce brands that want to increase traffic, sales, and conversions as it helps users across the entire customer journey map.
As consumers move along the buying process, they are exposed to different types of content that offer varying levels of value. For example, educational content such as blog posts and videos might be most useful during the discovery phase, while product reviews and guides might be best suited for the consideration stage.
A well-thought-out content marketing strategy helps your business stand out from the crowd. It educates your prospects, makes them laugh or cry, and gives them all the information they need to make the right decisions.
When done well, your content can educate prospects about their problems and help them solve those problems. And the products and services that you offer become more of a solution.
For the conversion and sales funnel, the same principle applies.
As customers buy more, they move up the buying cycle. They are presented with increasingly targeted content that helps them convert into repeat customers.
When your content is limited to product pages, your customer touchpoints might occur only at the very end of the buying process. While this may seem like a good thing, since it allows you to build trust and gain high-quality leads, it limits the potential reach of your brand.
In contrast, if you create content that spans the entire customer journey map—from awareness to retention—you can ensure that your brand is always visible and accessible. You can continue to educate prospects about problems they encounter and help them solve those issues. You can also keep them engaged and interested throughout the buying process, including when they're ready to make a purchase.
This allows you to capture more sales and increase revenue. Plus, it makes sure that your brand isn't left out of conversations and interactions that matter the most.
Who Is Your Ideal Audience?
The core of any content strategy is customer journey mapping and persona development. Understanding who your target buyers are is the first step to creating great content for your ecommerce store.
What are they worried about?
Where do they spend their money?
Why purchase from them?
How do they shop for stuff online?
If you don't answer these questions before you write copy, you will end up with generic content that doesn't speak to anyone's buying behavior. Answers provide insight into what people want and how they behave. But they don't just inform the content you produce; they guide it too.
A well-developed persona helps you define your target audience. It tells you what kind of content will resonate best with them. It shapes the writing you do and the design of your website. It also defines your target market and which problems you can solve for them.
Understanding human behavior allows marketers to know which content types are likely to generate engagement and which will not.
You don't need to be an expert at creating personas. Start by asking yourself some questions related to your target audience. "For example, "Who am I writing for?", "Why do I care about my audience?" Once you've asked yourself these questions, you can start building a persona for your audience.
Here's how:
You can develop a persona by analyzing existing data and researching trends within your industry. Here are some ways to do it:
Use demographic data. This includes things like age, income level, education level, household size, marital status, number of children, etc.
Look at purchase patterns. Do certain products sell better than others? Which ones generate more revenue? If you see a trend, try to figure out why it exists.
Collect testimonials. Ask current customers what makes them happy or dissatisfied with your product or service.
Conduct surveys. Send emails asking people to fill out a survey about your business. Don't ask too many questions; just enough to learn something about them.
Once you've developed a profile of your ideal customer, you can use that knowledge to create content that speaks directly to their needs. You might write blog posts about topics related to your product or industry, or even create infographics that appeal to their interests.
Here are a few guidelines to make your brand stand out from many ecommerce competitors.
1. Product Description:
Product description writing is one thing that comes to our mind when we're thinking about an Ecommerce content strategy for an online store.
First, a description should effectively sell the product, making it attractive, specifying the need it will fill, and highlighting why the customer should purchase it. If you're selling a bag, only its price and picture isn't enough, even if the picture speaks a thousand words.

The best way to stand out is to make sure your product description isn't just informative, it's engaging. This means making sure you include enough information to help potential customers understand what makes your product unique, but without being too wordy.
Here are some tips to keep in mind when writing product descriptions:
Use keywords. People use search engines like Google to find products and services, so make sure you're including relevant keyword phrases throughout your description. If you want to rank higher, avoid stuffing your text full of generic terms and try to focus on specific features and benefits.
Be clear. Your goal is to provide potential buyers with everything they need to know about your product or service concisely. Make sure every sentence contains a strong verb and that each paragraph flows logically. Don't forget to add images. They'll help tell your story and give your description a professional touch.
Keep it short. A long description overwhelms people. Instead, aim for around 150 words per item. Any longer and you risk losing people's attention.
Include call-to-action buttons. When someone reads your product description, they're likely looking for something specific. So, make sure you clearly state where they can buy.
2. Use Relevant Keywords
To rank well on search engines, make sure that you have keywords in your website's content, to get you optimal benefits from organic traffic. Make sure that you insert keywords in such a way that your content reads with a natural flow. Be careful not to over-stuff keywords.
When you consistently create and optimize quality content around relevant keywords, it attracts organic search traffic that you otherwise might have had to pay for in the guise of advertising. This translates into massive cost savings since the better ROI of SEO (Search Engine Optimization) vs PPC leads to much bigger returns.

Too much focus on keywords and not enough on quality content could lead to penalties down the road. So, what do you do? How do you find the sweet spot where you'll see the best return on investment (ROI)?
The answer lies in understanding how to write good content creation that includes keywords without being overly repetitive. Here are some tips to keep in mind while crafting your next piece of Ecommerce content.
Use keyword phrases, not single words.
Avoid repeating the same keyword throughout your entire post.
Do not overuse keywords.
Make sure that the keywords you choose are relevant to your product/service.
Include long-tail keywords in your meta description.
Include both short and long versions of your keywords in your URL.
Consider adding additional keywords to your sitemap file.
Optimize your images.
Create a list of keywords in an Excel sheet.
3. Use keyword-friendly URLs
Having speaking URLs is almost half the work done. A speaking URL enhances the understanding of the visitors. They know to expect a book–Pride and Prejudice. Such URLs are frequently reposted by other websites.
If you want to rank high on Google, you need to ensure that you have optimized your URL properly. Even though Google provides some help with this, there are still many ways to do this correctly. One way to improve your SEO is to use a URL that contains keywords related to your brand name.
If you're selling something online, such as shoes or clothing, then consider including the word "shoes" or "clothing" in your URL. You could even include your brand name.
In addition, you want to make sure that your URL is something that your customers can easily remember. Don't give them a long string of numbers that no one could ever guess. Use keywords in your URL, like "www.mywebsite.com/product1", where "product1" is a keyword related to your product. When someone searches for that term, your site appears above others that aren't relevant. You'll see why this works later.
4. Think beyond the word and the image by using video content
Think beyond text and pictures by engaging your audience with videos. Brands have been using videos on their product pages and other stores are having outstanding success. Product pages with a video perform better than those that don't. But don't leave video just for products: consider it as part of a broader Ecommerce content strategy.
Videos are becoming increasingly popular among consumers, especially those shopping online. One study found that 73% of shoppers say they will purchase after viewing a video about it. This makes sense, given that almost half of the shoppers report their research online before purchasing them.
But what exactly does a product video do for you? Here are some of the most important things it can help you achieve:
1. Increase conversion rates:
Shoppers are three times more likely to convert after watching a video. And according to a recent survey conducted by Amazon, nearly 40 percent of customers prefer buying from companies that offer product videos. So make sure your site includes high-quality videos about your products.
2. Improve customer satisfaction:
Customer satisfaction is key — and videos are a great way to show off your products. A study by Forrester Research found that 70 percent of people trust reviews written by others over product descriptions. But many businesses don't include product information on their sites because they assume it's not worth including. However, product videos are proven to increase conversions, improve customer satisfaction, and provide useful information for both buyers and sellers.
3. Drive traffic:
A well-made product video can generate up to 10X more website traffic than a typical page post. That means more potential sales! Plus, when viewers watch a video, they spend an average of 20 minutes browsing through the rest of your site.
4. Build credibility:
When you create a video, you're essentially telling the world who you are and what you stand for. It shows that you care enough about your business and product to invest time into creating a professional piece of valuable content. Consumers appreciate this kind of authenticity, which helps build trust between you and your audience.
5. Know Your USP, and Put it Across Clearly
There's probably nothing more counter-productive to your ecommerce business than making visitors to your website hunt for the Unique Selling Proposition of your brand.

Statistics show that if your visitor cannot find the major benefit on offer within seconds, he will leave your website before you can tell. Your USP is, therefore, best placed in the headline, subheading, and introduction.
The best thing you can do is talk about what makes your product different from others. What are the features that make it unique? How does it compare to similar products? If there are no competitors, how does it stand out against a generic term? You don't need to explain why your product is better; just tell potential buyers why they should care.
If you want to take this idea further, you could write up a short guide on each ingredient or material. 
Once you've created your buyer's guide, you can embed it into any of your product pages. When someone searches for a certain item, you'll display a popover containing the relevant information. This way, buyers can learn everything they need to know about the product before they decide whether to purchase it. And since you're providing the info directly on the product page, you won't lose out on traffic.
You can choose to include additional product details such as sizing, color options, reviews, ratings, etc. It's up to you. The important thing is that you're giving your customers the information they need to find the best possible deal.
6. Keep Your Content Short, Simple and Relevant
Ecommerce stores are so focused on selling their products that they sometimes neglect the importance of making sure that buyers understand who they are and what they offer. The key to creating successful eCommerce websites lies in getting your visitors to trust you and feel comfortable enough to purchase from you.
If your content unnecessary is too long, chances are your reader won't be able to absorb it all. They may skim over parts of it, thinking they already know what you're talking about.
One of the biggest mistakes eCommerce store owners make is trying to sell too much. They bombard their visitors with sales pitches, overwhelm them with product descriptions, and over-promise features and benefits.
When writing, use bullet points instead of paragraphs. Bullet points help break up your content and give the reader a quick overview of the most important things.
Instead, focus on three main points: who you are, what you do, and where your audience comes from.
When done correctly, these three elements create solid trust between you and your visitors. And once you've built that trust, your visitors will be more willing to spend money with you."
7. Help people through subheads
Most people don't read online. They scan online. So you can ask for attention by using descriptive subheads. Instead of saying 'check out our latest bags'; you could say 'check out our latest bling bags'.

How To / Product Buying Guides are one of the most effective types of eCommerce content because they are written specifically for the consumer. Consumers want to know what to buy, where to buy it, and how to use it.

While you have descriptive subheads, keep the length of the paragraphs short. Long paragraphs are boring invitations for people to doze off.
8. Don't Be Boastful
People evaluate brands and companies the same way they evaluate people. No one likes to deal with a brand that claims to be indispensable to them. Be careful how you come across your consumers. Create a brand image that is genuine and humble.
Your goal should always be to provide useful information to visitors. If you do so, your articles will be well received by readers.
It is very important to keep your tone and message consistent throughout your blog posts. As long as you stay true to yourself and your business, you won't lose any credibility.
Instead, focus on providing tips, tricks, insights, and advice that will help your readers solve problems and improve their lives. That's when you'll start seeing success.
9. Be Creative
If you are not at least creative with your writing and design, you risk being boring, unengaging, and forgettable. Creative concepts have a great impact on sales because they are interesting. Creative websites are also a lot more likely to be bookmarked to be returned later.
You should always write content that is unique and different from what others are saying. That means you shouldn't copy content from other sites, but you should find something unique to add to the mix.
Your goal here is to differentiate yourself by creating original content that is both useful and engaging. Don't worry if you aren't very good at writing yet–that will come with time. Just keep working on it.
When producing content, try to think creatively and be willing to experiment. Try to connect with your readership and give them something worth reading.
A great way to do this is to ask questions and offer solutions. Let them know how much you care about their business and problems, and let them know you can help. They will appreciate it when you do.
Also, remember to include images in your content. These days, most users expect to see visuals in their articles. So, don't skimp on pictures–they matter. Also, it helps to sprinkle in videos and infographics to spice things up.
So, start experimenting with your ideas today. And remember, the best thing you can do for your site is to produce quality content.
10. Encourage customer reviews (User-generated content)
It is simple really–if you have a good review system, encourage your customers to leave a review.
When you encourage your customers to write reviews for your store, it shows that you care about them. They'll feel valued, and they're more likely to stay loyal to your business.
To do this, ask your customers if they would mind writing a review. You could give them a special discount code, or offer a reward for each review they submit.
Give them something to say.
Ask them to provide feedback.
Let them know what they did well.
Reward them accordingly.
You should also ask yourself whether you could improve your review process. If you find your customers aren't happy, then work on improving your service.
Asking for reviews is a win-win situation. Not only does it help your business grow by giving you insight into your customer's experience, but it also helps the consumer who left the review. They feel valued, and that means they'll come back again and recommend your products/services to others.
Why is a content strategy important for Ecommerce, And what does that mean for a content strategist?
It's no secret that online shoppers are looking for information. They want to know the facts about the products they're looking at. This can be helpful to them if they decide to purchase. It can be extremely helpful to your business if they decide to purchase.
Content creation takes a lot of work. It requires understanding people's psychology, knowing how to write to persuade, and creating content that is relevant to the audience. Also, you need to have a clear idea of what it will look like. You need to know what the goal is, how long it should take, and what to expect as you go.
As a marketer, you want to understand why people visit your site and also need to take care of search engine rankings. To do this, you need to know what motivates them. The best way to discover what they want and need is to understand their psychology.
Once you know the psychology behind people's behaviors, you can use that knowledge to craft messages that move people to action.
For instance, different content is highly engaging for your audience, and they are likely to generate traffic, conversions, and sales.
For example, a customer is looking to buy a pair of new shoes, and you have a video on your site that explains how you built and manufacture the shoes that you're selling. That kind of content helps you explain to your customer what you do and what makes you special.
By choosing the right type of content, you can help increase the value of your content.
As marketers, we want to help businesses be successful, and that means finding the right content that helps our customers engage. But how do we know if the content is actually generating interest and not just people who are actively searching for the product?
We need to tell whether the customer is engaged with the content, or whether they simply viewed it.
To help us tell if our content is working, we need to understand the behavior of the customers who view the content.
There are several tools to help you learn more about how people interact with your online content. For example, you can use an app to track the user behavior of the people who visit a webpage. And you can track the people who view your video on your site or social media platforms.
WebChanakya can be a one-stop solution for all your content-related queries.

Contact us for any guidance required to make your E-Commerce website stand out.