9 Simple but Powerful Steps for Instant Content Creation
November 5, 2015

21 ways to instantly increase your E-commerce sales
December 9, 2015
It is not about where your company is located and how much funding you have grabbed. You need to create an incredible brand story to capture attention. Business owners are crafting different strategies to market themselves.

The best way to stand out in the business driven market is telling a story!

Brand storytelling is not a sales pitch; it is a descriptive power to transform your brand identity. Telling stories in business helps in human communication, it connects every part of the company; founders, manager and client. It should generate consumer trust.
Creating story is not a rocket science neither it is a brand biography. It is process to create a concept and shape it into roaring creativity.
Decide the subject
The subject of the story should synchronize the mind of reader. It sparks the interest and help in more sales. It ensures you have clear understanding and inspire others
Include Human Element
Make the story persuasive by using different elements like quotes, emotions etc. Adding Person V/s Brand or Life V/s Brand examples is powerful key to form a classic storytelling. It will create an immediate brand connect with target group
Define Customer avatar
Customer Avatar is Human to Human communication. Define various problems of the real life and include them in your brand story strategy. You can also use multiple avatars to add more effectiveness in the story.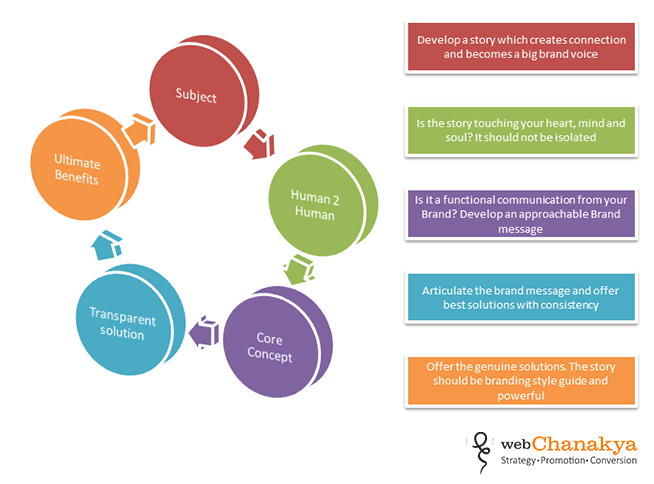 Map a solid story pattern
Start by talking about problem, set the solution and conclude the story into success. The story should represent the brand as the transforming agent for customers. The end of the story should clearly be call-to action for customers.
Voice and style
Transcribe every step in the process of storytelling. Use thought provoking illustrations, connecting language and shape the brand as a supporting character of the problem. It should fuel the idea of the story
Craft keywords in the message
Try to determine which keywords are applicable for your brand message. The words should dominate the audience and infuse the brand with power.
Share on social media
Sharing on social media platforms will help your story reach the target audience and connect on a new level
Use visuals
Visual content is an actionable technique to engage audience in the story. Use exceptional and vibrant content in the form of images, infographics, word photos, videos, charts which should convey the benefits of your product. Try to create a bond and make it more interesting
Webchanakya works with flexible approach, with innovation in everything. We specialize in digital marketing to enhance business opportunities for brands in the market. Need help in creating and promoting your Brand Story? Connect with us. We can discuss how Webchanakya team can help to create unique identity of your brand
Webchanakya would be glad to create:

Brand story Strategy

Brand Name, Tagline,product and Book title to create upliftment in your business

A Creative Marketing Strategy

Connect with us to talk about your Brand story.