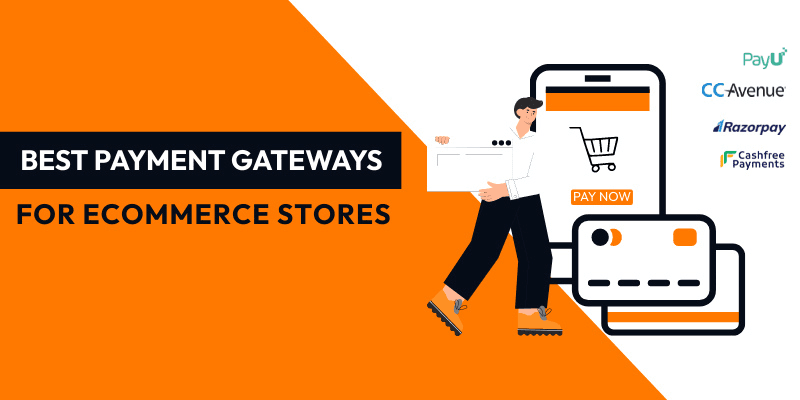 12 Best Indian Payment Gateways for Ecommerce Businesses
September 21, 2022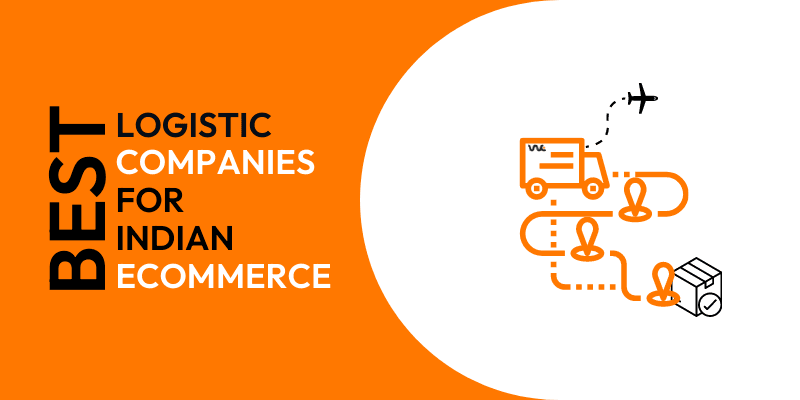 Best Ecommerce Logistic Companies in India for your Ecommerce Business
October 13, 2022
You recognize brands because you already feel a connection with them when you think about them. You know their story. They are authentic, and they have something special that you connect with.
It is not about where your company is located and how much funding you have grabbed. You need to create an incredible brand story to capture attention. Business owners are crafting different strategies to market themselves.
The best way to stand out in the business-driven market is telling a story!
Brand storytelling is not a sales pitch; it is a descriptive power to transform your brand identity.
Consumers are primed for brands that tell interesting stories. In fact, consumers prefer to buy products from companies that tell engaging stories.
Telling stories in business helps in human communication; it connects every part of the company; founders, managers, and clients. It should generate consumer trust.
Creating a story is not rocket science, nor is it a brand biography. It is a process to create a concept and shape it into roaring creativity.
By the end, you'll know what makes a good brand story, and you'll have lots of ideas for crafting one yourself so that you can get noticed.
What is a Brand Story?
A brand story is a series of events that led up to your current existence. It tells the origin story of your company, explains why it exists, and describes what makes it unique.
Once you know the backstory, you can focus less on selling and more on helping potential customers to solve their problems.
The best brands tell stories that resonate with audiences.
They weave together memorable characters, real-life situations, and relatable emotions to connect with their target markets.
How to Create a Brand Story?
Storytelling is one of the most powerful ways to connect with audiences. Whether you're writing about your brand, product, service, organization, team, or individual contributor, storytelling is a great way to engage readers and keep them coming back for more.
Here is how you can create a brand story that will help you tell your brand's unique story—and inspire people to take action.
Decide on the subject to create a brand story:
The subject of the story should synchronize the mind of the reader. People are more likely to buy something that sparks interest.
A clear understanding and inspiring others is what it ensures. It is a great way to explain your company idea, introduce you to brand product which can be one of the best ways to increase sales and conversion.
Include Human Element:
Make the story persuasive by using different elements like quotes, emotions etc. Adding Person V/s Brand or Life V/s Brand examples is a powerful key to form a classic storytelling.
It will create an immediate brand connection with the target group.
When we talk about storytelling, the most common thing comes to mind–the movies. But why do we love watching movies so much? Why do we watch them again and again? That's because we have a human element.
We feel connected to the characters when we see them in our own lives. When we connect with them, we feel empathy towards them.
It is quite natural for everyone. So, why not apply this idea to your business?
You can include human elements in your brand story by making sure that your target customers feel connected to your product or service.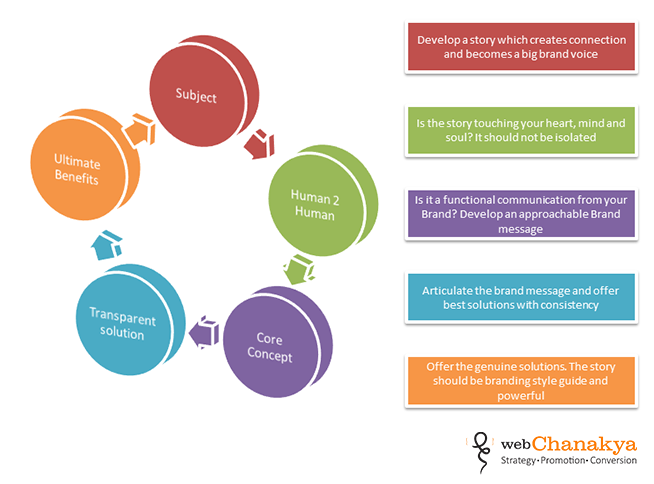 Define customer avatar in the story:
Customer avatar is Human to Human communication. Define various problems of real life and include them in your brand story strategy. You can also use multiple avatars to add more effectiveness to the story.
So, when we speak about a brand, we are speaking about ourselves.
It doesn't mean that a brand narrative must be autobiographical. However, it means that whenever we speak about a brand, we are talking about ourselves.
And if a brand is going to connect with its customers, it needs to reflect who they are.
To put it simply, a brand narrative is nothing more than your ideal customer avatar.
You define your ideal customer avatar by asking yourself questions. These questions help you understand your ideal customer better.
Who are they? Why do they choose your product/service? What problems do they face? Who is your ideal customer avatar?
Customer avatars are very important because they provide a context for understanding why a person chooses certain products or services.
They explain why someone buys something. They tell a story. They describe a character.
Map a solid story pattern:
Start by talking about the problem, set the solution and conclude the story into success. The story should represent the brand as the transforming agent for customers. The end of the story should clearly be a call-to-action for customers.
A well-crafted story structure gives writers a clear roadmap of the journey ahead. And when we're done, the final product looks desirable to make a purchase.
Voice and style to create a brand story:
Transcribe every step in the process of storytelling. Use thought-provoking illustrations, connecting language and shape the brand as a supporting character of the problem. It should fuel the idea of the story.
A brand needs to convey its values, vision, personality, and culture in everything it does with its voice and styling.
But how do you voice and style your brand? Every brand is unique. But there are common traits that unite successful brands. They include visual elements, tone, language, and imagery.
When writing a copy, consider how these elements might work together to communicate your message.
As your brand evolves, keep up with changes by asking questions like:
Is the brand consistent across platforms?
Does the brand look different depending on the medium?
Are there any trends emerging?
What should the brand say to itself?
Consider how each element communicates your brand message. Then write your own brand script.
Finally, let your team know who owns the brand so that everyone understands the brand's voice and style.
Craft keywords in the message:
Try to determine which keywords are applicable for your brand message. The words should dominate the audience and infuse the brand with power.
Once you have determined what your keywords are, write every combination of words that could relate to each keyword. Then craft an interesting message around the most relevant ones.
You may think that the easiest way to do this would be to find something similar to your business and copy it word for word. However, if you want to stand out from the pack, you must be original. That means thinking outside the box when crafting messages.
A good rule of thumb is to always keep the user in mind. If you can help him achieve his goals, he will love your product or service. Therefore, it makes sense to focus on what the customer wants instead of what you want.
Think about how customers react to products or services–whether they are happy or disappointed, impressed or annoyed. If you can identify these reactions, then you'll know what keywords to include in your messaging.
Share on social media platforms:
Sharing on social media platforms will help your powerful brand story reach the target audience and connect on a new level.
You can start by posting it as a social media post on Twitter, Instagram and LinkedIn, then continue spreading the word on YouTube, Pinterest and other social channels. Your blog posts can also be shared on Facebook, Reddit, and Quora.
Of course, there are plenty of other channels to explore.
Sharing your successful brand story may seem intimidating. But if done correctly, it can generate tons of free publicity for your business and do wonders for your brand.
As long as you put yourself out there, sharing your story will only strengthen and grow your brand.
Use visuals in creating a brand story:
Visual content is an actionable technique to engage audiences in the simple story. Use exceptional and vibrant content such as images, infographics, memes, GIFs, word photos, videos, charts, etc. which should convey the benefits of your product. As long as the marketing message is clear and concise, you'll see results.
They help explain complicated ideas quickly and effectively. If you're looking to build trust and credibility, visual communication is a must.
Once you master the basics, think about how you might use visuals to improve your lead generation efforts.
Try to create a bond and make it more interesting!
What makes marketers use brand stories?
A brand story is a short tale or anecdote that tells people the essence of a brand and what makes it different.
Brand stories (and marketing messages) help you connect with your audience personally. Brand stories enable you to empathize with a brand, allowing you to feel what the company feels like. In this way, brand stories allow the company to speak on behalf of its product or service by creating an experience that is unique to that company.
Most marketers focus their branding efforts on a few core values like trustworthiness, reliability, innovation, etc.
Conclusion:
Creating an interesting brand story isn't always easy. But if you follow these steps, you'll have a story that will stick around long after the last ad campaign has ended. And when you tell your brand story, you'll find that your customers will remember it for years to come.
Are you interested in developing an authentic brand story for your business?
WebChanakya would be glad to create:
Brand story Strategy
Brand Name, Tagline, product and Book title for uplifting your business
A Creative Marketing Strategy
Connect with us to talk about your Brand story.
WebChanakya works with a flexible approach and innovation in creating compelling brand stories. We specialize in digital marketing to enhance business opportunities for brands in the market.
Need help in creating and promoting your Brand Story? Connect with us and find out how the WebChanakya team can help create a unique identity for your brand