7 Reasons why blog is essential for your business
August 31, 2016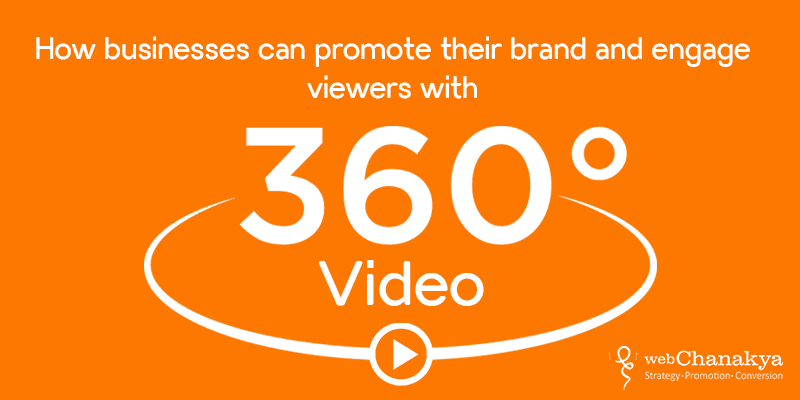 How businesses can promote their brand and engage viewers with 360° videos
September 3, 2016
Most businesses spend a surplus amount of their profits on marketing their business on both the online and offline platforms to their customers.

Nevertheless, many of these brands are missing out on their marketing benefits because they are not integrating their offline marketing strategies with their online marketing campaigns.

Though, the idea of online and offline marketing working in collaboration may sound fad and contradictory, but just think of the numbers they would generate when used together. It will be way more than what they would have by itself.

However, online marketing is even more effective when used in conjunction with offline marketing efforts. Now the challenge that every marketer face is to understand how to integrate the both so that they can drive better results.

Below you would discover how the companies use both the marketing solutions to maximize the efficacy of their promotion and advertising and how much money they spending on both the mediums and what provides the best ROI.

Where do they spend their money in order to get best ROI?

According to the survey, on an average companies spend 10 per cent of their overall revenue in carrying out their marketing activities.

Customers are shifting their base to digital channels for communication and purchasing, which is why the digital marketing budget is calculates approx. 3 % of 12 % of their allocated budget of the company's overall revenue.

Digital advertisers, business websites and corporate websites spend the most on their digital marketing activities which are essential for their marketing success. However, social media marketing has emerged as the important marketing platform.

28% of marketers suggest that they have moderated their traditional marketing budget so that they can easily fund their digital marketing efforts.

Where do they spend their offline advertising budget?

It was reported that in 2012, 80% of ad spend was offline but the conversions weren't being properly attributed.

Television being the top scorer with 40.3% of ad-spend.

Eventually, the ad spend on newspapers declined to 15.4% from 18.9% in 2015.

Whereas the share spent on Facebook was increased to 23% from 18% in 2015.

Where do they spend their online advertising budget?

43% of marketers believe that analytics would become a core competence in the upcoming years.

Digital marketing budget is believed to go upto 75% of the overall marketing budget.

Promotion on mobile itself will account for 50% of the marketing budget.

58% of marketers suggest that marketing through email will regain its importance by the next two years.

85% of high performing businesses use analytics to drive traffic and consistent customer experience.

Which marketing option provides best ROI?

Social Media has evolved to become an integral element of the marketing strategy of a business that drives the major success.

It is estimated that 55 % of twitter users mention the companies name and products in their tweets and 48% of them intend to buy them as well.

Facebook is now emerging as a purchasing network as it allows the companies to have a Shop option and prospects can directly select their product.

How different online and offline channels can work together?

According to some studies, 83% of internet users globally watch videos online. More than fifty per cent of the millennials watch TV shows on either phones, or tablet or laptops.

70% of still follow their patent newspapers and 55% of customers are likely to trust and purchase a new product features on that spread or magazine. 40% of companies still rely on promoting them on local newspapers.

How to drive offline conversion through online presence?

Many reports suggest that 15% of conversions are about products while 24% of them are for services.

Metrics like clicks, retweets or shares don't influence the offline conversion as compared to word-of-mouth.

Targeting influencers also benefits the business. About 30% of word-of-mouth comes from 10% of people who are most active.

The results of integrating both the marketing are easily traceable and higher than what the one can achieve.

So here are some ways the companies can integrate both:
1. QR codes: QR codes connect the print media to the online channels. Through code readers in the mobile phones, QR codes are easily traceable and people can access the information regarding the product that leads them to your website.

QR codes are generally used for coupons or vouchers. All you require is an attractive print ad which will prompt the audience to take an action in your favour.
2. Call-to-actions:
Call-to-action is a great tool to attract the target audience that you tend to convert with your offline tactics like print media or billboard advertising. To bring the focus of people to your online website, you can add the website address to your offline advertising.

Using catchy phrases as call-to-action grabs the attention of the customers quickly and compels them to visit your social media pages. Many businesses still practice to assimilate call-to-action in their television commercials.
3. Hashtags:
Hashtag is a perfect way to drive the customers in large numbers. Hashtag is tool you can utilize in your online promotion and offline campaigns like billboard advertising or print advertising.

With the help of hashtags you can monitor the success of both campaigns and even examine the reach.

There are so many tools that allow you to track your hashtags because it becomes a little difficult to measure the number of people who have read your print ads. So on social media it is easily traceable with the help of these tools.
4. Teaser Advertising:
It is one of the very popular methods that is being used by majority of brands these days.

It comprises of number of small ads that build curiosity among the audience.

Film production uses this technique quite often to promote new films alongside traditional marketing such as billboards or print ads.
5. Match TV commercial to your social targeting:
Make the most of the TV slot by targeting the people who you know talk about the show on their social network profiles.

According to the study, 50% of people use their phone to watch TV. So by amplifying their exposure to your brand, you can attract people to your social pages and convert them into successful leads.
In the conclusion, we can say that the evolution of various social network has developed an environment where nothing is out of reach to the people.

So in order to maximize the effectiveness and reach of their marketing efforts, the companies need to integrate both the marketing platforms.

The integrated campaign is a perfect way to increase revenue, stronger brand and lead generation.