ASDM: Digital Marketing Course in Ahmedabad
Website: https://www.asdm.co.in/
Details About ASDM:
Ahmedabad School of Digital Marketing is a digital marketing institute based in Ahmedabad, India. Founded in 2012, ASDM offers a variety of training programs in digital marketing, aimed at students, working professionals, and CEOs.
ASDM's partnerships with over 450 corporate companies and their 100% placement guarantee for students are impressive. It showcases their strong relationships with companies in the digital marketing industry and their confidence in the quality of their training programs.
The Digital Marketing Course they offer is concentrated on a well-defined curriculum P.G Diploma Program and exclusive case study-based training to provide students with practical and hands-on experience.
Why, ASDM is ranked highly on the list of digital marketing institutes in Ahmedabad?
Providing quality education and hands-on training, having experienced faculty members, and industry connections are key factors that contribute to their success.
Here is why ASDM is getting a ranking in the list:
Quality of Education:
ASDM is committed to providing students with top-quality education in digital marketing. The trainers are highly experienced and practical hands-on approach equips learners with the skills and knowledge they need to succeed in digital marketing services.
Training key points:
You can connect with ASDM Digital marketing institute directly to ask for references or get in touch with alumni who have undergone the training program.
Search engine optimization Training
Affiliate marketing
Lead Generation Techniques
Online Presence Analysis
Other significant concepts
Student Reviews:
It's always wise to read reviews from multiple sources to get a well-rounded understanding of a training program's strengths and weaknesses.
Industry Connections:
By partnering with leading companies, the institute can provide its students with exposure to the latest industry trends and practices. Students can benefit from this exposure by staying up-to-date with the latest developments in digital marketing, gaining a better understanding of the industry.
Awards:
ASDM has been nominated for Indian Education Awards and won the 9th National Awards. They have trained over 17,000 individuals since their inception. They have a strong alumni network, with many of their graduates going on to successful careers in digital marketing.
DIPLOMA IN DIGITAL MARKETING (University Affiliated)
These are the 1 Year Diploma in Digital Marketing Program Modules:
Most Updated Digital Marketing Modules
Advance Professional Training
Digital Marketing Agency Training & Startup Incubation
3 Months Paid Internship with Top Corporate
International Freelancing Training
University Program & Certification
Graphics Design Training
Website Development Training
E-commerce Marketing Training
Digital Marketing Specialization
Other ASDM Digital Marketing Courses Offered:
Advance Digital Marketing Program
Professional Program in Advance Digital Marketing
Amazon ecommerce Specialist Training (ATES)
Diploma course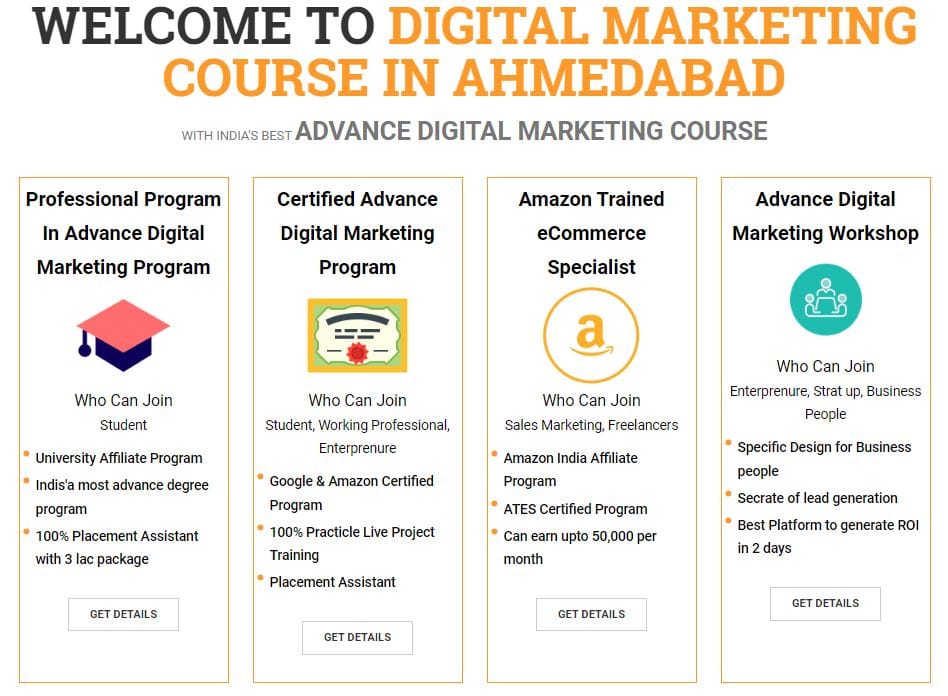 Placement Partners & Record:
Techno Mine
Media NV
Cognitive Pixel
CEEI
Shree Balaji Group
Amazon India
Skill Guru
ETEC Europe
Course Faculty:
Mr. Love Tyagi is an accomplished Online Marketing Consultant, CEO & Founder of Ahmedabad School of Digital Marketing – ASDM, with a wealth of experience having trained more than 10,000 professionals and 2450+ CEOs.
His passion for exploring the limitless possibilities of the digital era has resulted in him spearheading numerous programs designed for students, working professionals, and entrepreneurs.
He has consulted for top brands in India and abroad and trained participants from prestigious institutions like IIM A, BMW, MRF, Volkswagen, BYJUs, and NID.
He has been appointed as the official training partner for Amazon in Gujarat and is a trainer for MSME, Govt. of India. Mr. Tyagi has also contributed to ABVP projects in Gujarat and is actively assisting well-known politicians with digital marketing consultancy and execution.
Course Duration & Information:
ASDM offers digital marketing courses in Ahmedabad with a course duration of 3 months training program.
Class Start: Every Month 2 times
Course Duration: 2 Days
Student Capacity: Max 25 Students
Course Teachers: 03
Course Highlights:
100% Live & Practical Training Module
Complete training of 70+ modules with specializations.
Get experience on Live Project training
Globally Recognized Certification Program from ETEC – France.
Get 25+ Certifications
Business Management Skills
Communication Skills and Soft Skills Training
Interview Training
100% placement Guarantee
Google & Amazon Certified training
Contact Details:
Address: Shangrila Arcade, 217, Shyamal Cross Rd, Above First Cry, Shyamal, Ahmedabad, Gujarat 380009, Ahmedabad, Gujarat 380009
Phone: +(91) 932 796 7701, 90169 70734
Email: [email protected]
In conclusion, Ahmedabad School of Digital Marketing (ASDM), it's clear that this institution is a top choice for those looking to advance their digital marketing skills. The school's comprehensive curriculum covers everything from SEO and PPC to social media Advertising and content marketing, giving students a well-rounded education in the field.