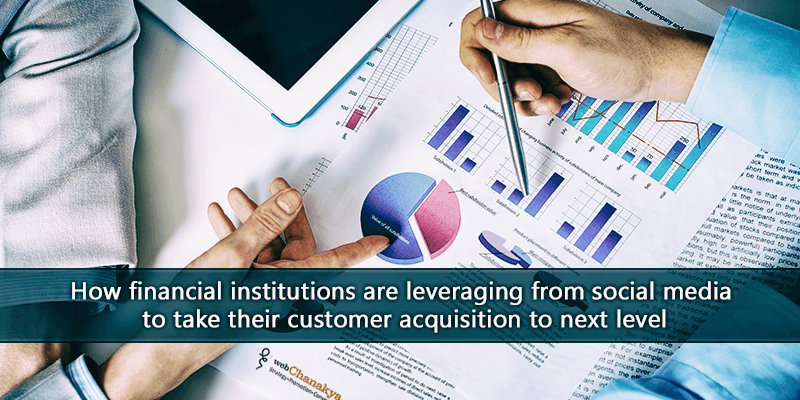 How financial institutions are leveraging from social media to take their customer acquisition to next level?
June 8, 2016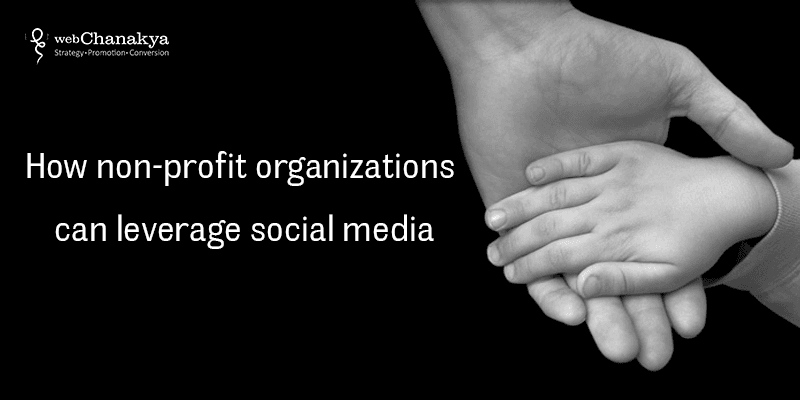 How non-profit organizations can leverage social media
June 17, 2016
Twitter is a micro-blogging platform where 140 characters plays a crucial role. Now, most of the brands have started using it in their marketing plans. With its help, in no time you can drive traffic to your e-commerce site.

With more than 270 million active users and 500 million tweets, it has become a great platform to engage with your customers and prospects. Without investing too much time or money, it allows businesses to monitor the target audience so that you can easily drive traffic to your e-commerce store.

By now everyone is aware that in the digital world content is the king. It becomes very challenging to engage people through appropriate and effective tweets consisting of 140 characters or less.

To acquire attention, tweets should be impressive and stand out. If you leverage the platform then you can convert prospects easily and it can turn out to be chief revenue generation channel.

Customers pay heed to what interests them, they want to see "one of a kind" products. Here are the basics to turn twitter into an effective platform to boost sales and drive more traffic.
Understand the platform:
Before starting any activity, you need to understand how twitter is advantageous to your business.

People generally use it to connect with their friends, celebrities, brands etc. They do not primarily join it for buying the stuff. So, you need to engage them into conversations instead of directly vending your products.

Building relationships and trusty will garner a reputation of your brand, drive traffic to your store and upsurge sales.
Understand your target:
It is a digital platform you cannot physically observe the personality of your customer so you need to understand them in a very different manner.

Observe what they tweet, handles where they often shop and what conversation are help on their handle. This gives a clear picture of what interests them, what will appeal to them.

Try to incorporate all these key facts into your strategy to attract the right audience. You can also find the prospects with their bio. Look out for a keyword in their bio that matches to your niche.

There are tools to find out who are the influencers and prospect followers, one such tool is followerwonk which helps you to analyse who can be your followers and where they are located. You can also find and connect with new influencers in your niche.
Hone your brand:
To make sales, you need to establish trust, and this will happen when you will hone your brand. You require to make an effective profile to kick start your marketing activities.

Twitter Handle: Use your official company name. Try to keep it simple and easy to remember. Profile picture: Use your company's logo.

Header image: You can use the image of your building or your team. You can also put pictures referencing to your products.

Bio: You have to describe your company into 160 characters. Describe clearly and use the keywords that target your audience.
Provide concrete details:
Your objective is to make your tweet stand out and attract the audience. To achieve this, you need to provide them with concrete and valuable information.

Costumers are always keen to know facts about your brand. You need to focus on the details of your products rather than just selling come what may. You have to establish the business, it's not a stint of short time.

140 characters are not enough to provide all the details hence you can attach images with the tweet or you can use twitter cards which allows you to attach images and videos or you can also use a link that redirects to the landing page of your website. For attaching the landing pages, twitter has some of the tools as well.

Here is the example of Micromax. While launching their new phone Canvas amaze 2 they couldn't describe all the details in a tweet hence they attached a picture of the remaining details.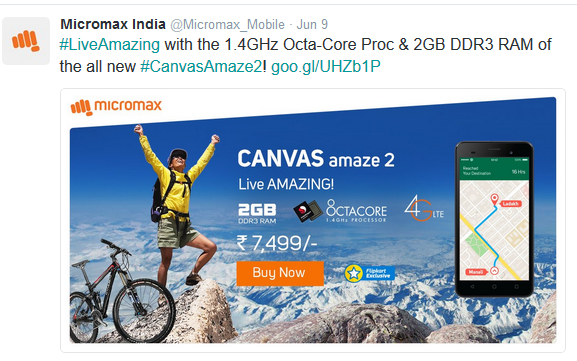 highlight the benefits
First things comes into the mind of consumers is the benefit of using your products. Always be certain of the features and benefits of the product.

They look for cost-effective solutions and products that make a change in their lifestyle. The consumers do not want to be misled, if they find they were deceived then it can hamper your reputation.

So be wise and true to your consumers in what you're offering them.

You can also pin the tweet which you want to attract people the most.

Vodafone india pinned the tweet stating that now you can enjoy HD Voice calls with Vodafone Supernet with a hashtag #BeSuper a video and a link that directs to the site. With this they provided their benefits in a package.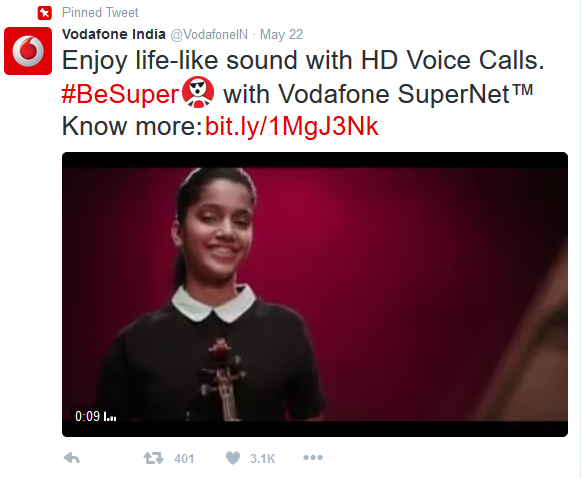 Use the smart way
Once you are done with the details, you should focus in attaining followers. Target them who shop more often and are likely to benefit you.

Make out difference between active and inactive users. Don't mass follow to get follow backs. This might handicap your brand image.

Instead, share high quality tweets with a purpose. You can also share tips and tricks related to your niche. Try to target and engage your competitors' followers. Reply to those unanswered tweets on their profile and let the people know that you have better options.

Use cross networking to gain more followers. Mention your twitter handle into all your social networking profiles and urge them to have a conservation.

When you receive retweets, acknowledge them with adding them as favourite or pinning them. You also revert them.

You can also start chats on different topics confined into your niche. Create a hashtag and engage people by asking them questions or you can also involve them to ask questions to you. Keep it fun and interesting, you can also give them suggestions.
Use twitter tools
You can gauge the impact of your tweets and retweets on others. You can also measure how often your tweets are retweeted by your followers. One thing to consider is the time at which your tweets are retweets in the day. There are tools like whentotweet that can help to find out `the best time to tweet. Tweetdeck is another tool that consists series of columns which displays timeline, activity, messages, lists, trends, and search results. You can search about any keyword and all the tweets pertaining to it will be shown.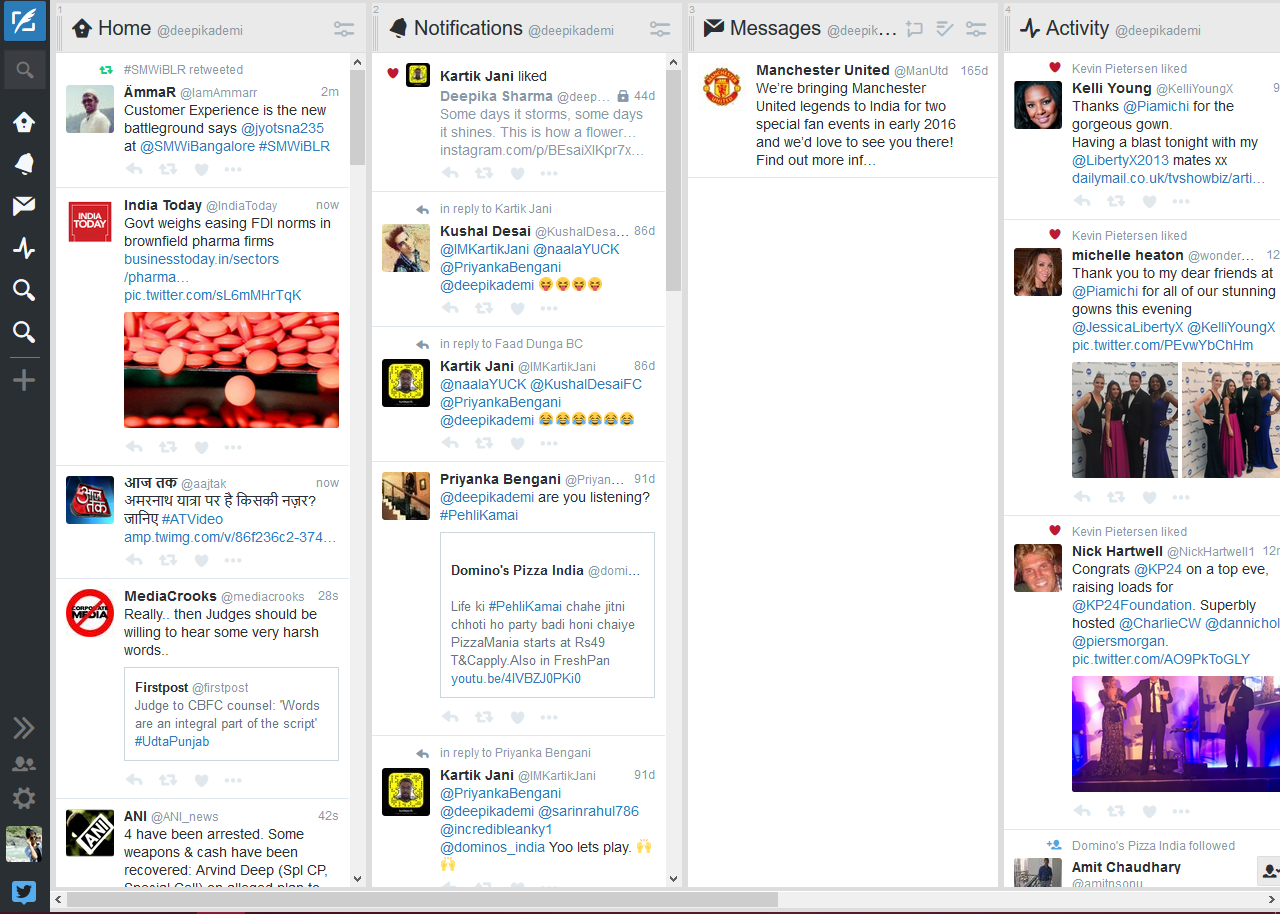 Share relevant content
Twitter is a great place to share valuable and interesting tidings. You can tweets articles, videos, pictures based on your niche. These must be interesting and relevant.

Sharing such stuff often leads to a conversation and helps you to convert consumers.

Provide them enticing offers with the link of your product page. This is great way to directly drive them to your site.
Promotional offers
To engage more followers offer special discounts. You can start a contest and give them coupon codes in return.

This strategy makes your consumers feel their importance, hence it drives more traffic. When your present consumers are then only you can acquire more people.

Find out the topic that are currently trending, share those tweets with your customized hashtag. This helps to materialize new followers

Domino's Pizza India comes up with interesting offers every now and then. They offer new varieties, combos each day with discounts and coupons. .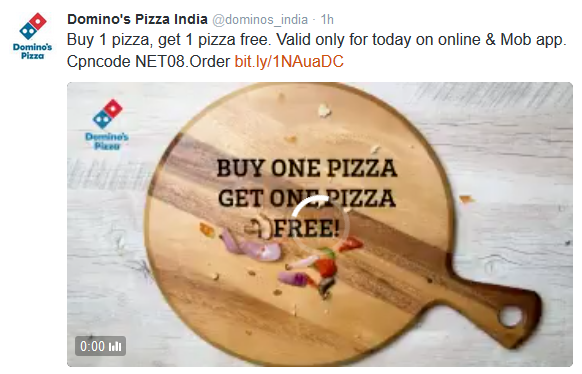 Contests
It is beneficial for the business to carry out contents in regular interval of time.

Contest are an amazing activity that engages more followers, existing customers and new ones. Contest can be in the form of questionnaire or photo or video sharing.

It is great marketing tactic which is practiced by almost all the business owners. You can give special rewards to the people who constantly participate in the contests.

Here is an initiative by Bewakoof.com to save water, you had to upload a picture with an empty bucket on your head using a hashtag and nominate 3 friends. The one whose picture was selected was rewarded with the goodies.

Such contests engage more followers and people who seem to be interested in your niche, it builds your reputation, increase the sales and followers.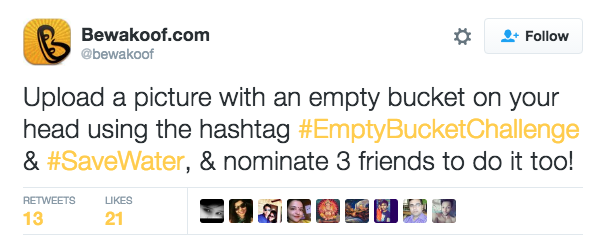 Use twitter cards:
It enables you to attach photos and videos to tweets that drive traffic to your website. It allows you to go beyond 140 character limit to stand out for introducing new products.

Twitter cards grab more attention than plain tweets. There are various types of twitter cards like summary card, app card, lead generation card etc.
Set a schedule
Everybody gets busy once in a while, but if you disappear from the picture for far too long then it may cost you your biggest asset, your followers, they may forget you after a while.

Your presence is crucial for driving people to your site and keep the business running. The best way is to schedule the tweets. You can also maintain a calendar to post different type of tweets every day.

You can schedule the tweets according to the timelines of your consumers. This keeps you connected with people across the globe.

Rigorous tweets may irritate your followers. Don't over advertise and maintain a respectable number of tweets for each day.

Buffer is a tool where you can schedule, publish and analyse all your posts in one place. Hootsuite is another tool where you can manage all your social networks from one dashboard. It helps in quickly scheduling messages and measure your social media campaigns.
Invite influencers:
Rather than spending money on hiring celebrities make use of social media influencers. They are people who have name in the field and trusted by the followers as well.

Engage the customers with them in a conversation. This catches attention of prospects as well. The potential consumer can be aware of the product by these influencers and is likely to visit your profile.

Charity water is an NGO that works to reduce the water crisis and delivers clean water across the world, it has invited top internet influencers like Jay Baer and Gary Vaynerchuk who tweeted about this initiative and exceptionally they work.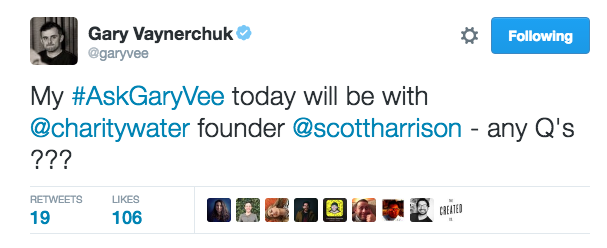 Provide customer support:
Customer satisfaction is the key to success for any business. Keep the communication two-way and interact with your followers on a regular basis.

Always respond in about a few minutes or as quick as you can be. Don't hope for follow backs and keep informing them about your products and aids you're offering them. Attain a responsible customer service and provide relevant content. Encourage the consumers to start a conversation.

Feedback is also very important, if you receive positive feedback then acknowledge it with a retweet or revert. Also revert when you receive a negative feedback. Accept criticism and continue satisfying the consumers' requirements.

For say, Vodafone service quickly reverts to the complaints tweeted by the dissatisfied users.
Monitor traffic
Social media marketing is not only about going all and about making promotional strategy. Your ultimate goal is to calculate the people you've converted into your customers.

It's important to analyse the site's traffic before you devote your time in developing a strategy. Twitter's analytics help you understand how the content you share grows your business Google analytics is a tool that calculates the traffic that drove into your site through various social platforms. It also helps in viewing referrals.

Referrals are recommendation from one site to another. It shows how the consumers find your website.
Managing twitter is tough but it isn't rocket science. Once you understand the basics, you can end up with increased sales and more traffic to your website.

Twitter provides you to build an image for your business and relationship with current consumers and engage new ones.

Go ahead and start using these tips to perceive vast improvements in sales.