15 Intelligent ways to increase e-commerce sales via twitter
June 10, 2016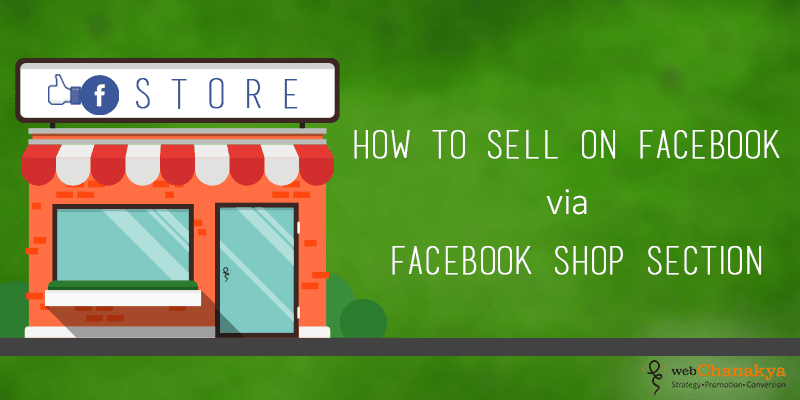 How to sell on Facebook via Facebook Shop Section [Updated 2023]
June 25, 2016
On social media we see how different businesses market themselves in a unique way. Every niche is different hence their marketing strategies are different.

Usually, non-profits are not known for having remarkable marketing strategies, but there are few who have set an amazing example with their unique marketing elements.

They realized that in today's time and age it has become important to express, build a reputation and obtain donations from the net.

Non-profits organizations can be humanitarian focused, or donation backed. Social media has helped them to be on the top of the audience and supporter's feeds.

These organizations have spread their wings on every possible social network, to drive awareness, galvanize donations, and start two-way communications. Be it reaching the audience with Facebook, or giving insights on Instagram or snapchat, non-profits organization are steadily capturing online space.

Here are some of the ways by which non-profit organizations can craft effective social media marketing strategies:
Encourage supporters to share their experience:
Involving your customers is a pure genius technique to spread the word. This tactic is applied by many organizations for funds raising.

You can create campaigns of personal events and special holidays. This spreads the message far better than anything else. Ask fundraisers to share their word of mouth with their personal and social networks.
Start blogging:
Use blogs to tell your story, harness the power of storytelling in your marketing campaigns. Engage people to share their experiences through writing a piece, then you can post it on Facebook and send link on twitter.

Collaborate with the donors and fundraisers on giving a brief to the people about the working style of your organizations.

You can also use images and videos along with the blog to justify and give character to your stories. This supplements the sense of relativity.

Try to share your content more than once, share the headline with a link in a tweet is an engaging way to connect with the supporters. Add an image with a hashtag, or ask a question and share it at a different time of the day, week or month.
Create your own Wikipedia page:
Wikipedia page is a great social space for help managing your brand online. They are good for SEO too.

To create a page, you need to create an entry at Wikipedia, once you've created the entry, be sure to check back often and track any changes.
Use the power of images and videos:
A picture is worth thousand words, so just think what impact a video would have to engross the society.

Be sure to leverage YouTube and upload as many videos of your work, praises and change you are imbibing in the world in your own way.

Images have their own impression, post every detail of your work in the form of images on various channels. If you're not using Pinterest, you're missing out on major target donation. It has emerged out as one of the most effective volunteering social network.

You can images of donors and post them on your Facebook page and invite people to volunteer. This also works well on Flickr.
Create a Facebook page and group:
Make your Facebook page and engage people by the information and feeds on the page. That can be the links redirecting to your website, images, videos, and testimonials of fundraisers or volunteers.

Make sure the content you put up there is related to your organization and the people connected to it.

Facebook groups are more resourceful than pages, here you can also personally mail to the members. Though you might have to dilute your brand and choose something around your cause.
Incorporate Facebook Ads:
You can use Facebook ads pertaining to the demographic you're serving to. You can create Facebook ads for an event or your next marketing strategy.
Partner with brands and influencers:
By partnering with well-known brands and social media influencers, you'll deliver the message effectively and reach out more audience.

These brands and influencers will share about your organizations on their social media channels, post the videos, and on their website, and they even promote it through their products.

You need to convert them into your brand ambassadors and you will benefit from them in fundraising and volunteering. It also helps in building face-to-face relationship with the audience.
Create crowd funding campaign:
As an alternative to events and special occasions, you can also create a simple crowd funding page. Share the page with your social media followers, asking for a quick-and-easy donation.
Connect with like-minded partners on LinkedIn:
Your motive is to expand your community, for that you need find valuable partners, supporters on LinkedIn and twitter. You can also find relevant marketers, influencers and supporters on Facebook.

You can also use Facebook interest list to get new followers and fans. You can also keep a check on other organization who are rounding your cause on different social networks.
Monitor those who follow you:
Keep an eye on the accounts of who all are following you. They might have great influence in a space important to you or they might have many followers you can reach out to which you otherwise would not have been able to reach out.
Thank your sponsors:
Post a thank you message to all those people who help in making your work possible. Thanking them for all their efforts is a great way to elevate your marketing strategy.

Posting on sponsors' page will also engage strong followers, adding the post to your page will bring you more supporters.
Ask questions and respond to everyone:
Asking questions encourage conversation with donors, supporters and volunteers. It leads to higher amount of interactions and responses.

Responding is one way to set yourself apart from others on social media. Maintain a timely manner to respond, it can be 24hours or less, and keep it little less for Twitter.
Keep it transparent:
You're donors and supporters would be happy and content to see how their donations are being used. Add credible names and captions to validate the contribution of your supporters, volunteers and collaborators.

Appreciate the donors, supporters and employees by soliciting their efforts on social media.
Social media is one of the significant ways through which non-profit organizations can spread their message. It is important to build a brand with the loyalty, impression and excitement that every organisation dream of.

These are just a few ideas to get started. If you've been using social media to promote your cause, share your success with us. If you are still unaware of what to practice to make your non-profit stand out, implement the above ideas and let us know about your experience.