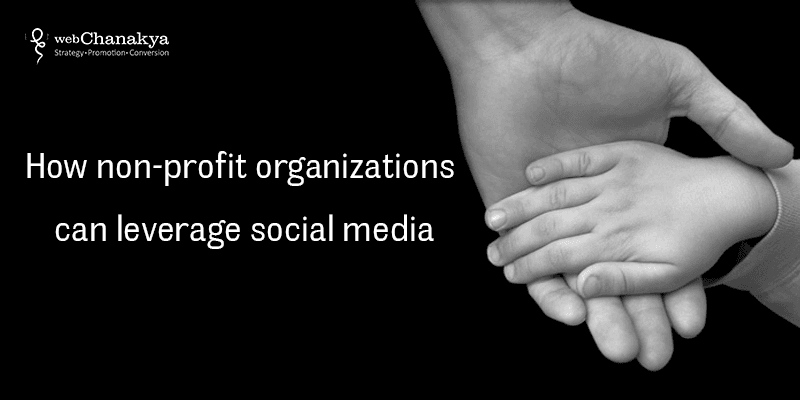 How non-profit organizations can leverage social media
June 17, 2016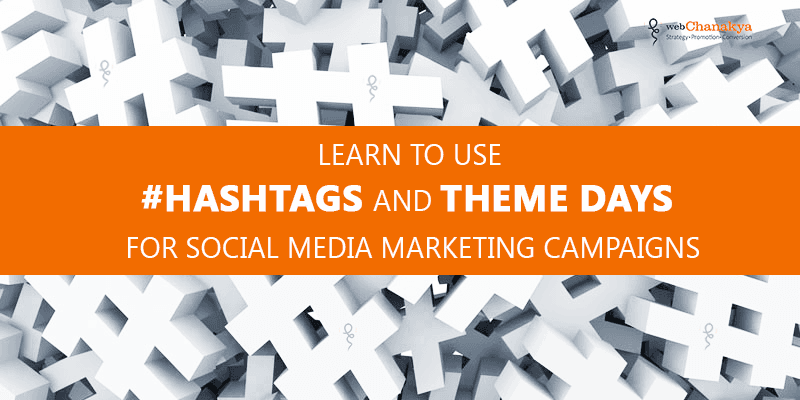 Learn to use hashtags and theme days for social media marketing campaigns
June 28, 2016
Do have a product to sell? So are you selling it on facebook? If "NO", then you are making a big mistake.
Here's why you should start selling it on Facebook.

Now Facebook is more than just a social networking tool. It is on its way to becoming a one-stop shop for all of your retail therapy needs.

Facebook has now enabled the shop section for the Indian users, it aids the customers to buy products directly from there.

Facebook has over 1.42 million active users in India and out of all the internet users, 27% of people purchase online. So now, those can be your potential customers. Now how great it would be if you can combine your shopping while surfing Facebook.

You're about to read a comprehensive guide on how to sell your product on Facebook using Facebook shop section. This article will guide you on each step and will help you sell dozens of products.

Before going through all the steps, let us first understand:



How Facebook Shop can benefit your business?

It comes as a good news for any business enterprises that strive for latest marketing strategies. It is benefited by the small scale businesses that cannot put on much budget to market their products like e-commerce giants. Now they can take privilege of this simple "Call-to-action" button that is now available to them on their particular Facebook page.


Features of Facebook Shop page
Directly purchase the product from facebook
Add an unlimited number of products.
Customize your product inventory
Get insights and stats like views, clicks, etc.
Your products appear on marketplace, so reach is increased.
This shop section will allow your customers and potential customers to directly access the products and make a purchase without landing to your particular e-commerce website.

You must be high and dry to figure out how to set up this "Shop" section, instead it's just a matter of few clicks. So let's get down on business and see how you can set up shop section in just a few simple steps:

As the feature is new to India, many pages might not have an access to it. So, you need to look out if you have an access to it. It is available on the link button below your cover photo.


How to set up a Facebook Shop Section step by step
Follow the following steps
:
Click on the Add Shop Section
Agree to Merchant Terms and Policies
Fill in Business and Payment Processing Details
Describe and add your products
Create Collections
Access Shop Settings
Manage your orders
Now let's get into the details, so you all get a better idea!
1. Click on the Add Shop Section
Clicking on the link prompts to explain what this button will permit you to do.

Click on the Add Shop button to continue. You'll be asked the currency you use.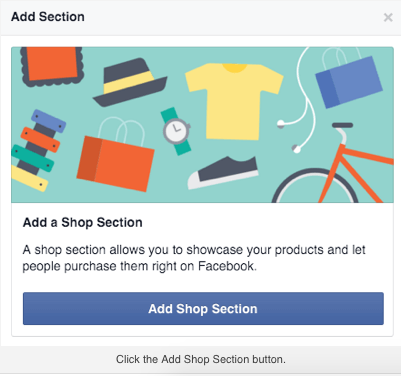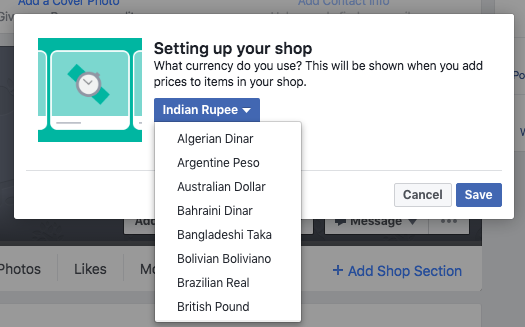 2. Agree to Merchant Terms and Policies
The second step is to agree on the merchant terms and policies. It comprises of information regarding:
What you can sell
Return policies
Refund policies
There are some rules to keep in mind, make sure you read each carefully.
3. Fill in Business and Payment Processing Details
After you're done agreeing on the merchant's terms and policies, you'll be asked to add your business details (email address and business address) and configure the payment gateway you're going to choose with the already chosen currency.

For this you require "Stripe" account, click on the link if you already have a Stripe account. Otherwise you need to make a Stripe account and then continue with the process.

Once you're done with the setup, your call-to-action button will change to "Shop Now" button.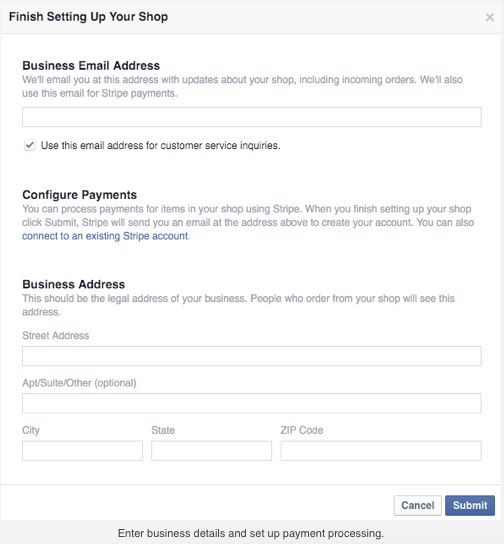 4. Describe and add your products
Next, you'll be asked to provide a simple and understandable description about what you sell in about 200 characters or less.
Also, you are ought to add products to your shop.
You have to configure the following details for each product:
• You must have one image for each of your product.
• The description should be relevant to the product, easy and should comprise of short sentences.
*You can find the exact guidelines and recommendations for images on the product listing and product description guidelines page. (
Facebook guidelines page
)
Initially products might be marked as "In Review" to keep a check if they meet the merchant terms and policies and product listing guidelines.
Due to this option, the customers still might not be able to see the products until they are approved.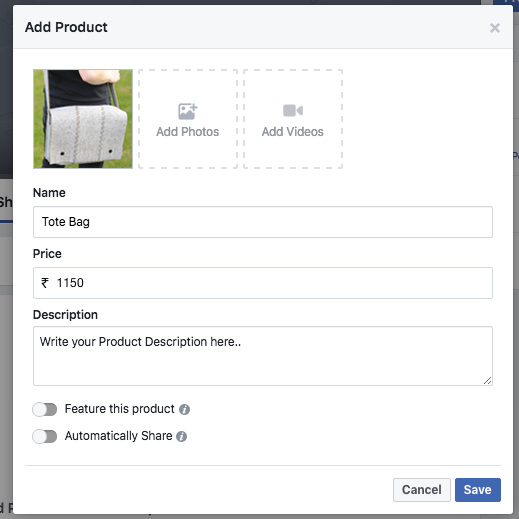 5. Create Collections
If you happen to sell variants, then Facebook allows you to organize your products into different collections. This option will be shown once you start adding your products.

You can also add products which you think will create right buzz to the featured collection. The first few products in the featured collection will appear on your timeline.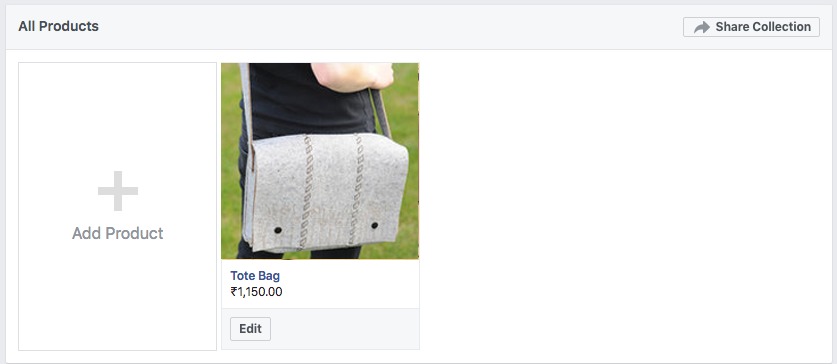 6. Access Shop Settings
To have an access on your shop setting, you just need to click on the shop's link and then click on setting icon to get the following:

Copy direct link: It provides you the link to your page shop that you can share.

Manage shop: it directs you to your publishing tools, there you can add products and collections.

Settings: it takes you the shop's main settings, like updating your email address, business address, stripe account and description.

If you no longer want to continue to sell your products, here you can also find the delete shop option.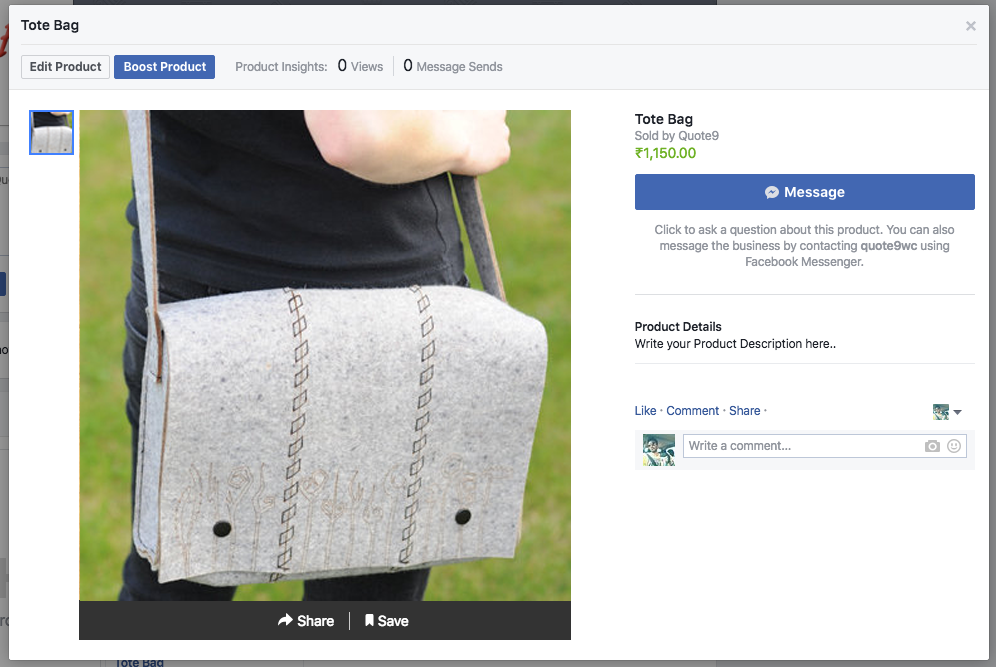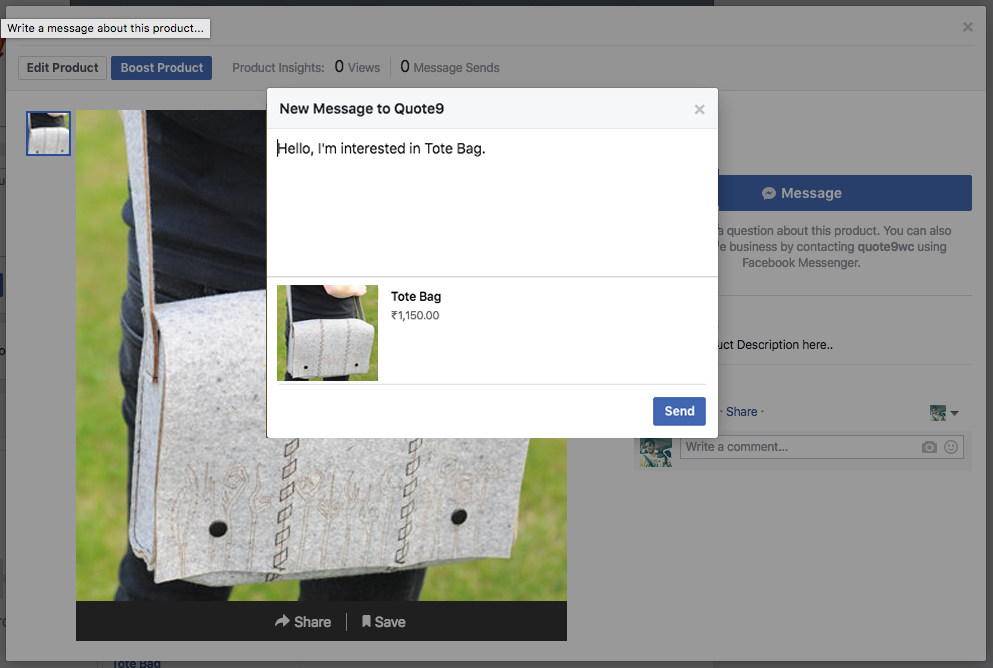 7. Manage your orders
Here you can keep a check on the orders that you receive. You will receive notification on every received order.

You can review and manage all your pending orders in your publishing tools.

You can also click on each order to see details like buyer's address and shipping preference.
Facebook Shop section feature is a pertinent option for any budding or established e-commerce business to promote their service and advance their market reach.


Facebook Shop Best Practices
Keep your Inventory updated
Remove all out dated products and upload new fresh products that can be useful to customers. This enhance your customer experience and avoids negative feedback.
Encourage customers to leave positive feedback
Products with good ratings and reviews are bought more often. Reviews build trust among potential customers and provides a way to engage with them.
Share and Promote your products
Share all your products regularly, so that your potential customers know about it. You can also boost some of your best selling products to reach out to larger audience and make user aware about your brand.
Offer special Discounts
Special offers and discounts are an excellent way to attract customers attention. Discounts motivates users to buy your product.
Write proper Product Description
Writing down detailed description of each product, let your customers understand the product more. Description helps the product to stand out.
Set up Facebook Shop by connecting with Ecommerce site
If you already have an ecommerce site then directing your traffic from that site is a better option.
You can direct users at the time of checkout to your ecommerce site to give your customers a wider range of payment options.
Most of ecommerce website builders connects with your store in no time and set up your shop automatically. This makes managing your shop a lot easier.
There are number of ecommerce builders available to choose from

1) Shopify
2) BigCommerce
3) Wix


These are some of the best website builders which will make your work a lot easier.
The magic here is you just have to update the product once, Facebook store will automatically gets updated.
3 Tips for a Successful Facebook Store


1. Promote discounted products Organic reach of posts are very low on facebook and it is going to get worse.
Promoted posts will get people know about your products and generate new likes on your page.

Now the question arises, what kind of posts you should promote?
Jay Behr has explained very well.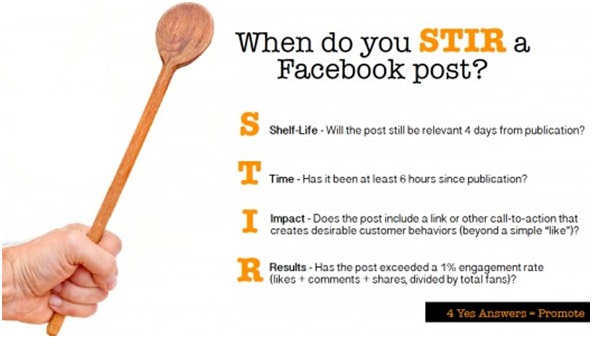 2. Increase Email Subscribers:
It is best to convert your visitors to newsletter subscriptions. It helps to increase your upsells and cross sells.

You can create a dedicated landing page just to collect their emails.

Landing page can have products listed where you ask for their emails inreturn for download.

3. Facebook ads:

Facebook offers you detailed targeting options. You can show ads to your website visitors or to your email subscribers.

Targeting people who have visited your site is profitable as they are aware about your brand and products you offer.

Displaying ads to those in mailing list result into higher engagement.

Final Thoughts
You no longer require technical knowledge to create your own Facebook store to sell products to your customers who are just about hanging out on Facebook. Facebook is continually growing and thriving, so it is wise to grow your community and spread the word about your business.
Facebook's site gets updated regularly. So to keep track of any minute changes you can visit Facebook shop help page.
Whether you are an existing company or a new entrant in online selling business, the ultimate goal is to increase sales and generate revenue. At webChanakya we understand the top conversion tactics and help you crush the online market.
If you want to boost your revenue, than with our actionable
E-commerce solutions
, you'll be able to sell more and dominate your market.
To learn more about us, Connect with us Now!.