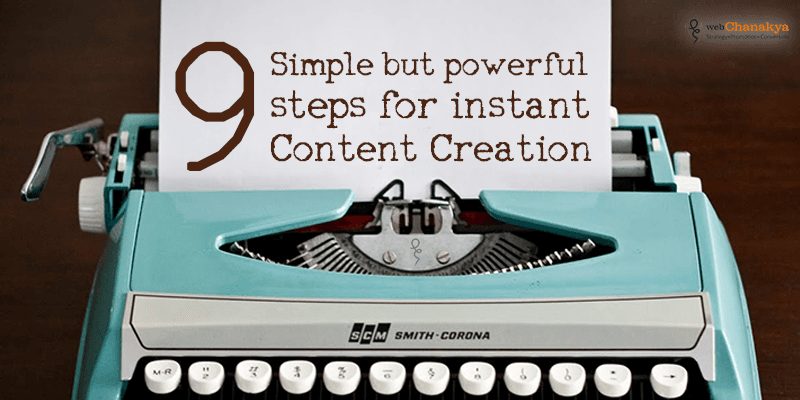 9 Simple but Powerful Steps for Instant Content Creation
November 5, 2015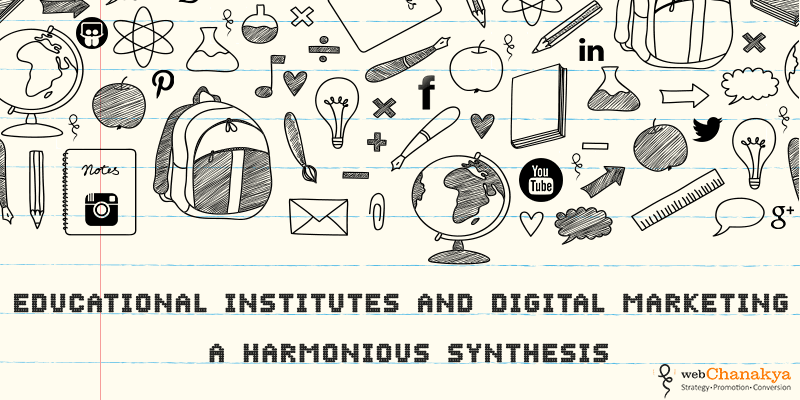 Educational Institutes and Digital Marketing : A Harmonious Synthesis
January 6, 2016
With Instagram now boasting over 2 billion active monthly users, it has become one of the most important platforms to reach target audiences and maximize brand awareness. However, simply setting up an account and posting improvised content is no guarantee of success. If you want to constantly monitor and drive engagement with your Instagram brand, you need to develop a sound strategy.
Fortunately, there is a couple of simple, yet effective tactics you can use to take your Instagram presence to the next level. By employing these strategies, you can quickly and easily grow your reach and engagement on the platform.
To get the most out of Instagram, you need to prioritize content that is tailored to your followers and use decisive tactics to increase impressions. Fortunately, statistics tell us that 80% of accounts on Instagram follow a business account and 75% of users take actions such as visiting a website, searching, or telling a friend after having seen an Instagram post. Drawing on this powerful data, we can make sure you are using the full potential of this platform to get your message across.
Harness the Power of Influencer Marketing
Influencer marketing can be a powerful tool for promoting your brand on Instagram. It involves forming relationships with influencers who can share your content and help spread the word. To get started, try following these simple steps:
Find Influencers: Start by researching and creating a list of influencers who are aligned with your brand's goals and values. Look for people in your industry, those who have a similar target audience, and influential personalities who could be interested in promoting your brand.
Connect With Influencers: Reach out to influencers via email or direct message to introduce yourself and explain how they could benefit by promoting your brand. Offer an incentive to encourage them to collaborate, such as a free product or monetary compensation.
Track Results: Monitor your influencer marketing efforts to determine how successful they are. Look at metrics like impressions, shares, and engagement to see if your campaign is working.
Reach Out Again: After the initial campaign, reach out and thank the influencers for their participation. Consider offering them additional opportunities to collaborate which could be even more beneficial for your brand.
These are just a few tips for getting started. Don't be afraid to experiment and use your creativity in influencer marketing. With the right influencers and strategies, you can successfully promote your brand on Instagram, and reap the rewards of a successful campaign.
Use the Strategic Power of Instagram Story Ads
Instagram Story Ads are a great way to engage with active users on the platform. They're short-form, attention-grabbing visuals that appear between Story's content. They're an incredibly effective way to promote your brand, but like everything on Instagram, they require careful strategizing. Here are some tips to get the most out of Story Ads.
Use Brand Archetypes: Focus your story around a particular brand archetype–the Magician, Explorer, Caregiver or Ruler–to connect with different audience groups meaningfully.
Test and Tailor: Let the data tell you what works; use A/B split testing to refine your Story Ads and narrow in on the most effective combination of visuals and text.
Take Advantage of Interactive Ads: Encourage users to engage with your Story Ads by introducing polls, animated GIFs and links, or allow users to purchase your product directly from Story Ads.
Consider Secondary Objectives: Include secondary objectives in your Story Ads beyond just brand engagement. Consider objectives like increasing website visits or driving app downloads.
Focus on Quality: Invest in quality content for your Story Ads. Quality visuals are more likely to attract attention and lead to conversions.
Analyze and Optimize: Analyze the reactions, comments, impressions and completion rates of your Story Ads to optimize their performance.
You can use Instagram Story Ads to reach new potential customers and expand your brand's presence. Content that resonates with your brand archetype and its core values, tracking the results of your story ads, and engaging users through interactive ads, you'll be on your way to effectively promoting your brand on Instagram.
Leverage "Top Posts" to Reach New Followers
Instagram's Explore page is a frequently used tab that works as a directory of content tailored to the user's interests. Top Posts, also known as hashtags, are often featured on the Explore page and can increase reach and followers.
Here are four ways to leverage Top Posts to reach new followers:
Research Trends - Familiarize yourself with what your target audience is interested in. Monitor and use keywords that appear frequently when talking about certain topics.
Use the Right Hashtags - Hashtags are more than just labels; use them thoughtfully to reach the most followers.
Optimize Your Content for Instagram - Optimize your content for the platform by utilizing visuals and interactive elements.
Regularly Monitor Performance - Track all of your posts to see which ones perform best and leverage that knowledge for future posts.
Your Instagram account will be prepared to take advantage of Top Post appearance on the Explore page to reach more potential followers.
Leverage Instagram Gallery Post Ads to Reach More People
Instagram Gallery Post Ads provide an opportunity to expand the reach of your brand on the platform. Use them to educate people about your business and display more of your work. Here are strategies to leverage Gallery Post Ads:
Multiple Promoted Posts: Promote different posts in one ad series to increase visibility.
Engaging Text: Use compelling copy to catch the reader's attention.
Consistent Branding: Make sure the images are cohesive and relevant to your business.
Target Audience: Select an audience that is interested in your industry or product.
Track Performance: Monitor the reach and impressions of each ad to determine the best approach.
Quality Content: Ensure imagery and videos are high quality and resonate with the audience.
Now you can create more compelling campaigns to promote your brand in the right channels and reach more people.
Tap into the Power of Hashtags to Reach Your Target Audience
Hashtags are a great way to increase your brand's reach. While hashtags are an effective tool on all social media platforms, they are a must-have to tap into the power of Instagram. When using hashtags, think strategically. Choose ones that capture the essence of your content, connect to your audience or brand, and avoid irrelevant tags. To find the right ones, search for relevant hashtags that are popular but not overly competitive, use a hashtag research tool, or use hashtag generators. Adding relevant hashtags can help you be discovered by potential customers and other Instagram users, and ultimately help you reach your target audience. Keep in mind, while it's essential to use tags that cater to your target audience, steer clear of generic tags that may attract an audience you aren't trying to reach.
Analyze competitors' hashtags: Check out the top-performing posts in your niche and analyze the common hashtags they're using. Don't forget to focus on your competitors' user-generated content, too.
Consider popularity: Hashtags with millions of posts might be hard to survive. Focus on hashtags with tens or hundreds of thousands of posts; this way, your post won't get lost in the shuffle.
Engage with like-minded content: Once you've identified powerful and relevant hashtags that relate to your content, search through them. Retweet, comment, and like relevant content to get in front of influencers in your niche and build relationships.
Use multiple hashtags: Make the most of their reach by using up to 11 hashtags each time you post. Anything more than that looks crowded and less professional.
Keep off-brand hashtags to a minimum: Off-brand hashtags can hurt your credibility, and potentially lead to unhappy customers.
Keep an eye on current trends: Keep up with the hottest topics within your field and leverage trending hashtags when applicable.
Pinpoint Advocates with Direct Messages
Getting to know who your advocates are is a great way to build meaningful connections on Instagram. To do this, you can use direct messages to pinpoint who your most influential followers are.
Many Instagram users respond to direct messages, so take advantage of it and start conversations that could help build loyalty. Start by finding users who often share your content or engage with your Stories.
You can also spot potential advocates by looking through your brand's tags, hashtags, and mentions. Reach out to those who are engaging with your posts and crafting thoughtful comments.
For direct messages to be effective, make sure that you avoid generic language, and be authentic and personal. Be sure to introduce yourself and explain why you're contacting them. Here are some tips to remember when talking to influencers:
Mention exactly why they inspired you
Show your appreciation by thanking them for their efforts
Avoid talking about your product, brand, or services at this point
Tell influencers what matters most to you
Maintain a friendly, positive attitude
Ask questions that encourage them to respond
It won't be difficult to pinpoint advocates who could help promote your brand. It might take some time, but this kind of connection could be very beneficial in the long run.
Create Captivating Instagram Posts with Captivating Visuals
Instagram is an incredibly powerful platform for showcasing your brand's visuals. For designing captivating posts, you need to ensure you make use of images that grab attention and support your unique brand identity. Here are some of the essential elements of creating captivating Instagram posts.
Use Vibrant Colors: Research suggests that vibrant colors attract more engagement from viewers—be sure to include them in your Instagram posts.
Incorporate Emotional Imagery: According to a study from Colorado State University, posts that use emotion-evoking visuals are more likely to take off on Instagram.
Tell a Story: You can use visual elements to evoke an emotion, create a narrative and draw people into the story of your brand.
Highlight the Uniqueness of Your Brand: Use visuals that reflect what makes your brand unique in the marketplace.
Mix It Up: When creating images for your brand, you'll want to mix things up. Utilize a variety of bright, muted and black/white hues to ensure your profile stands out.
Follow these simple tips to build captivating visuals and Instagram posts that will help elevate your brand and attract new followers.
Unlock the Potential of Shoppable Instagram Posts
Instagram has quickly become one of the most popular social media sites, with more than a billion users. Along with its popularity, Instagram has launched shoppable posts, which allow brands to promote their products on the platform. Here are some tips for how you can use shoppable posts to promote your brand and connect with your customers.
Keep posts high quality: Shoppable posts are the face of your brand, so make sure they're visually appealing and well-crafted. Take the time to use color, text, and graphics to create an impression that's consistent with your brand.
Make the shopping process easy and seamless: When you create a shoppable post, you want the process to be straightforward and simple for customers. They should be able to quickly move from viewing the post to completing a purchase.
Use user generated content: Using user generated content shows customers you are engaging with them on a personal level and that you trust their opinion. It also adds an element of authenticity and trust to your shoppable posts.
Cross-promote your posts: Get the most out of your shoppable posts by encouraging your followers to share them with their friends and family. This will increase the reach of your post and potentially lead to more sales.
Include detailed product information: Make sure shoppers have all the information they need to make an informed decision. Include product details such as size, color, material, and price.
Offer rewards: To increase engagement, try offering promotional discounts and rewards for customers who purchase products through shoppable posts. This will reward customers to keep coming back for more purchases.
Following these tips can help you maximize the potential of shoppable posts. By providing customers with a seamless and rewarding shopping experience, you'll help create a positive perception of your brand.
Monitor Your Performance to Maximize Instagram Efficiency
Monitoring your performance on Instagram is an essential step for maximizing your efficiency on the platform. Check analytics regularly to track your progress and gain a deeper understanding of which strategies are driving success.
Look at likes, comments and shares from posts, as well as the total number of followers. Pay attention to how quickly your content is gaining traction and how many likes and comments each post is receiving. Examine how much of your post viewers are engaging with your content.
You can also monitor the demographics of your audience to ensure your message is resonating with the right groups of people.
Here are some tips to keep in mind as you monitor your performance:
Track growth and engagement every month.
Set benchmarks and goals.
Analyze the posts that have been successful.
Utilize polls.
Try out A/B testing.
Identify what's working and what's not.
Measure the ROI of ads.
Measure the impact of influencer campaigns.
Leverage insight tools to keep track of changes.
Find new ways to reach your target audience.
Monitoring your performance on Instagram can help you measure the success of your campaigns, adjust your strategy as needed, and optimize your content for maximum reach and engagement. It's an essential step for achieving Instagram efficiency.
We live on the edge of creative marketing revolution, surrounded with mixes of visuals and audio visual content. Instagram, the powerful visual channel! It is one of the fastest growing social media platform. To create powerful brand engagement, all you need is a strong visual presence on Instagram.

Let's take an overview on how to do a Brand Value Optimization on Instagram.
Quick Actionable tips
1. Profile
Write what your Brand is doing in the market. Use simple language which appeals to be thoughtful. Add brand URL in the profile description.
2. Caption
Write creative captions. It helps in engaging and boosting the number of followers. Add call-to-actions.
3. #Hashtags
Create your own brand hashtags and use other popular #hashtag that relate your product , brand or services Like #photooftheday, #hitmondayblues, #throwback, #chooseyourwinter, #productoftheday. You can research various site to get popular and right match of #hashtag.
4. Follow back
To create a strategic relationship with your consumers, you should follow them back. Sometimes reward your followers.
5. Posting
Plan a powerful marketing plan. Use filters which will change the look& feel of your photos The best time to post on Instagram is between 5-6 pm. Strategize on how to post and promote?
6. Advertise on Instagram
For this you have to connect your Instagram account with Advertising. You can select type of the Ad you like and set target audience.
7. Leverage presence on both Facebook & Instagram
Connect your Instagram account with Facebook and start cross posting& promoting. It will transform your presence and drive higher traffic.
8. Be communicative
To create an interactive relationship, you should interact with customers. Follow back your followers. Like their photos. By this you will inspire potential customers.
9. Use trends and market
Sit on the side of Target audience and search for the best trend to cultivate unique visual sense.
10. Contests
Plan for photo contests on Instagram. You can also choose for offline social event of Instagram and do your Brand promotion.
11. Post different visual content
Wordphotos, Infographics are different visuals which are used today. They tell stories about your brand.
12. Video-sharing
Post Instagram videos and promote them as the Brand moments of your company.
13. Observe others
Start following other brands and check them consistently. Like and comment others. It will help you to know latest industrial trends and positions of others.
14. Promote offers
Use different methods of offering discounted plans. Every offer should seek call-to-action and build more audience.
15. Observe Keywords & Content
You need to observe your every "#yourkeyword" and content, like on which content & keyword audience is liking and commenting more.
16. Search for keywords & Hashtags
To find engaging keywords, Type in the keyword related to your vertical and then Instagram will automatically start showing you the most labelled &related keywords. You will be mass followed.
17. Learn from every strategy
After every effort, please check whether your Target audience is liking and commenting on your posts or not? This will help you to determine where you need changes and build more engaging strategies for your brand.
Now you must be convinced, that how Instagram can be game-changer in your marketing efforts.
If you want to use Instagram for much faster networking of your business & branding through visual content. Then you can connect with
web

Chanakya
. Our team can help you to use effective marketing tactics for your business.
web

Chanakya
will be glad to work and create:
Promote your Brand name through hashtags & images
Transform your Instagram presence
Increase followers and product sales too