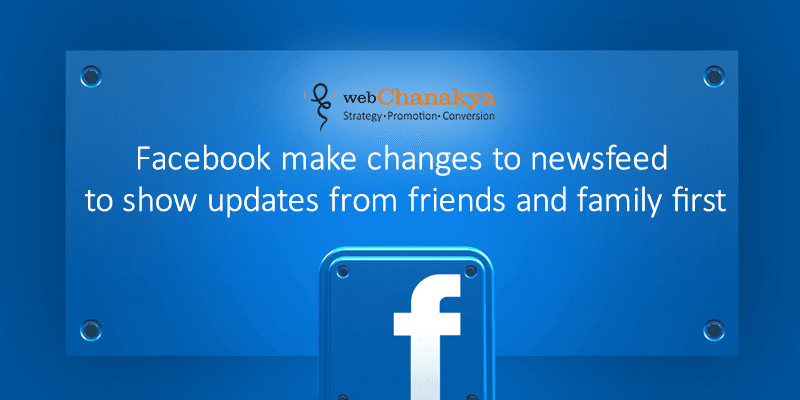 Facebook make changes to news feed to show updates from friends and family first
June 30, 2016
12 quick start ways for start-ups to grow their social media presence
July 4, 2016
Facebook is one social media giant that has captured a wide space in the marketing sphere.

In order to promote video content, Facebook has recently launched Facebook Live, a Live video streaming service through which anyone can broadcast Live videos to their News Feed from their mobile devices, android, iPhone or iPad. Is it just similar to Periscope or Meerkat?

Apparently no, it is one of the most recent developments of Facebook that allows user to broadcast videos Live to their audience in real-time and helps in increasing engagement and capture their attention.

Hence, it has become a remarkable tool to utilize in the recent times. According to the stats given, users are posting more than 75% of videos that they used to before. It is also predicted that in the coming times Facebook will have a larger pool of videos than YouTube.

Businesses and marketers have started using Live video streaming to increase engagement and views, which is why you see more videos in your News feed than ever.

It creates a sense of urgency and every time a page is about to make a Live video, a notification is received by the audience to engage them. This make them feel not to miss out on something of their benefit. Though when the video is completed, it is save and those who missed it can watch it later.

The second benefit is that it feels more real as it is happening now. It is exciting to see the people you admire or get inspired by in the real-time.

How to use Facebook Live for your business?

Live video is all about breaking down the barriers, connect and interact with your audience in real time.

You have to be very precautious because it's not just any video with cuts and edits, it is authentic and genuine. As it is new, many influencers are using it on their page.

There are so many ideas to use Facebook Live for promoting your business:
Behind the scenes:
Users enjoy the action behind the curtains and Live video is a great way to offer that. This helps to make your brand more relatable and builds the audience's trust with the brand.

Go Live and show what all you have been doing lately to make the presentation or project that is due sometime. Show them what it is like what you do and how you do

It is good if it is kept natural and spontaneous. It offers the transparency that your viewers expect from you.
Breaking news:
Have got an exciting to break a news and can't wait to share it with your audience, then what are you waiting for? Just go Live.

Share with them, if you have got a new product and you'd be launching it soon. Live videos can be benefited for sharing all the activities that will be taking place.

It helps in capturing the attention and excitement of the audience.
Contests:
Announce a contest with Live video. You can ask the users to send their questions in the comment box and you can then reply each of them in real-time. It helps in increasing engagement and provides them the feeling of importance.

You can ask the viewers to follow your page and redirect them to your website. It helps in driving traffic and might increase sales.

Contests should be focused on them, not you. You have to make them feel their importance and this can win you customer retention.
Live interviews:
If you are about to launch a product and wants to host a one-on-one interview with the guest or influencer, then going Live is the best option.

It is highly recommended to do a Live interview to spread awareness about your brand and product or service.

The content would be premium and rich to engage people and would take the event to a new level.
Tutorials:
Hold tutorials of expert in a field. It is easy to demonstrate and convey the message through a Live video. Tutorials attract a lot of attention while providing values to viewers.

It is something people would not want to miss so they would more often visit your page to keep check on the video. It would gradually increase your page engagement.
Regular Q&A:
Now, it is more about conversation than conversion. Engross your audience by asking to ask questions, tell them an incident or an experience that might have changed you in some way.

Engage them around a topic pertaining to your business, ask them to share their experience.

Just don't talk on and about everything that occurred during the whole day. Be specific and share something that is of some importance to the viewers. Remember, don't be just random.
Using Facebook Live for business means using it in the context of business. The purpose is to market your business and get a convincing result.

Remember, using Facebook Live for business means using Facebook Live in the context of business. The further you get away from the purpose of your business, the less likely you will actually see a tangible business result.

Live streaming has opened up a whole world of opportunities for brands and businesses.

Facebook Live is doing a great job by engaging businesses to the audience. It is making it easy for you to reach out new people and current ones without spending money or time.

So are you ready to harness the power of video in your promotional and marketing strategies?

Let us know what all you have adopted in your Live video to engage your audience.