3 little known ways to make your first ecommerce sale
November 25, 2016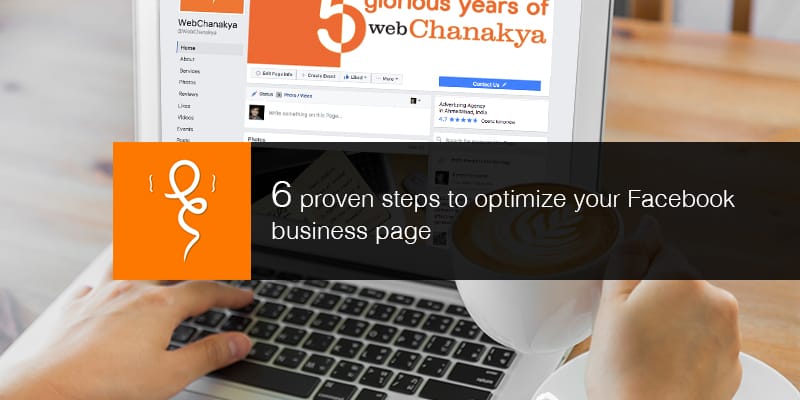 6 proven steps to optimize your Facebook business page
November 30, 2016
Instagram has been a boon for most brands, and when it's done right, it can drive optimum sales.

It is a self-promotion space to showcase your products and connect with your potential consumers.

Getting your profile in the shape and growing your audience is the first step to increase engagement and revenue for your brand.

So first things first, you are required to grow your followers.

To make your hard work pay off, you need to convert these followers into clients which begins with using the platform in a strategic manner.

But the matter of fact is instagram is good for a lot more than just growing an audience and engaging with it.

Since it is a quasi-catalog digital platform that is limited to only image and video sharing, it doesn't have a clear ROI as compared to Facebook, Pinterest, or Twitter.

It can be accomplished by covering a few factors:

1.Your niche

2.Target audience

3.Business goals

So, the question is "What can brands do to engage their followers and convert them into customers/ sales?" Here are nine strategies that can excite your followers to make their purchase decisions and convert them into your clients:
1. Make your store look enticing:
Having an instagram profile doesn't guarantee that you will make money out of it. Though setting and styling your profile plays an important role in translating your content into sales.

To style your page in an engaging manner a basic knowledge of photography could be helpful.

Use the colors that are appealing, justifies with your brand. Follow a color scheme that complements your products.

Posting sharp and clear images gives you an edge over others. Ensure your photos convey right message and easy to understand.

Think out of the box, show pictures of your workplace being awesome. Get creative with the angles, filters and exemplary.

One way to engage your followers to get involved is by offering exclusive behind the curtain videos and images.
2. Offer exclusive content:
Content is the king of social media marketing.

Make your profile a story board that not only shows your products and services , but also the culture, lifestyle and people it surround.

It create a brand identity and furthers your relationship with your existing followers and will help in recruiting the right followers.

Encourages your followers to interact with your brand on an individual and long term basis.

You can accomplish this by following:

Share the products that you haven't yet shared on any other social networks (Facebook, Twitter, Pinterest) or even blog. Go exclusive with your images to make your followers feel special.

Launching a product live on Instagram is a great idea to turn the table for your brand. Compile a video of an event, reveal a line of your products to engage more followers.
3. Post at the right times and consistently:
It is understood that your clients are your first priority, but you should make a point to test your creative ideas to explore new styles and themes and to keep your audience engaged.

Create 2-3 creatives per day and post an average of 3 creatives each week from your business account. It is a great way to keep a queue of potential content, which you can also schedule for the future.

Remember that most of the potential and existing customers have regular work hours, so it would be beneficial for you to post or go live in the evening when they are home or on the weekends.
4. Use the right hashtags:
Hashtags are a smart way to keep track of what people are saying about your brand and your niche.

Keep an eye on hashtags pertaining to your niche and ump aboard because they extend the reach of the posts, making you part of a wider conversation.

Use both trending and campaign specific hashtags. And if you are creating a hashtags your brand hashtag, make it memorable.

Remember, with so much being put on instagram everyday, its only hashtags that make your brand stand out and come in searches.

So put your best foot forward with right and proper hashtags to make your followers translate into sales.
5. Make your followers part of your circle:
There is no denying the fact that a little incentive or and offer can take your brand a long way in boosting sales.

According to reports, 56% of people like a brand's Facebook page and instagram profile out of loyalty while 46% people get attracted to the offers and deals provided by the brands.

Find a interests and likes of consumers who may have initially followed you because of a deal you offered but have stuck around because of your product and services.

Now that they have expressed their interest in your brand, tease out exclusive offer that can be redeemed online, to motivate them to make a purchase.
6. Make buying easy:
Despite of not allowing clickable links in captions, driving traffic to your product pages and website through instagram isn't fizzle.

There are many sites that have exclusive instagram pages that post the content featured on their instagram profile with direct links to make a purchase.

Many huge retailing sites also allow brands to create their custom landing page on instagram with the link in their bios.

As a follower click on a photo, he is automatically redirected to the a page that features the item to purchase. It is a great way to generate traffic and drive sales till the time instagram ever allow links in the captions.
7. Have a fortified customer service strategy:
To make instagram a great source of sales one needs to have a solid customer service strategy.

There are many followers who regularly ask question regarding products, check for updates on an order and keep check of the store timings.

Majority of users only look for a simple response that encourages them to make a purchase. Responding in an engaging and friendly manner helps the followers feel closer to your brand and builds a relationship with you, and is most likely to become a customer.

Many brand don't pay heed to such simpler things and that leads them lesser sales.

Monitoring thousand of comments is a daunting task but customer service over social media networks( in this case, instagram) has a vast impact on the business' essence.
8. Run Ad campaigns:
Creating Ads is a great way to get more exposure and sales on instagram. Instagram ads attain unique characteristics that makes them vital for your social media marketing strategy.

Instagram ads allow you to have links that directs the followers to an external page. They lead to have high click-through rates and higher return on investment.
9. Know your numbers:
Like any social media marketing strategy, instagram marketing is also got to be done in a smart and peculiar way.

There are a various free tools that help you to optimize the time and energy you've put in making your instagram profile engaging and enticing.

To have better results, note the time when the followers are most online. What type of images and content they respond the most. From where your followers are coming, what are their likes and interests.
As brands start to grow their presence on instagram, the potency to convert the followers into customers continues to increase exponentially.

With instagram, content sharing is two may path, that benefits the brands to collect user generated content and frame it in a better way to reach your followers.

When done well and smart, it not only drive traffic and grow audience but also builds relationship with your followers.